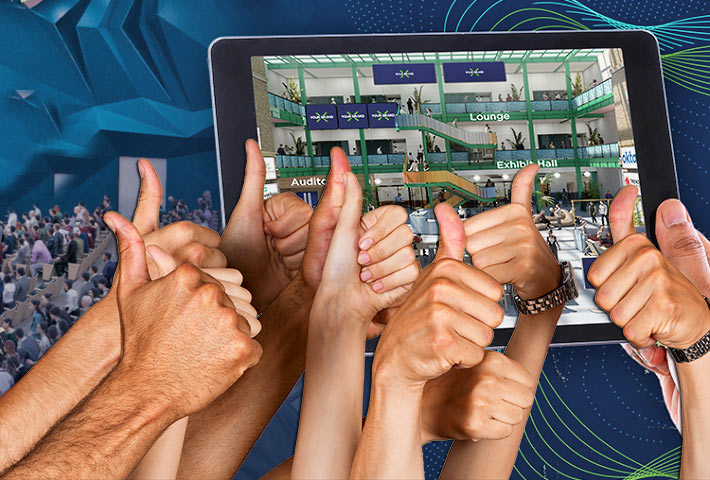 In a sampling of 16 attendees and two exhibitors at yesterday's Connect (X) All Access virtual conference that replaced the Wireless Infrastructure Association's (WIA) COVID19-cancelled Miami Beach event that was to begin on Monday, they all gave rave reviews to Wireless Estimator.
Although the still available virtual event was missing what the Florida show publicized as a huge benefit, the ability to "experience the value of face-to-face meetings," it compensated attendees with a stellar lineup of keynote speakers and panels along with an exhibit hall.
Most importantly, attendees were able to attend the conference for free and are able to continue to play back the events at their leisure throughout the summer.
They were impressed by the vFairs platform that WIA used due to its highly interactive and friendly navigation menu. In addition, live event streaming went forward without any issues.
According to WIA's show organizers, the virtual conference saw an attendance of 4,500.
The Small and Diverse Business Summit began today and continues through tomorrow.
"It was truly special for the entire industry to gather virtually. WIA was so pleased to host this event and to see so much support from throughout the industry. Attendees were bouncing between keynotes and panels, engaging in lively discussion with Q and A sessions, and darting from booth to booth in the Exhibit Hall – you could sense the virtual energy," said WIA President and CEO Jonathan Adelstein.
"The keynotes illustrated great optimism and opportunity for 5G and detailed plans to advance next-generation networks. It's clear that this industry is completely committed to global connectivity, even during this pandemic, and to helping the global economy any way it can, from acts of charity to complete overhauls of manufacturing needs. We thank our leaders who served as keynotes and panelists, our partners and sponsors without whom this event would not be possible, and the attendees who are continuing to further developments for wireless infrastructure," said Adelstein.
"While yesterday could not have been more engaging, the conference is not over. Today the Small and Diverse Business Summit is taking place and continues through tomorrow," said WIA Executive Vice President Tim House. "It's a hallmark of the in-person Connect (X), and we are thrilled to be able to bring businesses together virtually and free. Diversity and opportunity power this industry, and making these connections is one important way to ensure success."
However, many people believe that there is little that can substitute for interpersonal exchanges since they forge and strengthen relationships and will look forward to that in a post-vaccine world.
Trade groups are assessing whether the talks given at most conferences can become a combination of in-person attendance and pay to "attend" a live-streaming event.