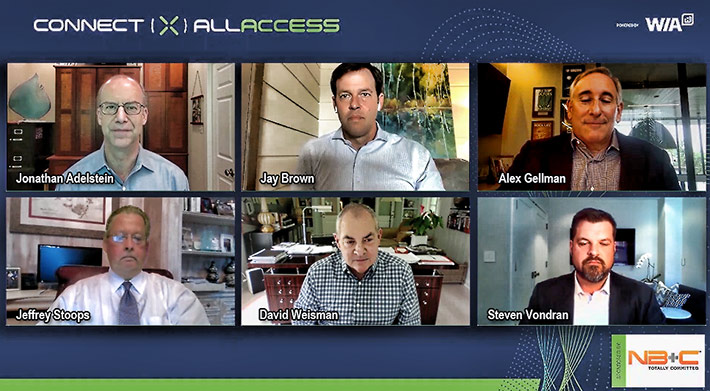 Executives gave upbeat assessments of the tower industry on the "View From the Top: Tower Executive Roundtable," moderated by Jonathan Adelstein, President and CEO of the Wireless Industry Association during its virtual Connect (X) All Access conference yesterday afternoon.
Panelists included Jay Brown, President and Chief Executive Officer, Crown Castle;  Alex Gellman, Chief Executive Officer, Vertical Bridge; Jeffrey Stoops, President and Chief Executive Officer, SBA Communications; David Weisman, President, CEO, and Co-Founder, Insite Wireless Group; and Steven Vondran, Executive Vice President and President, U.S. Tower Division, American Tower.
The towerco executives said that they have been weathering the COVID19 pandemic and believe that there will be no serious supply chain problems.
They also lauded FCC Commissioner Brendan Carr's plans to clarify the agency's rules for upgrades on existing towers and other wireless sites.
The full panel presentation is available here.
The virtual format allowed viewers to ask the panelists questions that were answered in real time during the session, allowing for a more personalized presentation and an awareness of subjects not discussed.
QUESTIONS AND ANSWERS FROM THE C-LEVEL EXECS

Impact of tribal tolling
What are your thoughts with the tribal tolling for Section 106 consultation and it's impact to timelines both short term and potentially long term? by Adrian Berezowsky
Adrian–we would like to see the timelines for all stakeholders' responses under Section 106 to be harmonized and shortened as appropriate, but this is a complicated issue, and we are thankful to have the FCC to help navigate this as an industry by Steve Vondran 
Will 5G equipment be a boon to macro towers?
There is a lot of confusion/speculation about the size & weight of 5G equipment like M-MIMO. Would you say that 5G equipment should be a boon for macro towers, size & weight-wise? by George Engroff
To George – Massive MIMO antenna serviing mid-band spectrum are generally larger and heavier by Jeff Stoops 
Will there be a multi-year build cycle?
Should the industry be preparing for a multi-year build cycle similar to the 2012 to 2015 time frame? by Christopher Ply
Chris–we see this as similar to 4G –a multi-year deployment for the initial phase followed by continuous optimization by Steve Vondran 
Is there a shortage of 20,000 tower technicians as oftentimes stated?
It's been stated frequently in the public and private sector that the industry is short 20,000 tower technicians. Can anyone identify how that number was derived? by Craig Lekutis
To Craig, That number is too high. Don't know exactly what it is, but it is not that high. by Jeff Stoops
Responding to jurisdictions regarding negative feedback
With the complexity of 5G adding in additional Tower sites, IDAS, ODAS and rooftops how are the major carriers/towers poised to respond to local jurisdictions with negative feedback with 5G and stealthing/hiding antenna and tower footprint? by Steven Smith
Steven, thankfully, we've received tremendous support as an industry from the FCC. WIA has been a critical part of articulating this need. We'll get it done by being good partners with the communities. by Jay Brown

Practicality of shared infrastructure
Love for the panel to talk about shared infrastructure–and how spectrum policy might "get an upgrade" in this regard.. (especially given the example of STA's being granted for DISH's spectrum assets to T-Mo etc on a temporary basis) by Dan Lubar
Don't believe shared infrastructure will be big in the US in terms of spectrum, radios or antenna. Our customers are too competitive. by Jeff Stoops
When is the boom of work coming for service vendors?
The last 8 – 9 months have been extremely slow for service vendors, especially those that rely on applications coming into tower owners. We keep hearing that the boom of work is coming. When do you all expect the rush of work to hit? by Chad Tuttle
Hey Chad – I think it will be in Q3 but might be more like Aug/Sep than July. by Alex Gellman
Has permitting and zoning improved?
For all members of the round table. beyond COVID-19 as a disruption along with unemployment does permitting and zoning in small cell deployments improved? If not, what can be done to improve this process? by Mike Funaro
Mike, we're making progress everyday with municipalities. Tower coverage has taken more than 2 decades and we're still working at it. Small cells are an important part of 5G networks and the build-out will take many years. by Jay Brown
Plans for implementing 5G in office buildings
Thank you all for this round-table! A lot of great info here. A quick question for anyone, is there a plan for the implementing 5G in office buildings? Whether it is upgrading existing DAS/Small Cells or installing new DAS/Small Cell on a building by building basis, will there need to be a hardware upgrade from LTE to 5G for in-building mobile solutions? by Brandon Crawford-Braun
Brandon – the plans and discussions I have seen around in building are focused on CBRS. Little talk about 5G in-building right now. I would assume 5G will be deployed as an upgrade in venues (stadiums, casinos) but most other buildings don't have 4G today. by Alex Gellman
Brandon, The office building and enterprise venue in building present more and more a solution by the building owner and tenants as a required building tenant service. In building deployments will in all likelihood use CBRS when finally deployed. The primary issue for the carriers and neutral host providers is who will pay for upgrade required to deploy in such infrastructure in buildings. by David Weisman
Brandon–much like the previous technology evolutions, 5G will require upgrades to existing DAS and in-building systems. We are seeing those deployment plans take shape today. by Steve Vondran
Will consumers see price reductions?
We often hear how innovation increases efficiencies and decreases costs but practically it's difficult to ever see costs go down for consumers. What's your perspective on this? by John Rowe
John, I think from a consumer perspective they are getting a ton more for their money than two or three years ago. I know I am. by Jeff Stoops
What can be done to address cell tower fires?
Hearing reports from different parts of world, some are relating 5G to COVID-19 virus and setting cell towers on fire and harassing workers in the field. Have you seen any issues? what can/should industry/D.C. do to address the issue? by Ric Prentiss
Thankfully no issues here in the US or our international markets. Ric – We need continued industry commentary refuting this crazy thought, but the problem is that it requires disproving a negative so people will be able to run with the belief with absolutely no proof. by Jeff Stoops
Ric–thanks for the question. At this point, we have not seen any issues with respect to our towers, but we are watching it. We've seen the recent news and are hopeful that the news cycle and information being shared will outpace the misinformation. by Steve Vondran
Challenges of 5G performance
For Jay – what are the major challenges of understanding performance of 5G and macro sites? by Jeff Feist
Jeff, the RF doesn't change although we'd expect there will be some additional spectrum bands that are used in 5G compared to prior generations. For the carriers, 5G reduces network congestion and greater remote adjustments to the network. As consumers, we will see faster speeds and lower latency. by Jay Brown
Percentage of 5G antennas that are already installed
Can you guess the percent of 5G antennas that are already installed and what percent is left to be installed on macro sites between 2019 and 2024? by Ahmet Colakoglu
Ahmet, It would be hard to put a number on that at this time, but we're in the early phases of what will be a multi-year deployment. by Steve Vondran
The current percentage of deployed true 5G antennas on macro site towers today is very small – below 5% by Jeff Stoops
Ahmet, When you refer to: 5G antennas, it will depend on what frequency bands are being used by each carrier and in which market and site. For example, 5G means 2.5 Ghz; or 600 Mhz or mwave or C band. Agree with Steve, very early stage of deployments and a great deal to go. by David Weisman
FCC infrastructure deployment assistance
Hey guys, how optimistic are we that FCC action will really impact bad actors impeding infra deployment…what changes from an enforcement/penalty standpoint? by David Barden
Dave, in the past, FCC action has been really helpful to our industry. It gives clarity to cost and timelines. I'd expect that the vast majority of communities will comply. by Jay Brown