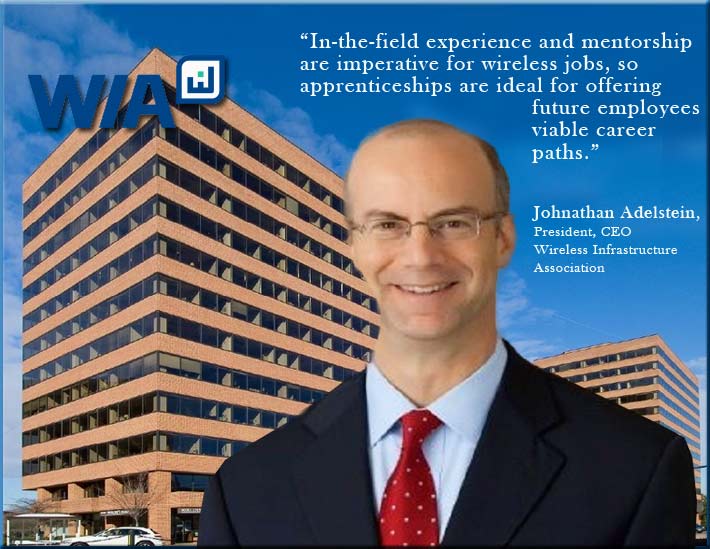 The Wireless Infrastructure Association (WIA) announced today that the U.S. Department of Labor (DoL) awarded it a major contract to perform as the 5G Industry Intermediary to develop the wireless workforce.
DoL provided WIA a multi-million-dollar contract as the National Sponsor of the Telecommunications Industry Registered Apprenticeship Program (TIRAP). The objective of the funding is to expand the industry's multi-employer apprenticeship model to meet employers' occupational and skills development needs.
WIA President and CEO Jonathan Adelstein informed Wireless Estimator that funding will enable WIA to assist employers in developing over 600 apprentices in the next year with multi-year options to renew thereafter.
Adelstein said that in 2017 when WIA was named the national sponsor of TIRAP by the DoL, there was only one company in the program, and today, there are 30 companies that have over 2,000 apprenticeships.
The contract also provides $400,000 per year in incentive funds for employers that adopt registered apprenticeships and serve under-represented populations. Adelstein said that in addition to WIA's administrative support, compensation for each apprenticeship would be approximately $800.
Adelstein is championing the need for companies to look at military veterans for their minority outreach since servicemen and women are used to working in teams, they're safety-conscious and have leadership skills and other attributes that employers seek in a candidate.
In announcing the contract awards, the DoL cited evidence that 94 percent of apprentices retain employment after an apprenticeship program ends and provides companies with a lower turnover while improving productivity.
Although that might be evident in electrical and other trade groups, wireless construction is known for a high turnover rate, and Adelstein said that the industry's apprenticeship adoption is too new to be able to identify a 94 percent retention rate.
He said, however, he's convinced that an apprenticeship will certainly improve retention since the apprentice feels that they have been rewarded for their work and skills and the company has made a significant investment in their future, which is appreciated.
"WIA is grateful for DoL's focus on 5G as a driver of job growth for the entire economy. With the resources provided by DoL, WIA can offer more support to employers as they train their workers to meet the demands of winning the race to 5G," said Adelstein.
Last February, WIA and the Power & Communication Contractors Association were awarded a $6 million grant to train a 5G workforce. Adelstein said that progress is well on its way with five community colleges signed up to provide training in wireless and utility work.
Although Adelstein admits that industry hiring is a little soft due to the COVID-19 pandemic, he believes that when all significant carriers start "firing at once," there could be a sudden shortage.
"We're going to have a real labor crunch that we're going to have to prepare for now because it's a long lead item," said Adelstein.