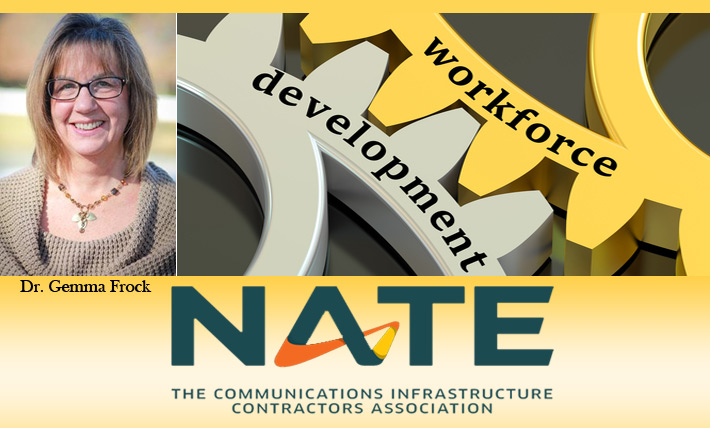 NATE: The Communications Infrastructure Contractors Association announced that the organization has entered into a professional consulting services agreement with Gemma Frock, PhD from GKF Consulting Services.
In her consulting role, Dr. Frock will be tasked with implementing the year one objectives outlined in the Telecommunications Industry Workforce Strategic Plan which she drafted on behalf of NATE. Her focus will include meeting established year one benchmarks encompassing a workforce and program strategy, communication strategy, funding strategy and data strategy. Dr. Frock will also lead NATE's Workforce Development Committee and serve as the Association's primary liaison to member companies, community colleges and technical institutes who need information and guidance on starting industry-specific programs.
Dr. Frock's education and workforce development experience spans over 30 years. Most recently, she held the position of Vice President of Education and Training at Aiken Technical College where she developed Tower Technician certificates leading to a Telecommunication Associate of Applied Science degree program. She has worked extensively with the Department of Army and the public school sector. Currently, Frock sits on the Board of Governors for the National Wireless Safety Alliance and serves on the Board of Directors at FORCES UNITED, a veteran service organization.
"NATE is excited to collaborate with Dr. Frock to begin executing on our plan to ramp up promotion of the industry-specific professional career opportunities available and develop additional programs at the community college college/technical institutes in order to recruit and train a pipeline of future workers," said NATE Chairman Jimmy Miller from Gulfport, Mississippi. "As the architect of the Aiken Technical College program, Dr. Frock possesses the experience, knowledge and passion to help set the stage for NATE and the industry to move the needle on our workforce development goals," Miller added.
"I am thrilled to enter into this professional consulting relationship with NATE as I have long admired the organization and the prominent role its member companies and the technician workforce plays to enable connectivity in the United States," stated Dr. Frock. "We have a lot of work in front of us and I look forward to rolling up my sleeves to turn our strategic plan into actionable deliverables that will help grow the industry's workforce over time."
Dr. Frock can be reached via e-mail at g.frock@comcast.net. For more information on NATE, visit www.natehome.com today.