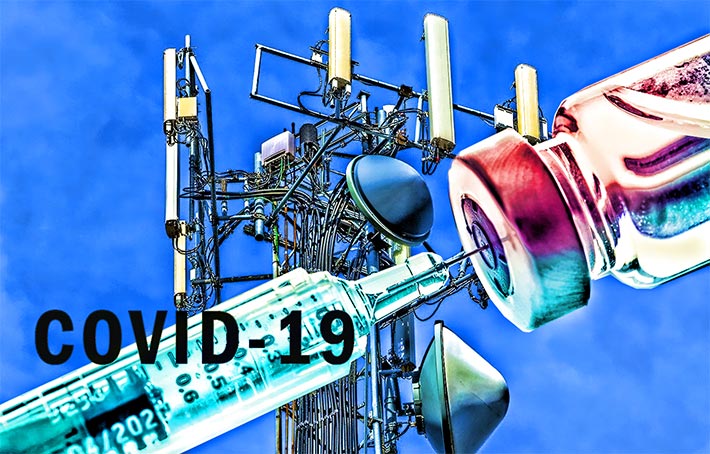 Twenty-three industry contractor and vertical realtor executives interviewed in confidence by Wireless Estimator in the past six days said that they've seen a marked decrease in their normal workloads and  schedules but are weathering the effects of COVID-19 and adapting to changes daily.
However, there is a general consensus that the impact on construction activities will become more profound in weeks ahead and if the pandemic doesn't show signs of easing towards the middle of the second quarter, there could be serious problems within the industry.
Four wireless contractors known to have employees that tested positive
Similar to States a few weeks ago that had no reported cases of COVID-19 and then blossomed with hundred of cases seemingly overnight, the wireless industry appeared to be spared, but is now seeing infections trickling in.
An administrative employee from a mid-sized wireless contractor has tested positive for COVID-19, but the individual's HR director said that the employee might have contracted the virus while away from the office and is currently at home.
A tower technician from a contractor with multiple offices throughout the nation has also tested positive.
A tower technician from a company with 12 employees has also contracted the coronavirus and is currently in the hospital, said the company's owner. He has instructed the man's two co-workers to stay at home for two weeks and to continually monitor their temperatures and other recognized symptoms. He said they will be paid while they are quarantined.
Another company's technician tested positive yesterday who had been working with two crews in the previous week and they too have been cautioned to remain vigilant regarding their health. One crew was from out of town and is staying quarantined in their hotel, the second crew was local and was sent home.
Tower owner says one company took social distancing too far
A vice president of a major tower owner said that his firm understands issues in the current environment that require working something out to cover extra costs and the company is amenable to providing them, but he does take issue when a company affects a customer's relationship by holding up a committed start date and "demanding an unreasonable fee".
He said that one of their contractors was concerned about having too many workers in one vehicle.
"Shortly before they were to be on site they told me they weren't leaving for the job until we agreed to an exorbitant mobilization fee to drive five separate vehicles and extra hotel room costs. They can continue sitting at home," he said.
Contractors witnessing purchase orders being put on hold
Twelve contractors said that purchase orders or notices to proceed are being pulled for various reasons. Three of them serviced clients outside of the cellular industry. The reasons given were due to military bases being on lockdown, power companies only attending to emergency needs and equipment not being shipped.
One contractor took the slowdown in stride and said it will give him time to regroup and "assess my employee and company needs when the virus is no longer a problem."
"We've told our customers we will not be working out of state," he said.
Sixteen contractors said that their field employees did not have N95 masks.
A California contractor said they were observing a stay at home order and had alerted their clients of that measure. When asked if they had used the Department of Homeland Security's (DHS) letter that wireless contractors are essential service companies and should be able to mobilize during curfews and restricted travel periods, he said no, hung up, and did not return a call.
A Georgia contractor didn't have the opportunity to find out if the DHS letter allowed him to travel into Florida last weekend to work as a subcontractor for a project in Daytona Beach.
"They had some kind of checkpoint and we sat in traffic for over three hours. At that point I turned around and went back," he said.
A key tower owner representative said that they have not experienced any delays associated with material availability. However, since they typically have excess inventory on hand, any setbacks associated with manufacturing will likely be seen as existing inventories are diminished in the weeks ahead.
Another major tower owner said they have seen some OEMs not having enough antennas or spare parts for aviation lighting systems, etc.
He said that he has observed some slowdown in non-essential construction activities as crew availability has been impacted by travel restrictions, hotel availability and limited food services. "However, available crews are very focused on delivering all essential services," he said.
Towercos seeing similar problems in getting development approvals and permits
Almost all tower owners detailed similar roadblocks in getting permits and processing new applications.
Environmental companies appear to be able to assist in preparing NEPA applications, but getting them processed can be cumbersome. There appears to be a lack of NEPA resource personnel and one tower owner executive said that the Bureau of Indian Affairs is closed.
In addition, some planning and zoning authorities have cancelled meetings. Some jurisdictions are conducting zoning meetings and application reviews remotely, but others have struggled to keep up since their staff have been working at home.
Permitting obstacles include some states and municipalities not allowing DocuSign, requiring wet signatures for recording, and with everyone out, even getting a notary is difficult.
Four tower owners said that they wouldn't invoke the shot clock since they understand the constraints that government officials are under. "We wouldn't," said one executive. "But even if we did it's likely that a judge would side with the municipality during these extreme times."
Intervention is needed to build now and certify code compliance later
"I am hoping that building officials allow critical infrastructure to move forward on existing towers, poles, and conduits, then do a 'catch up' later," said one tower company's CEO.
"For projects not zoned, a two or three month delay will not cause much harm. Lead times for fiber builds and tower deployment are long, everyone knows it, so a few more months because of a crisis will not impact the networks, but could impact employees."
"My hope would be that after this virus is over, all states, cities, and towns realize broadband is needed more than ever and they look for ways to expedite the deployment process across the country, and never have to worry about the shot clock coming into play," he said.
CSCC is taking the industry's concerns seriously and elevating them
The US Communications Sector Coordinating Council (CSCC), an agency that reviews industry and government actions on critical infrastructure protection priorities, is aware of the wireless industry's concerns and last week presented them in correspondence to the Department of Homeland Security's Director of Cybersecurity and Infrastructure Security (CISA).
In addition to prioritized access and use of personal protective equipment for industry workers, CSCC is requesting access to prioritized COVID-19 testing to ensure that smaller essential companies are not forced to scale back or stop critical operations due to unnecessary self-quarantine measures.
One of their top priorities is the approval for construction of new facilities, they said , and deployment of new communications facilities, including new technologies to increase capacity, an essential part of the national response effort.
Since communications construction and other work are subject to prior approval, issuance of permits, and municipal inspection processes, they are requesting that State and local governments ensure that permitting, inspection, and other review or approval requirements or processes are either waived or expedited for infrastructure construction and restoration, including contractors for construction and engineering of fiber optic cables, buried conduit, small cells, other wireless facilities, and other communications sector-related infrastructure.
---
Editor's Note: If you have any industry updates or company-specific information regarding COVID-19, we would appreciate the opportunity to keep our readers abreast of them. All information will remain confidential. The infrastructure community relies upon Wireless Estimator for the most current, accurate news and research and they need it now more than ever. Please contact: CraigLekutis@WirelessEstimator.com .