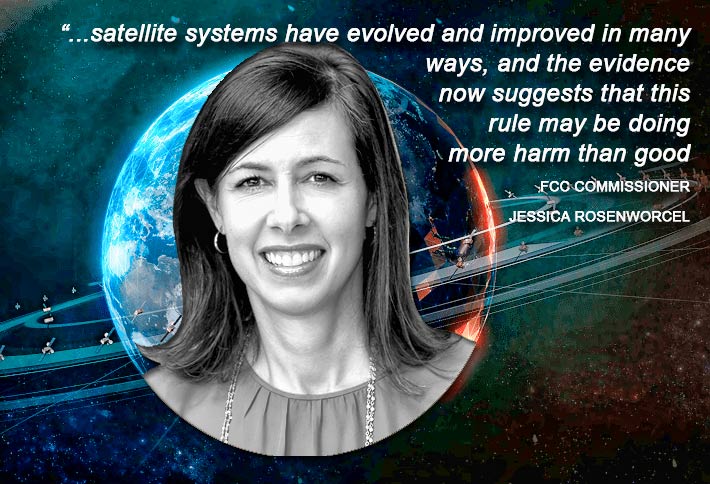 Satellite constellation operators no longer need to provide nationwide broadband coverage to be in compliance with FCC regulations after the agency voted to change the rule Wednesday, releasing the report and order on Friday.
The FCC eliminated the requirement for non-geostationary-satellite orbit, fixed-satellite service (NGSO FSS) systems, stating that with advances in NGSO technology and spectrum sharing, the domestic coverage requirement can actually discourage or hinder the development of new innovative NGSO FSS systems like the Arctic Broadband Satellite Mission and Kepler, that propose to provide valuable connectivity to Alaska and the arctic areas, as well as the Audacy Network's space-based relay platforms, or Kuiper's and ViaSat's proposed broadband systems.
"These systems would not meet the Commission's current coverage requirement, yet propose to provide valuable satellite-based services in the United States and around the world. This action will provide greater regulatory certainty, and design and operational flexibility to innovative NGSO FSS systems while still meeting the Commission's goal of promoting widespread NGSO service offerings," the FCC said.
In late July, Amazon (Kuiper) was provided permission from the FCC to move ahead with launching a geostationary satellite constellation of more than 3,200 satellites, to provide fixed and mobile broadband services in the continental U.S. and other global locations.
"So while we are disposing of our nationwide coverage requirement today," said FCC Commissioner Jessica Rosenworcel, "it is not because we no longer think ubiquitous, nationwide coverage is important. Just the opposite. Our action is intended to promote more service, not less. And it is intended to promote service in rural and remote areas, including Alaska and Hawaii. If for any reason we find that parts of the country are being left behind, I expect the agency to take action to fulfill its core statutory mandate: to make available advanced communications service to all Americans."
Geostationary (GSO) satellites are at 36,000 kilometers above the Earth, a place where they appear fixed in the sky when observed from the ground. NGSO satellites at medium Earth orbits (MEO) altitudes are between 8,000 and 20,000 kilometers above the Earth and low E​arth orbits (LEO) altitudes are between 400 to 2,000 kilometers above the Earth. Since NGSO satellites move across the sky during their orbit around the Earth, NGSO operators must deploy a fleet of several satellites, generally called "constellations," to provide continuous service from these altitudes.