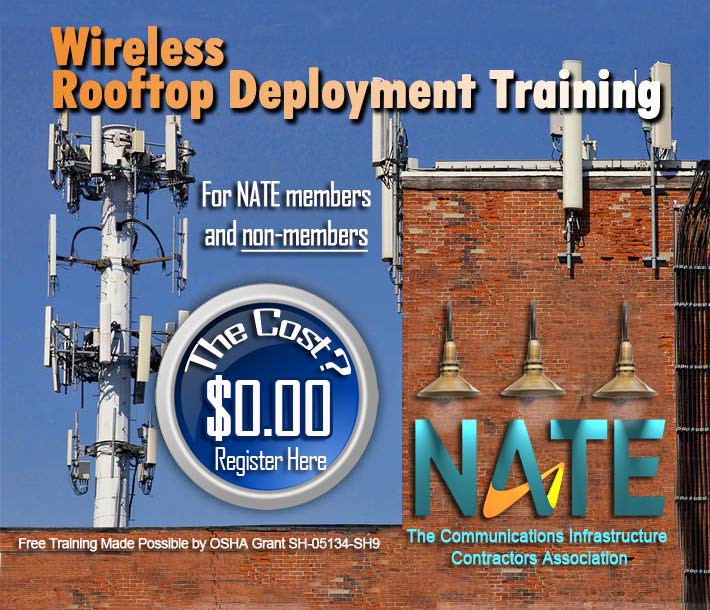 NATE is offering a free Wireless Rooftop Deployment Training Course on Monday, August 3, 2020 at the Sheraton Suites Galleria-Atlanta in Atlanta, Georgia to all industry professionals, announced NATE project coordinator Kimberly Elliott.
The course is made possible due to a Susan Harwood Training Grant (SH-05134-SH9) from the Occupational Safety and Health Administration, U.S. Department of Labor. Applicants do not have to be a NATE member in order to apply for these free training sessions.
The Wireless Rooftop Deployment Training curriculum will be tailored specifically to the communications infrastructure industry and include detailed instruction on wireless rooftop deployment and safety practices workers need to know such as updates to the general industry OSHA Walking-Working Surfaces Rule and Fall Protection Standards, industry-specific rooftop fall protection procedures, hazard assessment protocols, antenna identification, RF awareness, RF controls and other applicable standards. The training includes the following topics:
Section 1: Introduction to NATE and OSHA
Section 2: State of the Industry
Section 3: Applicable Laws, Regulations, and Standards
Section 4: Potential Rooftop Hazards
Section 5: Hierarchy of Controls Overview
Section 6: Pre-task Planning and Job Hazard Assessment
Section 7: Radio Frequency (RF) Hazards and Mitigation
Section 8: Fall Protection
Section 9: Practical Workshop
The course will also include information regarding employee and employer rights and responsibilities under the OSH Act of 1970, whistleblower complaint procedures and protection provisions.
NATE's mission is SAFETY and so ensuring the health and welfare of their training attendees is the most important element of their return to in-person training. The following guidelines have been established in consultation with the training venue to ensure the safety of all attendees:
The training session room seating arrangements will be spaced out safe distances in order to accommodate social distancing guidelines.
NATE has purchased masks and will make masks available to all attendees who voluntarily elect to utilize them during the training course.
All training participants and attendees will be provided with individual bottles of sanitizer to utilize throughout the training day.
The lunch offered by NATE during the training will be a box lunch so attendees can remain in their seating areas.
NATE encourages company employees to register today. The registration form is available here.