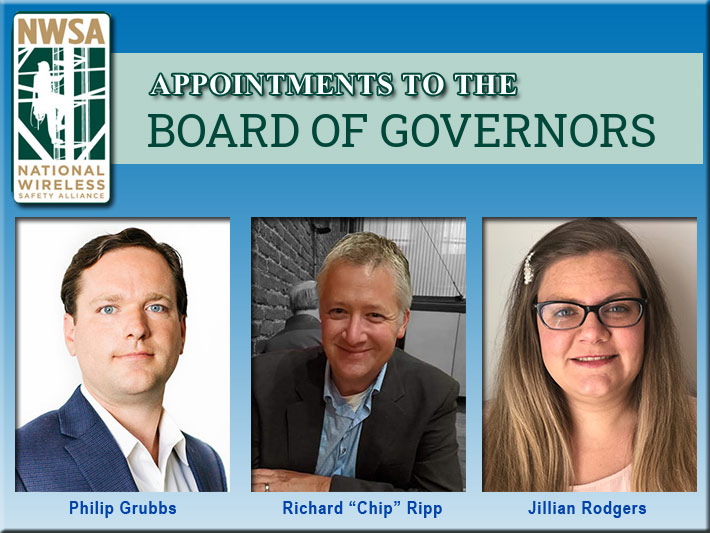 The National Wireless Safety Alliance (NWSA) announced that Philip Grubbs, Environmental, Safety, Health, & Security (ESH&S) Manager in North America for Black & Veatch, Richard "Chip" Ripp, General Manager of Standards and Process for DISH Wireless and Jillian Rodgers, Environmental, Health, Safety, and Fleet Manager at U.S. Cellular have been appointed as members of the Alliance's Board of Governors.
In their new roles as members of the Board of Governors and to maintain NWSA's diversity of industry sectors, Grubbs will be fulfilling a Large Contractor/Turf Vendor seat, Ripp a National Carrier seat and Rodgers a Regional Carrier seat. The Board of Governors consists of representatives from a broad cross-section of the industry and is tasked with developing policy and overseeing the activities of the various committees that will serve under their jurisdiction.
NWSA, headquartered in Fairfax, Virginia, is a national non-profit assessment and certification organization established to provide thorough, independent assessments of knowledge and skills and provide verifiable, ANSI accredited trade certifications in order to enhance safety, reduce workplace risk, improve quality, encourage training, and recognize the skilled professionals who work on towers and other non-standard communication structures.
"NWSA is ecstatic to be able to add Philip, Richard and Jillian to the talented and diverse roster of Governors that we have assembled," stated Executive Director Duane MacEntee. "All three of these leaders possess unique talents, experience and subject matter expertise that will serve to continue helping our credentialing organization scale the number of NWSA certified trade workers in the United States," added MacEntee.
NWSA currently offers the following industry-wide trade certification programs: Telecommunications Tower Technician 1 (TTT-1), Telecommunications Tower Technician 2 (TTT-2), Telecommunications Tower Foreman and Antenna & Line Specialty Certification Program.
Other assessment and certification programs NWSA will likely unveil in the future include Advanced Rigging, Structural Modifications, Small Cell Technician, Gin Pole Operations and Broadcast Tall Tower Technician.
Industry workers, companies and stakeholders are encouraged to visit the NWSA website at www.nws-a.org to learn more about the organization and how to begin the process of obtaining certification.