U.S. Congressman John Curtis (R-UT) yesterday conducted a site visit and climbing experience at a communications tower located in Moab, Utah. The tour was facilitated by representatives from NATE: The Communications Infrastructure Contractors Association and member companies Triple M Enterprises and VIKOR. The site visit was held at a Royce Electronics owned monopole site that is located in the Sand Flats region of Congressman Curtis' Congressional District.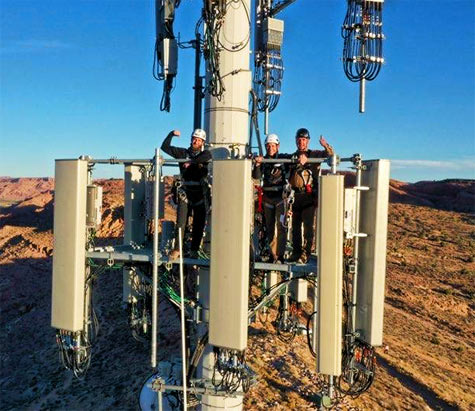 Congressman Curtis represents Utah's 3rd Congressional District that is home to Silicon Slopes, one of the nation's fastest growing and thriving tech sectors. Recently, the House Energy & Commerce moved forward a comprehensive package of 26 bills that aim to streamline the deployment of broadband infrastructure. This comprehensive package included two bills (the Federal Broadband Deployment in Unserved Areas Act and the Rural Broadband Permitting Efficiency Act) introduced by Rep. Curtis that will remove barriers that hinder broadband deployment on Federal lands and delay internet access for neighboring communities.
During the event, management and tower technicians from Triple M Enterprises and VIKOR visited with Congressman Curtis about the work they conduct on a daily basis building, installing and maintaining communications tower sites/broadband infrastructure while also shining a spotlight on the myriad of regulatory challenges confronting the industry's ability to deploy infrastructure on federal and tribal lands. The highlight of the day was providing Congressman Curtis with the unique opportunity to experience a short tower climb under the guidance of safety personnel and tower technicians.
"The wireless industry plays such a critical role in our everyday lives," said Rep. Curtis. "Understanding how we all stay connected and the equipment needed to make simple communications like text messages or a call to a family member is important in order to help us make further technological advancements and to develop the workforce needed to achieve these advancements. I really enjoyed this unique adventure today."
"Utah is filled with some of the most beautiful places on the planet. Unfortunately they have limited connectivity due to federal regulatory hurdles making it tough to install wireless infrastructure," stated VIKOR CEO Craig Snyder, whose company's Orem-based regional office is located in Utah's 3rd Congressional District. "Bridging the digital divide in wide open spaces of federal and tribal lands is of great importance to those suffering under the challenges of low connectivity. We're very encouraged by Congressman Curtis' desire to work at the national level in this regard, especially in places like Utah where so much land is federally owned," Snyder emphasized.
"It was an honor to host Congressman Curtis today at the Sand Flats tower site. On behalf of NATE's member companies in the 3rd Congressional District of Utah, we welcome the support of Congressman Curtis in his efforts to help bridge the digital divide on federal and tribal lands in Utah and beyond," said NATE Wireless Industry Network Rocky Mountain Region Ambassador Chris Memmott from Triple M Enterprises in Nephi, Utah.