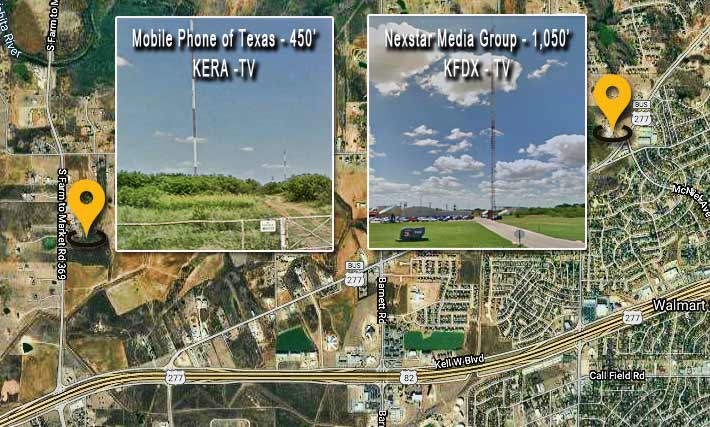 A tall tower crew is on site in Wichita Falls, Texas, stabilizing a 1,050-foot TV broadcast tower owned by Nexstar Media Group, Inc., off 4500 Seymour highway.
It is one of two towers that had guy wires cut early Friday morning, with a 450-foot structure giving way to actions of those that authorities have stated committed a "serious felony".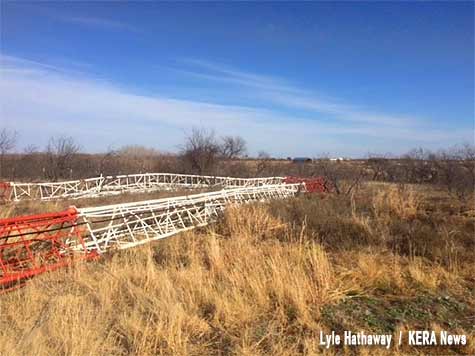 The collapsed structure, built 40 years ago, is owned by Mobile Phone of Texas and is leased by PBS television station KERA.
The Nexstar tower, erected in 1990, broadcasts Fox affiliate KFDX. It is a little over three miles from the KERA site.
It is not known if the KERA tower fell immediately after the guyed wires were cut or if it was the first one that was targeted.
The KFDX tower had two inner guy wires cut but was able to withstand area wind gusts.
Yesterday, gusts peaked at 25-mph, and today, they are expected to be less than 20-mph, according to Weather Underground.
The station's engineers could not be reached to identify whether they had analyzed the structure to determine what wind speeds could cause it to collapse in its current condition.
KERA Vice President of News Rick Holter said the station had temporarily moved its newsroom to a different location for safety reasons.
The Wichita Falls Police Department is receiving assistance from the FBI and the Texas Department of Public Safety because it involves federally licensed broadcast facilities.
Area surveillance videos are being investigated to see if they can provide any information.
The way the guy wires were cut possibly indicates that the individual(s) were not knowledgeable of industry practices and inadvertently prevented the structure from collapsing upon the station's news and production facilities below.
Since the structures were under different ownership, it is possible that the individual responsible may not be someone who believes they were wronged as an employee or in a news broadcast.
Authorities will be investigating if the vandalism could have been by activists who believe 5G is harmful to human health, a charge not supported by scientists or professional studies.
It is unknown if either structure had mobile carriers co-located upon them.
Wichita Falls Police are requesting that if you have any information about this crime, call Crime Stoppers 24 hours a day at 800-322-9888.