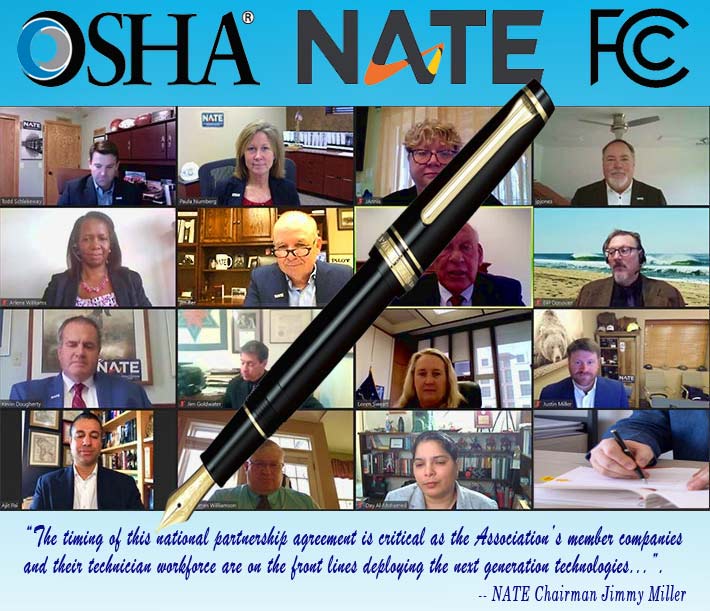 The U.S. Department of Labor's Occupational Safety and Health Administration (OSHA) has signed a national strategic partnership with NATE: The Communications Infrastructure Contractors Association and the Federal Communications Commission (FCC) to improve worker safety in the communications tower erection industry.
The goal of the three-year partnership is to eliminate worker injuries and fatalities while performing wireless and telecommunications, tower erection and maintenance operations. The partnership will address some of the industry's frequently encountered hazards, including falls from height, electric, falling objects, tower collapses, and inclement weather.
"The demand for wireless communications and broadcast services has increased the need for construction, service and maintenance of towers throughout the country," said Principal Deputy Assistant Secretary of Labor Loren Sweatt. "The partners will work together to focus resources on eliminating hazards and improving the safety and health of tower workers."
"The timing of this national partnership agreement is critical as the Association's member companies and their technician workforce are on the front lines deploying the next generation technologies and broadband infrastructure that are simultaneously enabling a 5G future and helping close the digital divide," said NATE Chairman Jimmy Miller. "The Association looks forward to partnering with U.S. DOL OSHA and the FCC in order to elevate and enhance the industry's safety culture and keep our workers healthy."
"Tower technicians do the hard, often gritty work to build, maintain and upgrade broadband networks throughout the country. The pandemic has further demonstrated everything our wireless workforce does to keep Americans connected, and it is imperative that we do everything we can to keep them safe," stated Federal Communications Commission Chairman Ajit Pai. "As the United States ramps up its 5G rollout, this national partnership agreement will only become more important. The FCC looks forward to working with OSHA and NATE to ensure the safe buildout of wireless infrastructure."
OSHA's Strategic Partnership Program works with employers, employees, professional and trade associations, labor organizations and other interested stakeholders to establish specific goals, strategies and performance measures to improve worker safety and health.
Under the Occupational Safety and Health Act of 1970, employers are responsible for providing safe and healthful workplaces for their employees. OSHA's role is to help ensure these conditions for America's working men and women by setting and enforcing standards, and providing training, education and assistance. For more information, visit www.osha.gov.
The mission of the Department of Labor is to foster, promote, and develop the welfare of the wage earners, job seekers, and retirees of the United States; improve working conditions; advance opportunities for profitable employment; and assure work-related benefits and rights.