UPDATE: December 17, 2020 –  James Shumate's obituary and services information have been added below.
---
December 16, 2020 — A 24-year-old tower technician was killed Saturday, December 12, 2020 when he fell from a tower near Fruitland, Washington.
According to individuals knowledgeable of the incident, James Everette Shumate of Houston, Texas was at approximately 260 feet on the structure while it was being topped out when for an unknown reason he fell.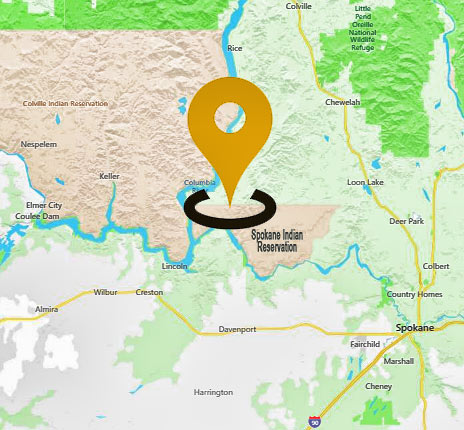 Shumate was employed by Quality Tower Services of Houston. According to his LinkedIn page he had been working for the company for over two years after serving in the Navy in aviation ordnance.
Quality Tower Services' owner, George Jackson, said that his company was truly saddened by Shumate's passing, but he could not provide any additional information since there was an open investigation by Washington State Labor & Industries (L&I).
Wireless Estimator was able to identify that the tower site was on the Spokane Tribe Reservation near Fruitland in Stevens County.
The structure in the West End was the last tower of four to be erected to provide reliable broadband and cell phone services to residents, according to Tribal Emergency Manager Reggie Peone, Jr., who said the Tribe was assisting L&I's investigator
The Spokane Tribe recently applied to the FCC to gain access to a 2.5 GHz band window, an unique opportunity for Tribes in rural areas to directly access unassigned spectrum over their Tribal lands.
Shumate was the eighth worker this year to die due to an accident that occurred while working on a communications site.
The Tower Family Foundation and the Hubble Foundation have been in contact with Shumate's family to provide assistance.
A GoFundMe page has also been set up to assist with expenses.
Following James' Navy service, he followed in his father's footsteps to build towers working for Quality Tower Services.  According to his family, he loved what he did:  traveling to new and beautiful landscapes, working high above the Earth.  James was recently climb and rescue certified as well as an in-house instructor.
He had a bright future ahead of him including a more active leadership role at his work, and a new girlfriend.
James was an avid gamer and lover of all types of music from heavy metal to Frank Sinatra.
He took a particular interest in Norse customs and culture later in life, and per his final wishes to have a funeral pyre, is to be cremated and have his final resting place at his home in Houston.
James is survived by three older sisters, Rachel Busch, Amanda Shumate, and Alyssa Shumate; and an older brother, Jonathon Shumate; his Mother and Father, Nadene and Doug Shumate; and his girlfriend, Meagan Giller.
A viewing and memorial service are to be held at the Hardin Family Funeral Home tentatively scheduled for December 20 and 21, 2020, respectively.