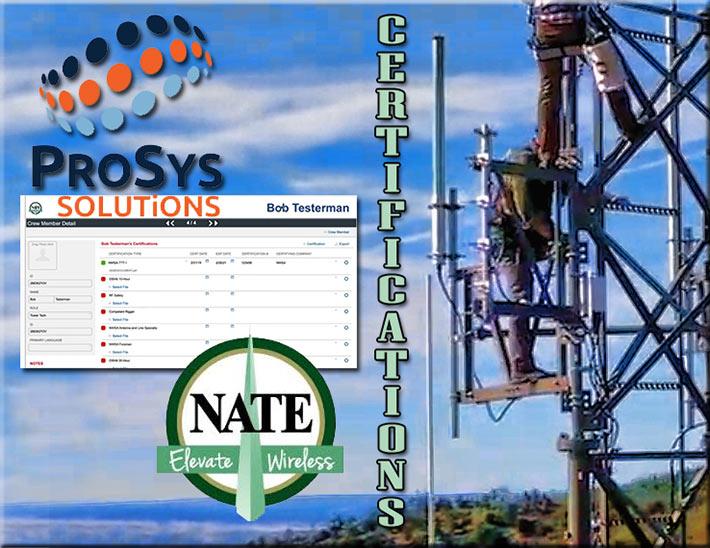 With the ever-changing and ever-increasing safety compliance needs of its members, the National Association of Tower Erectors (NATE) announced today the launch of a new system offering free certification tracking for the association's member companies.
The ABIS Solutions' ProSys Solutions tracking site is designed to assist members with managing their certifications to ensure that they are renewed, utilized, and provided to potential employers in an efficient and pain-free manner. ABIS Solutions is removing the burden of manually managing employee's upcoming renewal of certifications or missing certifications by tracking and alerting utilizing companies when deadlines or missing certifications are detected.
In addition to tracking expiration dates and missing required certifications, ABIS will also allow users to export their employee's certifications to potential customers. Its functionality includes the ability to sort by both crew members and certification type, making it easy to manage individual jobs and individual customer expectations.
"NATE is pleased to officially launch the ABIS Solutions certification tracking site," stated Member Services Committee Chairwoman Jordyn Ladner from Gulfport, Mississippi. "Over the last several years, the Association has attentively explored options that would offer NATE members additional tangible benefits. The ABIS Solutions certification tracking site offers the tools for companies to track their employees' various certifications. I encourage all NATE member companies to visit the portal on NATE's website at https://natehome.com/ today to start the process of certification tracking for their respective companies," added Ladner.
"ABIS Solutions has developed a suite of Supply Chain and Risk Management tools to address major gaps in processes for companies who have a field force or manage a supply chain of vendors, such as safety certification standardization and automation.  ABIS is excited and honored to partner with NATE to provide best-in-class technology solutions to NATE Members with a focus on safety compliance," said Eric Rozencwaig, Managing Director of ABIS Solutions, LLC.
ABIS Solutions is a privately held, Service Disabled Veteran Owned Small Business (SDVOSB), focused on developing innovative solutions to telecom and utility clients complex business problems. The company has developed a unique "Support Services" model enabling companies to grow, scale and improve their overall operations. To learn more about ABIS Solutions, please visit www.abis.com.
NATE members are encouraged to visit https://nate.prosysvms.com today to begin exploring the ABIS Solutions certification tracking site. Visit HERE to watch a short video summarizing the ABIS Solutions tracking site. NATE members are encouraged to also review the step-by-step instructions on navigating the portal HERE.