A Tuesday rescue of a tower tech in LaVergne, Tennessee ended successfully, but it started a slew of social media posts and emails to Wireless Estimator questioning why the individual could not have self-rescued himself or rely upon a co-worker bring him to the ground instead of waiting almost an hour-and- a-half.
HIPAA compliance prevented officials from responding to requests for additional information, but according to multiple news reports, the man was working on a 200-foot T-Mobile tower.
However, the location of the monopole, according to the FCC's database, shows that it is a 150-foot American Tower structure.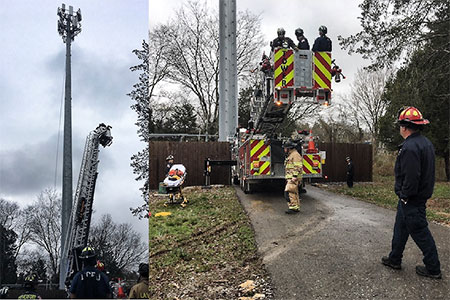 The call came in from the jobsite at approximately 10:15 a.m. requesting assistance to rescue a tower tech that was having a medical issue at the top of the tower located off of Stones River Road.
A special ops team and crews from multiple departments responded, however the tallest ladder truck could only reach 80 feet.
The worker needing assistance then climbed down the monopole using its step bolts and once he reached the bucket he was lowered to the ground.
He was evaluated by medical personnel, but was not transported to a hospital.
Last weekend, multiple people contacted Wireless Estimator regarding a rescue in North Carolina and a possible fatality in Oklahoma, but they could not be confirmed following considerable research.