A live NATE webinar this morning presented by attorneys Edwin Foulke, Jr. and Howard Mavity, partners in the Atlanta office of Fisher & Phillips LLP, enabled almost 200 registrants to obtain the latest information regarding the serious issues facing all employers and employees stemming from COVID-19.
But as both attorneys acknowledged, the most recent information could be outdated as fluid changes are happening almost hourly.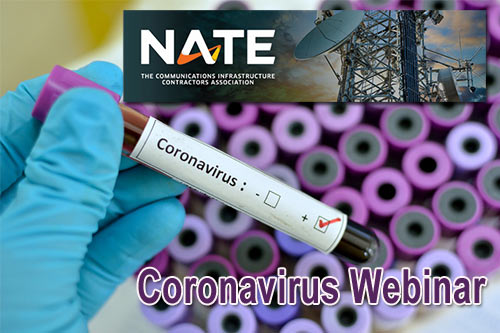 They hilighted the various agency coronavirus web sites that can be used for accurate information, many of them available on NATE's COVID-19's resource portal.
Mavity also said, "if you can get past the politics," The New York Times is generally a good resource for updated information and has run the most practical content.
Both men stressed that employers have the right to take the temperature of employees and it would not violate ADA regulations, and if you find that a fellow worker has COVID-19, you can identify that to customers and others where they worked so that they can be aware and take all necessary precautions.
However, employers must maintain all information about employee illness as a confidential medical record in compliance with the ADA.
COVID-19 is a recordable and reportable workplace illness if a worker has it and other employees also caught it, said Foulke, a former Assistant Secretary of Labor.
He noted that it would not be work-related if they contracted it elsewhere.
"It's kind of hard to show the nexus," Foulke said, and it would be reviewed on a case-by-case basis.
Mavik said it is important to be up front with employees and he emphasized the need for honesty. "Be blunt and candid if you're making changes," he said.
Keeping social distance in the workplace, indoors and outdoors, is essential both attorneys said, and if there are too many workers in a crew cab, it was suggested that two vehicles should be used for transportation.
Companies should show how they're protecting their employees, said Foulke. "You need to tell your employees that they don't need to come to work if they're sick."
"You pretty much have legal, unfettered rights to send people home," said Mavik.
Nonetheless, staying at home, simply because an employee is scared, is not a legitimate reason and an employer has the right to terminate the employee, Foulke said.
The webinar addressed whether an employee can simply refuse to work.  The answer is yes, but only if it can be documented that an imminent danger exists and a reasonable person would agree that there is a real danger of death or serious injury. Identifying that COVID-19 could cause a death and asking an employer to cure that environment could be accomplished by providing PPE, training and ensuring social distancing. However, the attorneys noted that "this is a sliding scale as conditions worsen."
It was discussed that there are travel access and fuel accommodation documents that have been issued on the federal level, but state and local regulations could create some problems. It was suggested that the DHS documents should be presented to those agencies and it is likely that they will not have a problem in accepting them.
Presenting the ever-changing landscape of COVID-19 restrictions, an attendee noted that Florida Gov. Ron DeSantis said yesterday that anyone flying from New York, New Jersey, and Connecticut to Florida will be placed under a mandatory 14-day quarantine, and did the attorneys know of any similar restrictions elsewhere, such as in California?
They didn't and weren't aware of the new Florida restriction that appears to prevent workers flying back to Florida after a work break.
Foulke and Mavity also touched upon new emergency paid sick leave polices that will be required to be made available by small employers.