Raleigh, North Carolina will host NATE UNITE 2020 beginning Monday as communications infrastructure contractors and suppliers come together to benefit from the association's 25th conference and exposition, widely regarded as the premier wireless infrastructure show in the nation.
Trying to identify the best educational or training sessions to attend is challenging because they're all exceptional and are being presented by the industry's most knowledgeable subject matter experts. Attendees wishing they could clone themselves to be able to attend every one of the 19 sessions can select from three tracks, Administrative/Business, Technical/Engineering, and Women of NATE.
Also, there will be multiple educational sessions in the exhibit hall.
One timely administrative/business session that will be of interest to many attendees is Understanding Compliance Companies, where a panel led by Pam Miller, Program Manager for USA Telecom Insurance Services will explore the advantages and disadvantages to clients and companies using compliance companies to vet contractors.
Last November, there were some concerns from contractors regarding Avetta possibly becoming a monopoly following its merger with BROWZ.
At that time, key carriers, as well as towercos Crown Castle and SBA Communications were clients, and last month Wireless Estimator confirmed that Vertical Bridge transitioned to Avetta for their vendor pre-qualification process. Avetta has been courting American Tower Corp. to become a client. A company spokesperson said American Tower "regularly evaluates opportunities that will enhance the experience of customers operating at our sites." 
Panelists include Stephanie Brewer, Compliance Coordinator, MUTI-Sabre Industries Telecom Services; Jessica Chiniewicz, Risk and Surety Bond Manager, Crown Castle; and Danny Shields, CSP Senior Director – Industry, Avetta.
A pre-show planner of all of the February 17 through 20 conference events is available here.
Double tip of the hardhat to the trade show committee
Although NATE Event Coordinator Shari Wirkus and the association's administrative staff work year-round to ensure a successful show that continues to break records for attendance and exhibitors, the association's Trade Show Committee provides the talent, research and legwork to outline sessions, venues, keynotes and other events that shape the show's success.
Chairwoman and committee member Amanda Stegall of MillerCo, Inc. leads the team's committee members: Kevin Schmidt, VIKOR; Jerry Bezner, Alliance Corporation; Beau Aero, GME Supply Co.; Curt Tuttle, FIMO USA; Nick Trussell, Michigan Towers Inc.; Ken Clark, Engineering Wireless Services, LLC; Willie Goldman, Drake Lighting, Inc.; and Christy Hall, Texoma Contracting, Inc.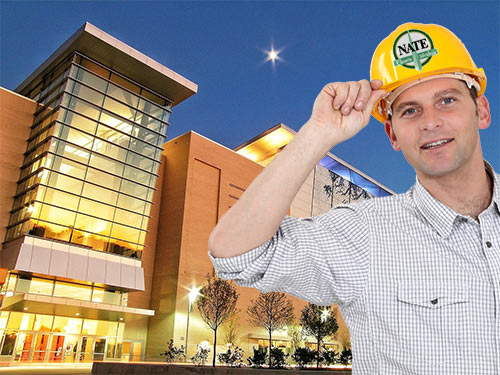 Subcommittee members are: Eric Lord, Flash Technology; Bruce Eades,
Insurance Office of America; Nicole Deas, MillerCo, Inc.; Sean Cooper, ERI Installations, Inc.; Becky Danielson, Tractel, Inc.; Alicia Titus, Meridian Blue Construction, LLC; Luke Ferguson, Valmont Site Pro 1; Michael Pelletier,  Advanced Tower Components, LLC; and Tim Tanner, Noash Construction, Inc.
Board Oversight Director is Randy Scott of Texoma Contracting, Inc.
However, as Stegall often states, there are also dozens of members behind the scenes ensuring the show's success.