The National Commission for the Certification of Crane Operators (NCCCO) and the National Wireless Safety Alliance (NWSA) announced today the official launch of the Telecommunications Tower Rigger Level I (TTR-I) Certification Program.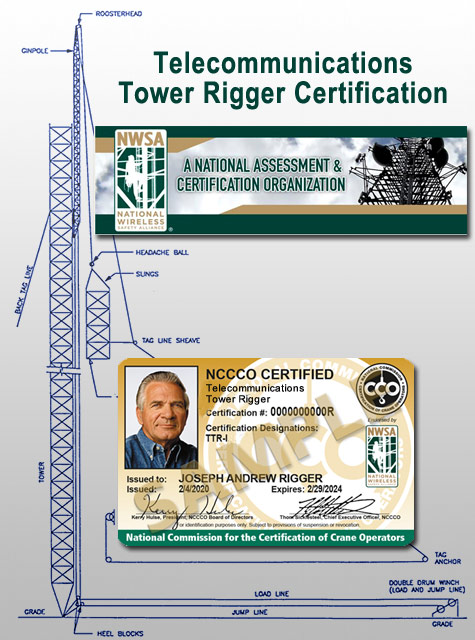 Established collaboratively between NCCCO and NWSA, the new TTR-I certification was adapted from NCCCO's Rigger Level I program and specifically addresses those with responsibility for handling and moving loads on antenna-supporting structures. This program was developed in a joint effort between an NWSA Task Force comprised of communications industry subject matter experts and NCCCO's Rigger Exam Management Committee, who together represent rigging specialists, tower technicians, carriers, tower owners/vertical realtors, contractors, trainers, and suppliers.
The growing demand for wireless and 5G communications has spurred a dramatic increase in communication tower work that requires proper rigging and hoisting operations to avoid serious hazards and injuries from dropped loads. "NWSA is excited again to offer another independent certification that will improve tower site safety and quality," said NWSA Executive Director Duane MacEntee. "We expect this new program to positively impact the wireless industry by validating that tower technicians have the appropriate knowledge and skill to prevent rigging failures during work on telecommunications towers."
"Tower Rigger Level I certification provides the wireless infrastructure industry with a program that places a priority on worker health and safety," said Heather Gastelum, T-Mobile's Senior Manager for National Site Safety and member of NWSA's Board of Governors. "T-Mobile has supported the development of this certification and we will continue to be an advocate for rigging training requirements and this basic credential," added Gastelum.
Richard Cullum, Director of Safety for Crown Castle, who also serves on the NWSA Board of Governors added, "This certification program is an important part of our ongoing efforts to ensure that tower technicians are properly trained to understand the basics of tower rigging and to prevent improper lifting configurations on tower sites."
A TTR-I can perform basic, repetitive rigging tasks, while under direct supervision of a Competent Rigger per ANSI/ASSP A10.48 and demonstrate basic proficiency in inspecting rigging components, reviewing site-specific rigging plans, identifying and attaching rigging hardware, using various types of rope, and securing rigging anchorage/attachment points. It is expected that NCCCO and NWSA will also start developing an Advanced Rigging Specialty, which will build off the TTR-1 certification, in the coming months as the industry's next credential development priority.
To become TTR-I certified a candidate must pass the new TTR-I written exam as well as the current NCCCO Rigger Level I practical exam. The testing fees are $170 for the written and $100 for the practical examination. Both exams must be successfully completed within a 12-month period. For more information about the certification, exam content, fees, and exam applications, CLICK HERE.
As a restricted version of the NCCCO's standard Rigger Level-1 certification, the TTR-I certification is intended only for riggers working specifically in the telecommunications industry. Those who wish to earn the NCCCO Rigger Level I (RIG-I) designation must pass the Rigger Level I written exam and Rigger Level I practical exam. Current certified Riggers are automatically awarded the TTR-I designation.