SBA Communications jumped into edge computing almost a year ago with the purchase of Chicago data center New Continuum to learn how to maximize their interest in the growing field that their competitors were taking an active role in,  and the experiment was successful.
During Monday's Q2 earnings call, CEO Jeffrey Stoops announced that the company has bought their second data center, acquiring the JaxNAP carrier hotel facility in Jacksonville, Florida.
The 280,000-square-foot 14 megawatt facility provides regional co-location and interconnection services to a variety of customers, including sub-sea cable telecommunications companies and approximately 20 fiber providers, all accessing and sharing the property.
Stoops said  that one of the areas of growth his company is pursuing is SBA Edge, where they are focused on using their existing tower assets to offer highly distributed local sites for edge data centers with the potential to provide low latency connectivity to wireless networks.
"We currently have over 8,000 pre-qualified tower sites in the U.S. as locations where we can situate an edge data center with access to secure space, power and fiber. These tower edge data centers will provide co-location options for customers' computing infrastructure with connectivity to a larger metro data center for internet, for private network connectivity," Stoops informed analysts,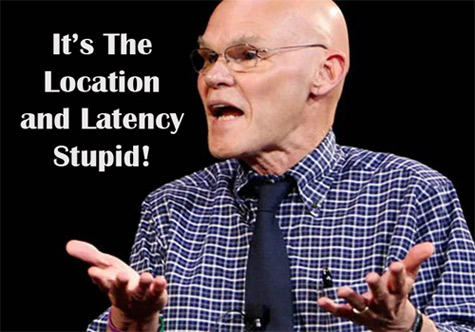 In order to support this business, Stoops said SBA has deployed an edge data center at their tower site in Foxborough, Massachusetts and the company has also made investments in larger more centralized data centers that they believe will act as edge hubs or intermediate aggregation points for computing and storage.
During the call, EVP and CFO Brendan Cavanagh said that during the second quarter, SBA continued to expand their portfolio, acquiring 16 communication sites for $13.4 million and building a total of 79 sites in the quarter.
"Subsequent to quarter end, we have purchased 25 communication sites and one data center for an aggregate price of $61.6 million and we have agreed to purchase 100 additional sites for an aggregate price of $42 million."
American Tower Edge is underway
American Tower began deploying a network of small modular data centers at its tower sites last month, commencing a new phase in the company's expansion into edge computing.
Similar to SBA Communications, the move came a year after the towerco acquired colocation provider Colo Atl as a way to evaluate the edge market and understand the interconnection business.
Recently, the company unveiled its American Tower Edge offering featuring data modules at the base of cell towers in six cities – Atlanta, Jacksonville, Denver, Boulder, Austin and Pittsburgh.
Digital Colony capitalized companies early on for data center growth
Digital Colony Management, the world's largest digital infrastructure investment firm, which provides funding for towerco Vertical Bridge, was the first company to heavily invest in data centers, with a portfolio of  Aptum technologies, Databank, Scala Data Centers and Vantage Data Centers. It has also agreed to buy data center assets from Brazil's Grupo Folha.
CEO Marc Ganzi, has oftentimes stated that there are significant opportunities to put capital to work and he has successfully targeted data centers as the new frontier.
Crown Castle's focus is not on data centers
Although Crown Castle has been involved with edge computing for years through its investment in Vapor IO's "Kinetic Edge" using Amazon Web Services via Crown Castle's fiber network, the company does not own any data centers.
In a analysts call last October, CEO Jay Brown said, "At this point, I really don't see data centers playing a significant role in our long-term strategy."