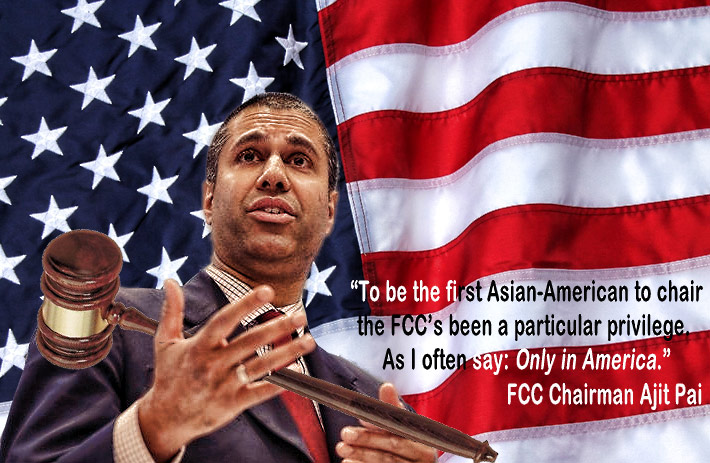 FCC chairman Ajit Pai has announced that he's leaving the Commission as of January 20, 2021,  when President-elect Joe Biden is sworn in.
It was widely expected since appointees often resign as a new administration takes over such as in 2017 when former FCC chairman Tom Wheeler left his position when the Trump administration took over.
His announcement implies that the FCC could reach a Democratic majority months earlier than expected since Pai's term was slated to expire in June 2021.
The five-member commission can have no more than three commissioners from one party at any given time under law.
Republican Commissioner Brendan Carr was nominated by President Trump in 2019 and confirmed by the Senate to serve a new, five-year term., but the other two seats are now up in the air.
Trump revoked his nomination of Republican Mike O'Rielly to serve another term in August after he conveyed reservation about the FCC's authority around the executive order targeting Section 230 which provides immunity for website publishers from third-party content.
Trump's new nominee, Nathan Simington, testified before the Senate earlier in November and all eyes will be on the nomination vote tomorrow.
"It has been the honor of a lifetime to serve at the Federal Communications Commission, including as Chairman of the FCC over the past four years," Pai said in a statement. "I am grateful to President Trump for giving me the opportunity to lead the agency in 2017, to President Obama for appointing me as a Commissioner in 2012, and to Senate Majority Leader McConnell and the Senate for twice confirming me. To be the first Asian-American to chair the FCC has been a particular privilege. As I often say: only in America."
NATE: The Communications Infrastructure Contractors Association, in a statement, saluted FCC Chairman Ajit Pai for his years of dedicated public service and visionary leadership at the agency.
"During his tenure, Chairman Pai played a leading role shaping policies that led to a successful broadcast repack transition, a streamlined regulatory environment surrounding the deployment of 5G technologies, unleashing access to spectrum bands critical to next generation networks and helping close the digital divide by expanding broadband connectivity to rural, unserved and underserved areas of the country. These actions will directly benefit the entire country as well as NATE member companies working on the front lines of deployment for years to come," said NATE President and CEO Todd Schlekeway
"Additionally, NATE is forever grateful to Chairman Pai for utilizing his platform at the FCC to help shine a spotlight on the prominent role that the tower technician workforce plays to enable a connected society. For example, in 2018, Chairman Pai participated in a tower climb at a site in Colorado with numerous NATE member companies in order to experience first-hand the safe work practices, diverse skill sets, knowledge base and work-ethic that are required of today's tower technicians to conduct safe and successful wireless deployments. It was this type of proactive, roll-up-your sleeves leadership which was a hallmark of Chairman Pai's tenure."
Chairman Pai was recently voted to be the recipient of the NATE 2020 Regulatory Champion of the Year Award and the Association plans to formally recognize him with this honor in the coming weeks.
Energy and Commerce Committee Republican Leader Greg Walden (R-OR) and Communications and Technology Subcommittee Republican Leader Bob Latta (R-OH) offered lavish praise to Pai.
"Chairman Pai's eight years of service at the FCC have undoubtedly left a lasting mark on the Commission. From preserving a free and open internet, reducing waste, fraud, and abuse in the Universal Service Fund to allow carriers to deploy broadband services and 5G technology, to creating a telehealth care grant program during COVID-19, and stopping illegal robocalls, the FCC's policies during Chairman Pai's leadership have tremendously improved American consumers' lives and increased competition and connectivity across U.S. communities. While he will surely be missed at the FCC, we believe every American owes him a debt of gratitude. We wish him and his family all the best and look forward to watching his continued success in his next adventure," said Walden and Latta.
Commissioner Jessica Rosenworcel provided a mild thank you for Pai's service.
"While we did not always agree on policy matters, I always valued our shared commitment to public service," said Rosenworcel who's reportedly in line to succeed Pai to chair the FCC.
"Serving the American people is a tremendous honor and I wish him the best in the future," said Rosenworcel in her short statement.
The Republican chairman's departure will allow Democrats to start work next year on their expected priorities with restoring Obama-era net-neutrality rules regulating how internet service provers treat traffic on the networks at the top of their list.