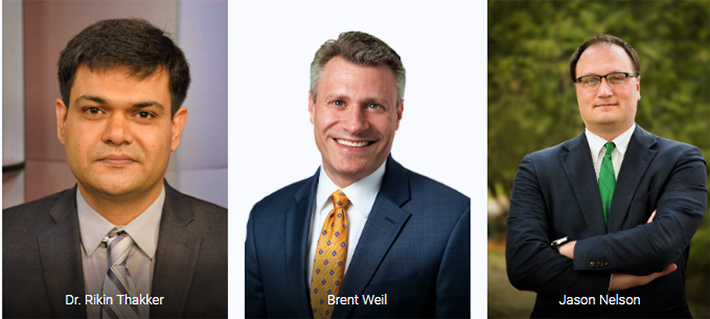 The Wireless Infrastructure Association (WIA) named Dr. Rikin Thakker as Chief Technology Officer; Brent Weil as Vice President, Workforce Development; and Jason Nelson as Vice President, Partnerships and Development. These new leaders will expand WIA's wireless workforce development initiatives and extend WIA's thought leadership and convening role for businesses in the wireless industry.
These positions will play a major role in realizing the goals of the recently awarded U.S. Department of Labor grant and contract to WIA, which provide WIA resources to continue to lead in wireless workforce development, particularly through registered apprenticeships that include a focus on underrepresented populations.
Dr. Thakker most recently served as the Vice President of Telecommunications Infrastructure and Spectrum at the Multicultural Media, Telecom and Internet Council after a combined 12 years at CommScope Inc. and Andrew Corporation. He has served as an Adjunct Professor at the University of Maryland, College Park, since 2009 and previously held a professorship at George Washington University. He holds a Doctorate in Philosophy of Systems Engineering with research focused on "Spectrum Allocation for Mobile Broadband Ecosystem."
"Rikin brings nearly two decades of experience in telecommunications engineering, project management, and 5G to WIA," said WIA President and CEO Jonathan Adelstein. "His experience and technical knowledge of 5G infrastructure make Rikin a one-of-a-kind, leading expert. He will be an invaluable asset to WIA and next-generation wireless networks as the nation competes to win the global race to 5G."
Weil previously served as Vice President of Workforce Development at Argentum, where he spearheaded a multi-million-dollar grant through the U.S. Department of Labor. Weil has held workforce-focused roles in corporate, government, and nonprofit sectors. He previously served as Manager of National Partnerships at the Department of Labor. He holds a Master of Education from George Washington University and a Bachelor of Arts from Stanford University.
"Brent brings experience in developing registered apprenticeship programs, as well as an understanding of collaborating with workforce groups and the Department of Labor," said Adelstein. "He will help drive success for employers in reaching their goals for developing the wireless workforce."
Nelson most recently served as Executive Director of Smart Cities Council. He spent fifteen years with Fierce Markets Inc., serving as Senior Vice President for almost four years. He holds a Bachelor of Business Administration from Grand Valley State University.
"We are excited to welcome Jason to the WIA team. His nearly twenty years of experience and his business development background position him to help our member companies grow and to expand the success of TIRAP's apprenticeship offerings," said Adelstein.