Newly proposed rules, which President Biden announced last Thursday, will require wireless industry companies with more than 100 workers to require vaccinations of all employees against the coronavirus or face weekly testing.
Although the majority of businesses fall far short of more than 100 employees, there are many key companies that meet that plateau such as the major tower owners, turfing vendors and larger contractors.
Four executives, who requested that their company should remain unnamed said it was too early to identify what their policy will be since they are still waiting for guidance regarding the federal mandate, but they all agreed it was an OSHA overreach and amongst other concerns will probably not address employees who in many medical circles are considered to be immune because they have already had COVID-19.
A company spokesperson with over 200 employees, many of them field personnel, said that they were not going to require vaccination as a requirement for employment, but will be monitoring OSHA's rule when it is announced to ensure they are in compliance.
The burdensome fine amount is troubling
One company vice president took issue with OSHA's expected fine.
If employers don't comply with the new directive, the fines are considerable, at $13,653* for each employee in violation.  The "other than serious" fine  seems high, especially since the average fine beginning in 2003 for a company that had a fatality and was cited for non-compliance with regulations is only $7,748.00.
The requirements will be imposed by OSHA which is currently drafting an emergency temporary standard (ETS) to carry out President Biden's dictate, according to the White House.
The limited information that was provided last week makes it unclear whether the rule would apply to all employees or only those who work in company offices or facilities.
"We'll have to see how it is written and if tower crew members would be required to get the vaccine. We'll be in full compliance with whatever rule is provided," an HR director informed Wireless Estimator.
However, it could be an administrative hurdle to ensure that all workers have their vaccine and the data is stored correctly and a process is available to provide exemptions for medical reasons and sincere religious beliefs.
The employer must pay the employee for the time off required to get the vaccination. "No one should lose pay in order to get vaccinated or take a loved one to get vaccinated," President Biden said.
It is unknown whether those who opt out of getting a vaccination will be paid while getting their weekly test, and who will be paying for the testing.
The rules are sure to face litigation and political pushback from unions and some states. If a federal judge blocks the mandate, implementation could be delayed for many months.
Are tower techs in grave danger?
OSHA is authorized to issue an ETS, but the agency must identify that the rule is feasible for employers to enforce and that it is necessary because workers are exposed to a "grave danger".
However, in asking for relief, it could be argued that tower technicians are not in grave danger at a job site since infections are more likely to occur in a community or office setting.
OSHA's mandate will likely be challenged because if it is a grave danger today, why wasn't it dangerous earlier this year when COVID cases were at their highest?
President Biden emphasized that in his September 9, 2021 speech, "…America is in much better shape than it was seven months ago…".
In addition, OSHA's rule could be contested because the grave danger is only in sections of the country that are COVID hotspots.
The rule is expected in the next few weeks, but it is not known when it will take effect.
Once issued, the standard would pre-empt existing state rules, except in states that have OSHA-approved agencies with their specific programs. Those states have an additional 30 days to adopt the standard or provide one that is more effective – which industry observers believe will not occur since they would have to be vigorously defended in lawsuits.
Also, it is expected that employees will have 75 days to get vaccinated before "progressive disciplinary actions" begin, White House press secretary Jen Psaki said, unless federal workers get a grace period not accorded to commercial establishments.
Fake COVID certs could be a problem
Although they did not state that they were employed by a company that exceeded the 100-worker threshold, a couple of Facebook posts from tower technicians said they were adamant that they would not take the vaccine, and would seek employment elsewhere.
"So have someone print you a vax card, it's not that difficult," said one comment.
Some studies have identified that construction workers in, general, have been hesitant to roll up their sleeves and get the shots and lag behind the general public in getting vaccinated.
---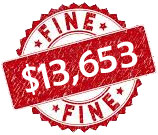 *Other than serious violation. A violation that has a direct relationship to job safety and health, but probably would not cause death or serious physical harm. A proposed penalty of up to $13,653 for each violation is discretionary based upon a review of the company that violated the ETS. This penalty is being identified in the June 28, 2021 OSHA COVID inspection procedures emergency temporary standard and will likely be in the new mandatory vaccination ETS.
It is expected that if a company is cited they would be accorded the same procedures for contesting an OSHA citation and the process could take many months or even possibly years, resulting in overburdened inspectors and administrators putting aside their primary mission of preventing workplace injuries and saving lives.