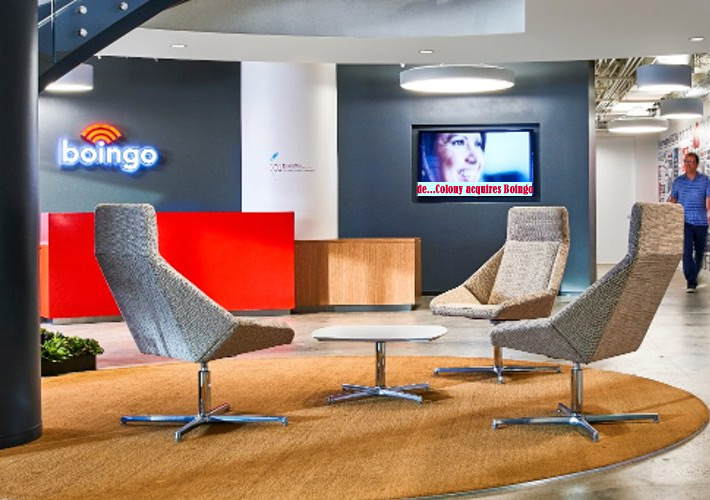 Boingo Wireless, Inc., a leading distributed antenna system and Wi-Fi provider launched in 2001, that serves carriers, consumers, property owners and advertisers worldwide, announced today that it has entered into a definitive agreement and plan of merger to be acquired by an affiliate of Digital Colony Management, LLC in a deal valued at $854 million. Upon completion of the transaction, Boingo will transition from a public company to a privately held company.
The company reports having over one million small cell networks for cellular extension services and Wi-Fi access that reaches more than one billion consumers annually.
Boingo designs, builds, monitors, and maintains the Wi-Fi network at managed and operated hotspot locations, such as airports, hotels, coffee shops, shopping malls, arenas, stadiums, and quick service restaurants in North America, South America, Europe, the Middle East, Africa, and Asia; and offers software applications and solutions to access its Wi-Fi network of approximately one million hotspots.
Valuations for hotspots are sketchy since this is the first acquisition of a major provider, but Colony may have benefitted from a decline in sales of Boingo's retail and advertising products due to COVID-19, profit centers that are anticipated to increase later this year if President Joe Biden's expectations are correct in an announcement today that the U.S. expects to take delivery of enough coronavirus vaccines for all adult Americans by the end of May.
Under the terms of the agreement, which has been unanimously approved by Boingo's Board of Directors, Digital Colony will acquire all the outstanding shares of Boingo common stock for $14.00 per share in cash through a merger, in a transaction valued at approximately $854 million, including the assumption of $199 million of Boingo's net debt obligations. The acquisition price represents a 23% premium to Boingo's closing price of $11.40 on February 26, 2021.
"We are pleased to have reached this agreement with Digital Colony, which will deliver significant and immediate value to Boingo's stockholders and concludes a robust strategic review process undertaken by Boingo over the past year," said Mike Finley, Chief Executive Officer of Boingo Wireless. "We believe Digital Colony's expertise owning and operating digital infrastructure businesses, combined with its relationships, resources and access to long-term, private capital markets, will provide greater flexibility for Boingo to continue advancing its business strategy."
Warren Roll, Managing Director of Digital Colony, added, "Boingo is a leader in indoor wireless infrastructure, operating networks that serve a large and growing addressable market. We look forward to working with the experienced Boingo team as they continue to develop and deploy reliable networks serving their diverse set of high-quality customers."
The transaction, which is subject to the receipt of Boingo shareholder approval, regulatory approvals and other customary closing conditions, is expected to close in the second quarter of 2021.
The merger agreement contains customary termination rights for each party, providing the opportunity for another transaction to occur, before the acquisition.
However, Boingo Wireless will be required to pay Digital Colony a termination fee of $13.1 million if the merger agreement is terminated by Boingo Wireless during the Go-Shop Period.
Digital Colony actively manages 16 portfolio and affiliated companies across the digital infrastructure ecosystem, comprising more than 350,000 tower sites, and more than 40,000 small cell nodes, more than 95 data centers and a fiber network of more than 140,000 route miles.
Digital Colony, an arm of Colony Capital Inc. led by CEO Marc Ganzi, held a first close of more than $4.1 billion for its second fund dedicated to global communications-infrastructure investments, according to a memo sent to investors obtained by Bloomberg News last month.
During an analysts' call last week, Colony Capital Executive VP Jacky Wu said that the company had three new deals in exclusivity that they anticipate entering into definitive documentation over the next 90 days.
He also stated that Colony has a forward pipeline of over 40 new opportunities that they were pursuing.
"And look, this is not new for us. We deployed $22 billion of capital in 2020, putting over $5 billion of FEEUM to work. In 2021, we expect to grow FEEUM by at least another $3.5 billion to $4 billion," Wu said.
Colony Capital's shares closed at $5.95 today, down 2.3%.