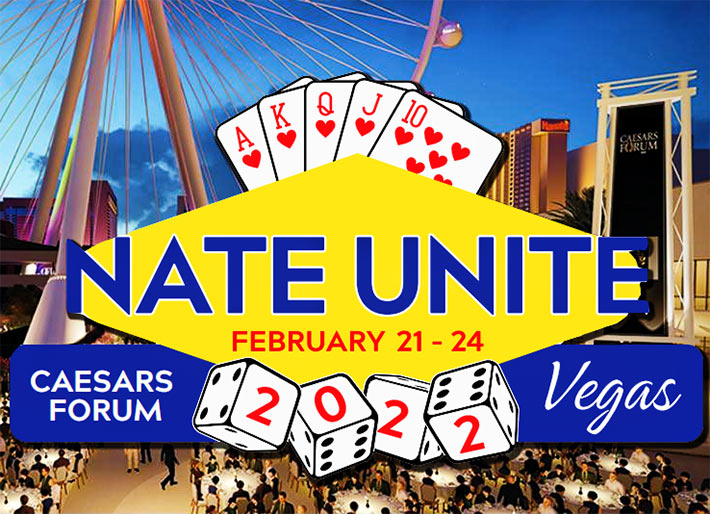 NATE is excited to announce that NATE UNITE 2022 plans are underway and the sponsor and exhibitor planning guide is available here.
The Communications Infrastructure Contractors Association's show will be hosted in the entertainment capital of the world, Las Vegas, Nevada on February 21-24.
Caesars Forum, the latest state-of-the-art conference center, will host the NATE UNITE exhibit hall. The glitz and fast-paced atmosphere of Las Vegas coupled with the return to in-person events are sure to make NATE UNITE 2022 the most anticipated NATE UNITE to date.
An informal survey by Wireless Estimator of potential exhibitors and attendees says that it's a sure bet that the exhibit hall will be a sellout and attendance could easily eclipse the trade group's largest attendance that was marked in 2020 in Raleigh, North Carolina with a record 2,416 attendees.
With most of the country's adults expected to receive their COVID-19 vaccines by the end of May, a pent-up need to elbow bump with friends and associates, and perhaps bend one, could easily ensure a record number of attendees at the industry's largest and most successful confab that has some of the finest educational sessions presented by the nation's foremost experts.
The vibrant exhibit hall floor will bustle with displays ranging from service providers to manufacturers of industry-related products being highlight during the exposition. Eligibility to exhibit at NATE UNITE is open to all individuals or firms engaged in the diverse telecommunications, wireless, and broadcast industry.
Exhibitors who secure their booth space by July 1, 2021 will receive a 10% discount. For questions on sponsorship and exhibiting, contact NATE Event Coordinator Shari Wirkus at (605) 882-5865 or email her at shari@natehome.com.
Don't miss out! The NATE membership consists of CEOs and key decision-makers from all facets of the wireless construction industry.