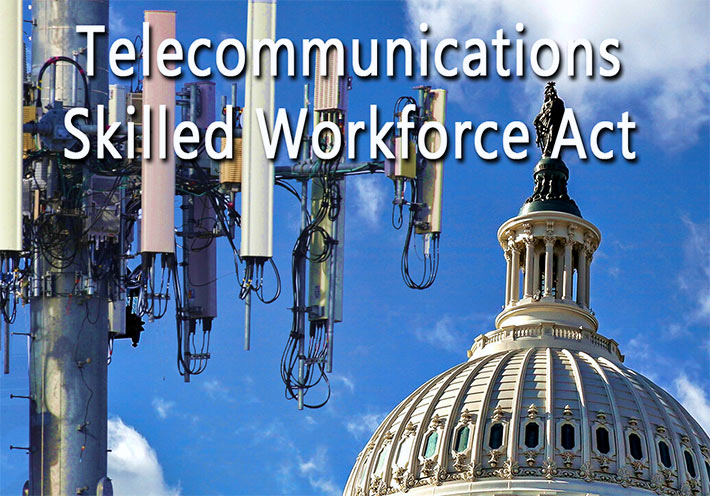 U.S. Sens. John Thune (R-S.D.), Jon Tester (D-Mont.), Roger Wicker (R-Miss.), Gary Peters (D-Mich.), and Jerry Moran (R-Kan.), members of the Senate Committee on Commerce, Science, and Transportation, today reintroduced the Telecommunications Skilled Workforce Act, legislation to address the shortage of trained workers necessary to fill next-generation jobs in the telecommunications industry in communities throughout the country.
NATE: The Communications Infrastructure Contractors Association said today that it strongly supports the Act.
"Workforce development remains a top priority for the Association's member companies and it is great to see this bi-partisan group of U.S. Senators come out of the gate strong in the 117th Congress through the introduction of this legislation. NATE believes that the provisions outlined in the Telecommunications Skilled Workforce Act can serve as a springboard to fostering greater collaboration between the federal government, state workforce boards, higher education and industry to accomplish the ultimate goal of developing a future pipeline of skilled technicians that the country sorely needs to meet its ambitious broadband and 5G deployment objectives," said NATE President & CEO Todd Schlekeway.
"This legislation is a win-win when it comes to deploying 5G technology and rural broadband services to South Dakotans, while also ensuring skilled workers have the training necessary for good-paying jobs in the telecommunications industry," said Thune. "South Dakota's technical colleges lead the way, and this bill gives our schools' graduates even more opportunities to succeed."
"This bipartisan legislation helps get folks in rural and frontier communities the skills they need to get good-paying jobs close to home while helping rural states like Montana keep up in today's economy," said Tester. "By addressing our workforce shortage in the wireless and broadband industry, we're improving connectivity at the same time we get folks trained for 21st century jobs."
"As our country moves quickly toward full-scale deployment of 5G, addressing the needs of our nation's telecommunications workforce is a critical step to realizing the promise of this technology," said Wicker. "Substantial skill and labor will be required to build out and maintain next-generation broadband networks. This legislation would identify the necessary resources to improve 5G workforce readiness. I thank Senator Thune for his continued work on this issue."
"This pandemic has proven that access to broadband to the is vital for students, workers and small businesses in today's interconnected society and economy," said Peters. "We must ensure we have the skilled workforce needed to update our next-generation networks for folks in Michigan and across the country. I'm pleased to support this bipartisan effort, which will not only create jobs but increase economic activity and connectivity as we work to get through this pandemic."
"As our country continues to work towards providing high-speed broadband connectivity to all parts of the country, including the deployment of 5G mobile broadband, there is a growing demand for a skilled workforce that would support this effort," said Moran. "This legislation takes another step to help bridge the digital divide in rural areas like those in Kansas, but would also work to increase the number well-paying jobs in the economy, supporting our rural workforce in the wake of this pandemic. As the lead Republican on the Senate Commerce Subcommittee with jurisdiction over workforce development, I will continue to support modernized training programs that help produce the highly-skilled workforce needed in a globalized economy."
The Telecommunications Skilled Workforce Act would address the shortage of trained workers necessary to fill next-generation jobs by:
Establishing an FCC-led interagency working group that, in consultation with the Department of Labor (DOL) and other federal and non-federal stakeholders, would be tasked with developing recommendations to address the workforce needs of the telecommunications industry.
Requiring the FCC, in consultation with DOL, to issue guidance on how states can address the workforce shortage in the telecommunications industry by identifying all of the federal resources currently available to them that can be used for workforce development efforts.
Directing the Government Accountability Office to conduct a study to determine the specific number of skilled telecommunications workers that will be required to build and maintain broadband infrastructure in rural areas and the 5G wireless infrastructure needed to support 5G wireless technology.