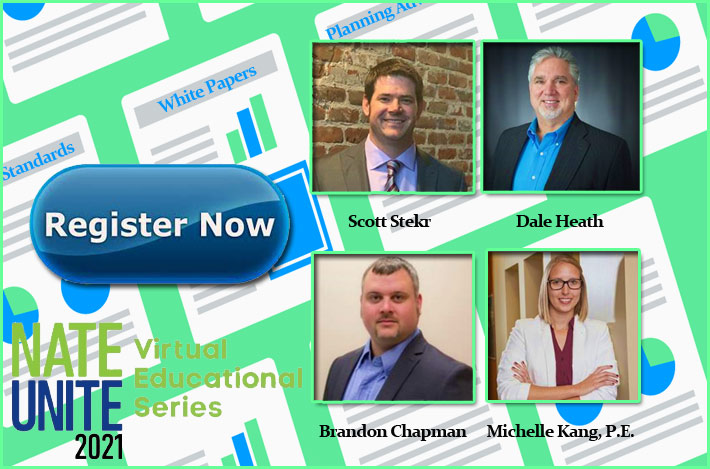 On Wednesday, March 24, 2021 at 11:00 AM CST, a group of panelists will be conducting Session 2 of the NATE UNITE 2021 Virtual Educational Series titled "Sharing of Knowledge Through Industry Planning Advisory Notices (PAN's), White Papers, and Standards". Registration is available here.
The panelists conducting this session are Scott Stekr, VP of US Engineering for Perfect Vision, Brandon Chapman, Engineering and NPD Manager for Valmont Site Pro1, Dale Heath, Structural Support Product Line Manager for CommScope, and Michelle Kang, P.E., Geographic Discipline Leader for Maser Consulting, P.A.
As the industry continues to evolve and mature the need to share knowledge with one another is necessary to support the deployment and maintenance of the telecommunications infrastructure.
This panel will be discussing some of the current outreach efforts through Standards, Planning Advisory Notices (PAN's), and White Papers.
PAN's – How some of the recent PAN's help contractors in their efforts to support end users and educate their team members. Highlighted will be roles and responsibilities and how to choose a proper mount to meet your end user's needs.
White Papers – The White Paper dealing with climbing facilities as well as the recent one on tower reliability and how these White Papers can be used by contractors to help educate their team members as well as work to effectively communicate with end users, structure owners, regulators, etc.
TIA 5053 – Mounting System Classification – How does this standard help the end user, contractors, structure owners and engineers?