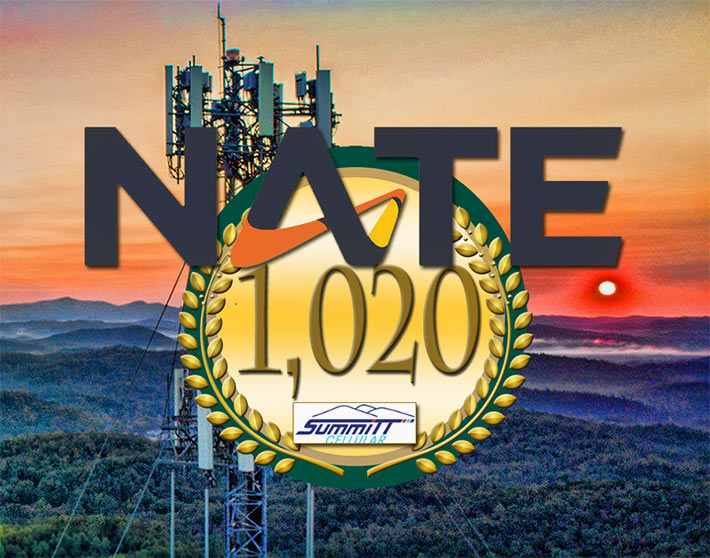 NATE: The Communications Infrastructure Contractors Association announced today that it has established a new all-time record of 1,020 member companies, eclipsing the Association's previous mark of 1,019 members. Summitt Cellular based out of Cleveland, Georgia has the distinction of being the record-breaking company to join the Association, at a time when many trade groups are seeing declines in memberships.
"NATE's member companies encompass all layers of the diverse communications infrastructure ecosystem and this new membership milestone is a testament to the Association's ability to diversify and evolve alongside the industry," stated Member Services Chairwoman Jordyn Ladner from MILLERCO in Gulfport, Mississippi. "I am proud of the fact that NATE's membership continues to grow in the face of a global pandemic and that point serves to demonstrate the essential contributions that the Association's member companies play to enable connectivity in the United States and throughout the world," added Ladner.
"The marketplace is clearly responding to the membership benefits that have been offered by the Association over the course of the last several years," said NATE Member Services Coordinator  Jill Rethke. "NATE will not be resting on our laurels, however, as the Association plans to continue to proactively engage and recruit prospective member companies to educate them on the value of joining our organization," Rethke added.
NATE member companies consist of tower construction firms, general contractors, tower owners, wireless carriers, engineering firms, technology companies, public safety entities, non-profit organizations, licensed design professionals, manufacturers, distributors and training companies.
For NATE membership information, companies and industry stakeholders are encouraged to contact NATE Member Services Coordinator Jill Rethke at (605) 882-5865 or jill@natehome.com or visit the Association's website at http://natehome.com/membership.