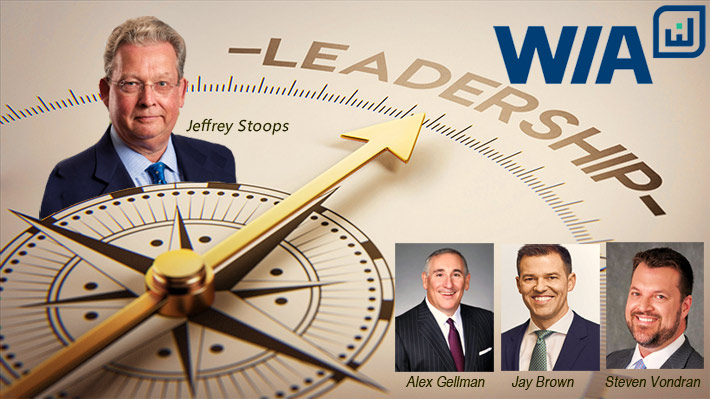 The Wireless Infrastructure Association (WIA) has announced that Jeffrey Stoops, President and CEO of SBA, was elected to serve as Chairman of the WIA's Board of Directors. A new slate of officers was also elected.
The new Chairman and officers include:
Chairman: Jeffrey A. Stoops; President and Chief Executive Officer; SBA Communications Corporation
Vice Chairman: Alex Gellman, Chief Executive Officer, Vertical Bridge Holdings
Secretary: Jay A. Brown, President and Chief Executive Officer, Crown Castle International
Treasurer: Steven O. Vondran, Executive Vice President and President, U.S. Tower Division American Tower
In addition to the new slate of officers, Tom Kane, CEO of NB&C, was elected as a Director.
"I am honored to be elected as Chairman of WIA's Board of Directors. WIA does a tremendous job representing our dynamic and growing industry. As the U.S. begins to move past the pandemic, the year ahead will be the busiest yet as policymakers at every level of government look to ensure that all communities benefit from wireless broadband. Our industry will help drive this broadband build-out. I look forward to coordinating with the WIA Board members, the broader membership, and the entire industry as we work toward our common goals," said  Stoops.
"We are in a time like no other with rapid and incredible innovation and a growing and changing business and regulatory environment. I am happy to play a part in leading the industry toward continued success," said the newly elected Chairman.
"WIA's thoughtful and experienced Board has constantly supported WIA to ensure we remain a first-class organization that represents industry priorities, including federal, state, and local advocacy. They've overseen the growth of a world-class event in Connect (X) that creates opportunities for business growth. And they've helped workforce development initiatives to equip our workers with the skills to deploy wireless infrastructure safely and efficiently," said WIA President and CEO Jonathan Adelstein.
"The new officers have the best imaginable experience to continue that leadership. This Board's forward-thinking mindset will benefit the entire industry. We are grateful Chairman Stoops is stepping in to provide his vision and acumen to lead WIA and the entire industry forward. And we are excited to have Tom Kane join the Board. Tom's insight, deep knowledge of the industry, and leadership as Chairman of our Workforce Development Committee will contribute toward our success on behalf of the industry.  We are grateful to outgoing Chairman Weisman for his steadfast leadership over the past two years, a challenging time in which his wise counsel kept our organization strong," Adelstein added.