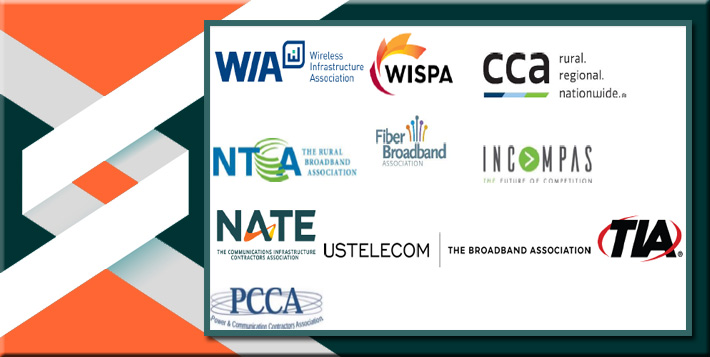 A coalition of ten leading organizations representing a broad cross-section of the telecommunications industry today sent a joint letter to the White House and Congress urging support for broadband-related job skills development as part of any infrastructure legislation. The associations included the Competitive Carriers Association (CCA), the Fiber Broadband Association (FBA), INCOMPAS, NATE: The Communications Infrastructure Contractors Association, NTCA-The Rural Broadband Association, Power & Communication Contractors Association (PCCA), the Telecommunications Industry Association (TIA), USTelecom – The Broadband Association, the Wireless Infrastructure Association (WIA), and the Wireless Internet Service Providers Association (WISPA).
Broadband and 5G are projected to create three million wireline and wireless jobs and contribute $500 billion annually to the U.S. economy. The telecommunications industry coalesced in the letter behind an agenda that focuses on accelerating the rollout of broadband; winning the race to 5G; and ensuring robust fiber, mobile, and fixed wireless networks by training the workforce through apprenticeships. This approach provides pathways toward greater diversity, safety, and quality of work. The letter recommends that Congress and the Biden Administration, working with the Department of Labor, support employers to speed development of the broadband workforce, as well as the industry-led programs at technical schools and colleges that provide a pipeline to wireline and wireless jobs. The U.S. telecommunications industry employs 672,000 workers with average annual wages that exceed $77,500.
"Apprenticeship, as Congress has long recognized, is a time-tested, industry-driven, career pathway through which employers can develop and prepare their future workforce, and workers can obtain paid work experience, classroom instruction, and a nationally recognized credential. We therefore urge broadband infrastructure legislation to provide support for employers to expand registered apprenticeships and associated technical instruction and certification costs," the letter states.
The associations also urged that policymakers include Historically Black Colleges and Universities when supporting industry-led partnerships with institutions of higher education for a more inclusive, representative workforce.
"Congress should also bolster the capabilities of institutions of higher education, which have not kept pace with the rapid growth of our industry and the need for curricula necessary to ensure a diverse workforce capable of deploying fiber and 5G infrastructure for commercial mobile and fixed wireless networks…There is also a need to modernize existing programs, including hands-on field activities for broadband deployment and better data to inform program design and measure success. To ensure funds target actual needs, employers should drive public-private partnerships with community colleges, universities, and other institutions to develop degrees and programs of study on broadband deployment and 5G training. The telecommunications industry is committed to developing partnerships with institutions of higher education to help translate job requirements from employers during the curriculum development process. Targeted institutions should include Historically Black Colleges and Universities (HBCUs) and Tribal Colleges and Universities (TCUs)," the letter states.
VIEW: Letter to President Biden — Letter to the House of Representatives — Letter to the Senate