The nation's tower techs take pride in their work and their ability to safely rescue a fellow worker if the occasion ever arises. Most techs will spend their career never having to perform an emergency rescue on a tower, but when it's necessary, it's nice to know that the men and women working alongside you have you covered.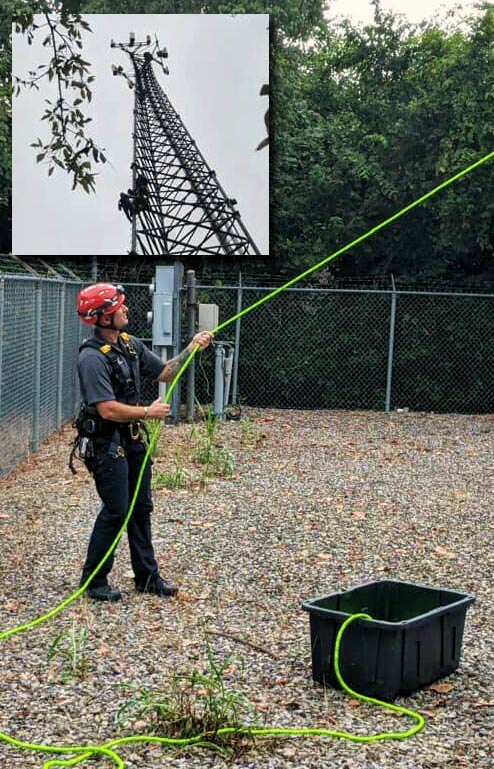 Such was the case Monday in Clarksville, TN when an experienced tower tech was on a 250-foot tower off of Tyler Town Rd. and while he was transitioning from a safety climb to the structure at about the 125-foot level, he informed a MillerCo tech that he wasn't feeling well and then became unconscious, according to multiple sources.
A technician, whose name could not be confirmed, called 911 and informed them that a rescue was in progress by two members of the Mississippi-based company and then he and his co-worker put their training into action.
Rescue workers from the Clarksville Fire Department immediately responded as the worker was being lowered to the ground, and according to photos they provided on their official Facebook page, it appears that initially they tied off the company's descent line to a gate post which would have prevented the tower technician from being lowered.
In other photos, it seems that it was released, but was still being tagged by a fire rescue worker as the man was lowered to the awaiting first responders who took him to Tennova Healthcare in Clarksville for treatment.
A spokesperson for MillerCo said that the man was released from the hospital and has made a complete recovery, but they could not provide any additional information at this time.
The information in various news reports proved to be incorrect such as the tower was owned by AT&T.
AT&T asked the publication for a retraction which was then revised to state that it was a tower owned by SBA Communications.
That too was incorrect, according to an SBA spokesperson who informed Wireless Estimator that they could not verify who the owner was.
According to the FCC's database, the structure, built in 2001, is owned by American Tower Corp.
What is undeniably correct is that two tower techs fully trained in rescue helped save the life of another technician. And for that, they deserve the industry's gratitude and a double tip of the hard hat.
NATE has provided a YouTube video: How to Perform a Tower Rescue, that presents an overview of what a rescue plan should entail.