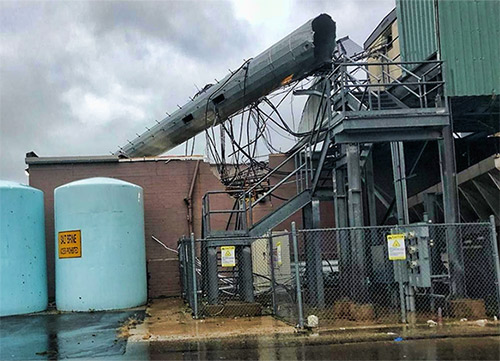 An American Tower Corp. (ATC) 150-foot monopole collapsed Wednesday when a Hurricane Ida-spawned tornado tore through Upper Dublin Township in Pennsylvania.
Although the structure was designed and constructed in 2008 with a basic wind speed of 90 mph as required EIA/TIA-222 Rev. G, the structure was no match for the EF-2 tornado that touched down in the township with winds up to 130 mph.
From an earlier photo, the monopole appeared to have five tenants. ATC reported to the FCC today that the structure has been dismantled.
Also, on Wednesday, likely due to Hurricane Ida's move through Mississippi, a tree toppled onto a guy wire of a Kosciusko tower owned by Boswell Media broadcasting Breezy 101, Kicks 96, and Cruisin 98, taking those stations off the air.
Although an employee was in the building when the tower collapsed, they were not injured. The largest communications tower to have collapsed as a result of Hurricane Ida was a 1,999-foot broadcast tower in Louisiana owned by iHeart Media.
According to yesterday's FCC Hurricane Ida report, as of September 2, 2021, there were 704 Towers out of service in Louisiana, a decrease from the previous day's total of 787.
Towers out of service due to damage dropped to 105 from 123 in the previous report.
St. James Parish, which had 53.8% of its towers out of service on Wednesday, saw an increase to 75.8% yesterday due to additional outages of cell sites due to transport.
The number of dead in the northeast stood at 49 as of this morning, according to The Associated Press.
Most of the victims were in New York and New Jersey, where people drowned in submerged cars and basement apartments or were swept away by rushing water.