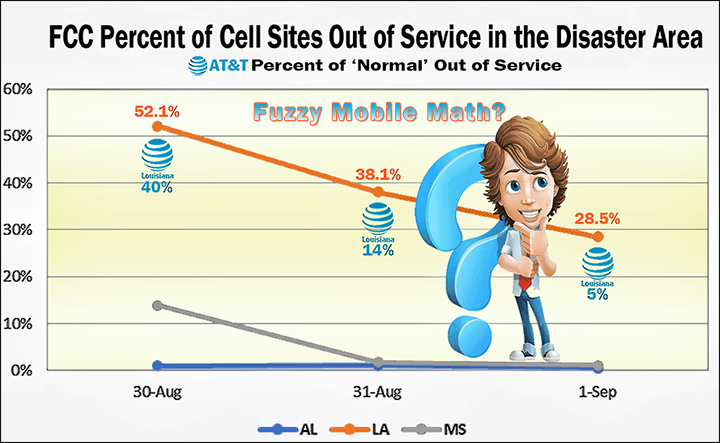 Through the dedicated resources of the men and women on the front lines providing logistics and services, cell site outages in Hurricane Ida-affected parishes in Louisiana have been reduced to 28.5%, from Tuesday's 38.1%, according to the FCC's September 1, 2021 daily communications report.
Within a day, hard-hit Assumption Parish went from an outage of 94.7% to 42.1%, with Terrebonne going from 100% to 64.2%.
There were 787 sites out of service compared to 1,051 in the FCC's last report.
It is taking carriers longer to repair damaged cell sites. Only two were repaired, and 123 are still out of service.
Carriers are also responding to the massive flooding and destruction from tornadoes triggered by Ida in the northeast that killed at least 25 people. A cell tower was destroyed by a tornado in Dublin, PA.
A full listing of affected Louisiana parishes is available below.
When the FCC established the Disaster Information Reporting System (DIRS) in 2007, carriers and other communications infrastructure providers successfully lobbied the agency to only put the collective totals of outages in the FCC's daily DIRS.
That provided carriers with the ability to manipulate their restoration efforts, oftentimes with statistics that are stretched in media releases.
As an example, AT&T said in a press statement yesterday that their wireless network in Louisiana was currently operating at only 5% less than "normal".
They didn't identify what "normal" represents and if that was relative to network operations in the 31 affected parishes or whether they included all of Louisiana's 64 parishes.
Although the DIRS report only represents a snapshot in time for one day, and restorations or additional outages can evolve rapidly, AT&T's 5% outage deserves congratulations. Or is it worthy of questions since the state's outage rate is 28.5%?
After Hurricane Florence's onshore onslaught and the resulting flooding in the Carolinas in 2018, Wireless Estimator reported on the carriers' post-hurricane snow job promos that flooded the media.