Companies and individuals  have welcomed the opportunity to offer support to the Foundation that assists industry workers and their families in their time of need
The Tower Family Foundation, a 501(c)(3) non-profit organization, today announced the 2021, first quarter donors and pledges. Thanks to the philanthropic contributions received from industry stakeholders, over $263,000 was raised in Quarter 1.
The Foundation's Endowment Committee, under the leadership of Committee Chairman Bernard Borghei of Vertical Bridge REIT, LLC, is working diligently to bring awareness to the Tower Family Foundation and conduct a significant fundraising campaign throughout 2021.
The Tower Family Foundation would like to thank the following companies and individuals for their generous contributions in the first quarter of 2021:​
Allstate Tower, Inc. – American Tower Corporation – Armor Tower, Inc – B+T Group – Bennett & Pless, Inc. – Bridge Internet – Colorado Wireless Association – Diamond Communications LLC – Embark Telecom Group Inc – ENERTECH Holdings – Engineered Tower Solutions, PLLC – Flash -Technology – FMK Infrastructure LLC – Goodman Telecom Services, LLC – Highwood Towers, LLC – Illinois State Wireless Association – ITL, LLC –Kentucky Wireless Association – Launch 3 Telecom – Mark Zipprich – Minnesota State Wireless Association – Parallel Infrastructure – PerfectVision – Pro Link Innovation, Inc – SBA  Communications Corporation – Sitetracker Inc. – Strobe Tech, LLC – Structural Components – Talley Inc. – TMES Corp – Top Rank Towers LLC – Tower Engineering Professionals – Velex – Vertical Bridge REIT, LLC
Endowment Committee team lauded
"We are proud of the work that the Tower Family Foundation has done and continues to accomplish in support of our colleagues and co-workers in our industry in their moment of need", said Borghei.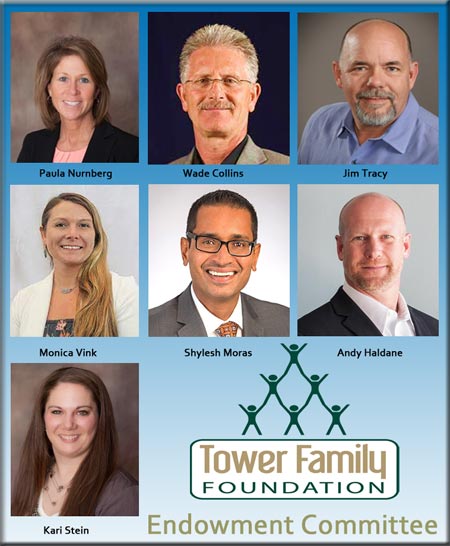 "We are grateful to all of the companies who have and continue to support this great cause, especially T-Mobile and American Tower Corporation who have been major sponsors of this foundation. I also would like to recognize the efforts and commitments of my other industry colleagues who also serve on the Endowment Committee: Shylesh Moras, Andy Haldane, Monica Vink, Wade Collins, Jim Tracy, Paula Nurnberg, and Kari Stein."​
All contributions to the Tower Family Foundation are granted directly to eligible tower workers and/or their families to help assist them in paying for their immediate needs and related costs that occur in the aftermath of a post-accident or fatality situation. Year to date, the Foundation has awarded $40,000 in direct financial assistance and scholarships to affected families and has donated close to $1.1 million to eligible benefactors since the organization's launch in September 2014.
Interested stakeholders are encouraged to visit the Tower Family Foundation's website at www.towerfamilyfoundation.org, to learn more about the organization and make an online contribution.
The following 2021 donors have reached distinguished levels of donation. 
GOLD DONORS