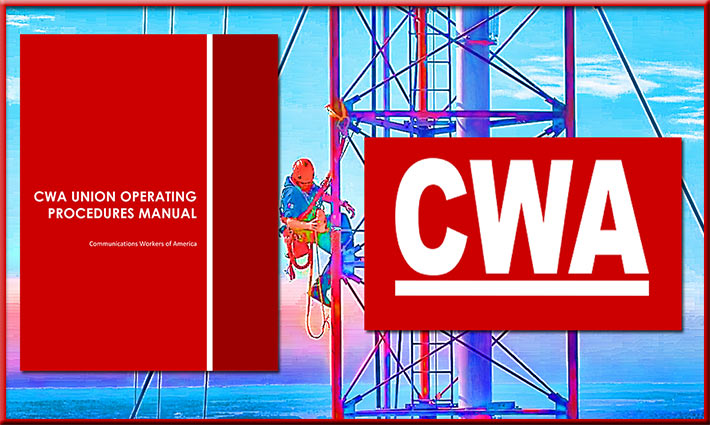 In the past few months, the Communications Workers of America (CWA) has been quietly attempting to unionize wireless contractors and has made inroads with employees of two mid-sized companies, according to sources who have informed Wireless Estimator of the CWA's efforts.
Today, the CWA made its intentions known by spearheading their campaign with a press release announcing that workers at training company Tower Safety in Phoenix, AZ has won voluntary recognition and joined the CWA.
 Implying that there will be more companies that will become unionized, the CWA said, "these are the first group of workers to form a union in the industry."
"The team at Tower Safety is setting an example for workers across the industry, who deserve dignity, respect, and safety," said CWA President Chris Shelton.
"For far too long cell phone tower climbers have been taken advantage of by the big telecom companies who avoid responsibility by subcontracting the work. Workers are often provided with outdated equipment to perform highly dangerous duties without adequate training and very little pay and benefits. We are looking forward to working with Tower Safety and other partners in the industry to ensure tower climbers have a voice on the job."
"The dangerous nature of this work coupled with lack of adequate training and equipment has led to a number of safety hazards, including deaths and injuries of workers," the release stated.
CWA says OSHA is remiss in not sanctioning carriers

"The major carriers who build and own the towers often farm out the maintenance work to small contractors and subcontractors making it virtually impossible to hold them accountable. The Occupational Safety and Health Administration (OSHA), the federal agency that deals with workplace safety, has conducted several investigations that have clearly shown insufficient training and faulty equipment as common causes for worker deaths and injuries. Yet OSHA has failed to sanction a single major carrier for safety violations to date," the CWA said.
It noted that despite the contributions of tower climbers to the industry and the dangers they face at work, they rarely receive fair compensation or any benefits. "These workers deserve better," the CWA said.
"Our mission is to produce well trained and highly skilled tower climbers certified to operate the latest equipment and safely execute their duties," said Kathy Gill, founder of Tower Safety.
"Tower Safety strives to address some of the main problems facing climbers and the industry today. This includes curbing workplace fatalities and injuries by providing proper training and resources with a strong emphasis on safety for tower climbers of all levels. By voluntarily recognizing the union, we are enabling workers to advocate for their rights on the job. We will continue to work with the union as well as industry leaders, company executives, experts, and regulators to ensure that the contributions of tower climbers are valued and their safety is prioritized."
CWA said it is committed to continue to support workers in this industry as they organize for better working conditions, fair pay and a voice on the job.
It's not what the carriers want to hear
NATE: The Communications Infrastructure Contractors Association, has recently championed its core contractor members' concerns that carrier matrix pricing has been shaved to an unprofitable level and as a result many of them are unable to raise their tower techs' salaries – and it has likely ramped up CWA's collective bargaining efforts.
Earlier this month, T-Mobile's CEO received a round of thanks from his employees and future job applicants after the carrier announced that it was implementing a nationwide minimum pay of at least $20 per hour.
However, according to a review of tower technician jobs on the job board Indeed by Wireless Estimator, tower technicians' start at $15 an hour and one of T-Mobile's largest contractors was only offering $15 an hour.
Many companies have refused to accept the 'take it or leave it' pricing, causing some carriers to assess their pricing and offer some increases in certain markets.
This move is almost imperative, according to industry observers, since a unionized workforce would have contractor costs skyrocket.
"If I had to pay union wages, I would have to close the doors," a contractor informed Wireless Estimator this afternoon. "Here's the problem. Even if you were able to become a union shop, before the companies adjusted their agreement to start paying union wages, the lag would put you out of business."
The CWA has increased their activities lately in courting workers and wireless contracting companies, according to three Wireless Estimator sources.
In October 2020, the CWA published: AT&T'S WEB OF SUBCONTRACTORS: Building Next Generation Networks with Low-wage Labor, a report that studied contractor safety.
Is safety being ignored on towers?
The CWA and Gill allude to a work environment that sorely needs training in order to reduce fatalities.
Two training company executives who said they were opposed to unionization disagree.
"She has the right to join a union, she doesn't have the right to state that proper training isn't available and will only be addressed with trainers pulling out a union card. Safety has been at the forefront of what this industry has done collectively for almost three decades to create a safe workplace, without any assistance from the CWA," said one training company owner.
Another emailed Wireless Estimator, stating, "So, the founder of Tower Safety, whose company has been benefitting for many years from NATE's laser focus on safety, it's programs and advocacy, finds that the only way that her workers can get dignity, respect, and safety, something that  must have been  sorely lacking in her company in the past, was to get her trainers to pay union dues."
It is unknown how many full time workers are employed by Tower Safety.
Multiple training companies have anywhere from two to six employees, with a complement of independent trainers working on rotation.