Wherever people congregate, including downtown districts, university campuses, commercial properties, sports venues, and transportations hubs, it's likely that they will be communicating with a Bourbon, Bristol, Clinton, Empire, Stanton or possibly a Fremont.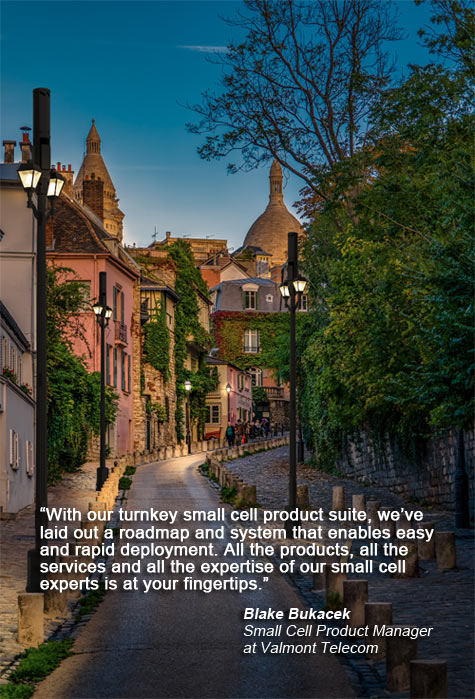 No, they are not the newest offerings in smart phones, they are Valmont Telecom's small cell structures that fit effortlessly into any community's requirements for an esthetically pleasing solution for broadband coverage.
Valmont Telecom's new SimpleCell™ Product Guide, unveiled this week, highlights those named structures in its comprehensive suite of small cell poles, concealment options, decorative elements, engineering, and ancillary services.
Simplification of a complex process
The company is taking a traditionally complex process and simplifying it, enabling rapid deployment and ensuring that aesthetic values are maintained and appreciated.
"With our turnkey small cell product suite, we've laid out a roadmap and system that enables easy and rapid deployment," Blake Bukacek, Small Cell Product Manager at Valmont Telecom informed Wireless Estimator.
"All the products, all the services and all the expertise of our small cell experts is at your fingertips. There has never been such a comprehensive line in the telecom space before," Bukacek explained.
Valmont Telecom's extensive in-house capabilities, combined with their complete line of finishing and inspection services, allow for superior quality control and the best lead times in the industry.
Their global network of resources and many manufacturing locations enables them to respond quickly, fulfill specific requirements, and handle even the largest projects.
They fabricate steel, aluminum, wood, and composite small cell structures. Valmont Telcom's technical team will work with clients to fulfill specific material requirements and meet even the most exacting specifications.
They have a stellar reputation for guiding customers through the many options of putting the finishing touches on their small cell structure.
With extensive in-house galvanizing and paint options, they can match the color, durability, and finish requirements of any project.
They can also provide clients with true turnkey solutions to simplify installation.
And here's a huge plus. Upon request, the customer's small cell structures leave their facilities containing all the technology required, including the mounting of components, cable, and accessories.
For additional information from Valmont Telecom's U.S. team, contact:
Marcello Posada, NE Regional Sales Manager,  marcello.posada@valmont.com , 574-936-4221
Steve Bodine, NW Regional Sales Manager, stephen.bodine@valmont.com , 503-313-6844
David MacKinney, SW Regional Sales Manager, david.mackinney@valmont.com , 805-290-0595
Greg Ira, SE Regional Sales Manager, greg.ira@valmont.com , 786-676-3744
Rick Conroy, MW Regional Sales Manager, rick.conroy@valmont.com , 585-402-8716
Brian Wing, SC Regional Sales Manager, brian.wing@valmont.com , 1-972-955-6590