T-Mobile recently announced a staggering $1.4 million distribution to be shared equally by the Tower Family Foundation (TFF) and Warriors4Wireless (W4W) following the 8th Annual T-Mobile Golf Tournament. With 47 corporate sponsors supporting the event, the two benefactor organizations have now received more than $3.2 million from the annual fundraiser.
"The T-Mobile Tournament achieves at least two results each year," said tourney host and T-Mobile Chief Procurement Officer Mike Simpson, "Number one, military veterans looking for career opportunities in wireless will have more opportunity, and two: tower crew members or their families who experience injuries or worse while building network infrastructure will be supported financially. Our tourney sponsors deserve all the credit."
The annual tournament results have increased every single year with proceeds going in equal amounts to TFF and W4W, as follows:
2015:  $40,000 / $20,000 to each
2016:  $120,000 / $60,000 to each
2017:  $150,000 / $75,000 to each
2018:  $375,000 / $187,500 to each
2019:  $497,000 / $248,500 to each
2020:  $620,000 / $310,000 to each (A virtual Un-Tourney due to the COVID pandemic)
2021:  $1.4M / $700,000 to each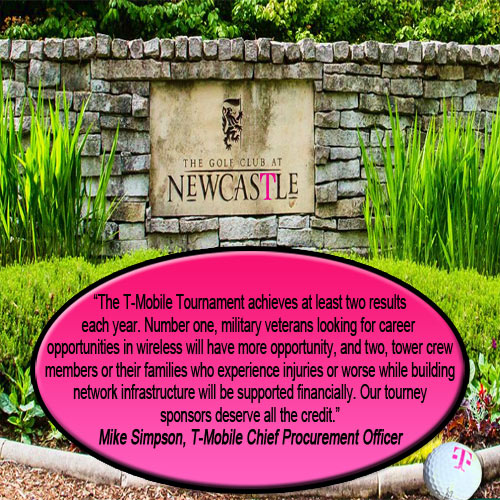 "The wireless industry makes all our work possible," stated Tower Family Foundation President Jim Tracy. "Through this donation, T-Mobile and the 2021 sponsoring companies are telling us to up our game. Their generosity is a hallmark of the wireless infrastructure industry."
"As a benefactor, the Tower Family Foundation is committed to being great stewards of this contribution as more than 97 cents of every dollar donated goes directly to industry workers and their families during times of need," Tracy added.
"The support from all the tournament sponsors and T-Mobile's leadership each year are vital to our success," said Warriors4Wireless President, CEO and Coach Kevin Kennedy. "When it comes to creating opportunity for veterans, we are helping create careers for scores of first-term veterans when they leave military service."
The 2021 Tournament featured 47 corporate sponsors – including 5G network suppliers like Ericsson, Nokia, Mobilitie, Vertical Bridge and Tillman Infrastructure. See the full list of 2021 sponsors below.
Interested stakeholders are encouraged to visit the nonprofits' websites at TowerFamilyFoundation.org and Warriors4Wireless.org to learn more about the benefactor organizations and make an online contribution.
To learn more, check out the tourney website: T-Mobile Golf Tournament.
Accenture
AIMS Plus
American Tower
Amphenol
B+T Group
Betacom
Boingo
Branch Communications
Cisco
Cox Business
CTDI
CTI Towers
Dell Technologies
Delta Electronics
Enertech Holdings
Ericsson
ExteNet Systems
GlobalTranz
Goodman Telecom
GPD Group
HarmoniTowers
Kearney
KGPCo
KPMG
Lumen
Makt-Trans
MasTec Network Solutions
MD7
Microsoft
Mobilitie
Nexius
Nokia
NWS Wireless
Preston Ridgefield
Pyramid Network Services
RFS World
SBA Communications
Sercomm
Signal Point
Skyway Towers
Smartlink
Sure-Site
Talon
Tellworks Logistics
Tillman Infrastructure
Vertical Bridge
Zones