Betacom, a longtime design and deployment partner for the world's leading telecommunication companies including AT&T, T-Mobile and Verizon, announced that it has secured $15M in funding from private investors including Braxton Carter, past CFO of T-Mobile. The funds will be used to drive adoption of Betacom 5G-As-A-Service, the industry's first fully-managed private wireless service.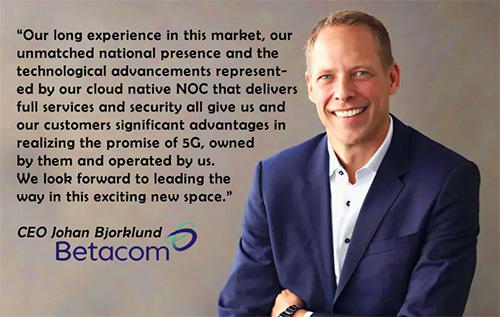 US enterprises now have access to cost-effective, high-performance 5G networks designed, deployed and managed by one of the most trusted names in wireless networking Betacom announced.
"Private 5G networks have incredible potential to revolutionize the way that a number of industries, including transportation, manufacturing and logistics, conduct their business and accelerate their progress," said Carter. "But design, deployment and management of these complex networks can be strong barriers to realizing the benefits. Betacom is exactly the right company to eliminate those barriers for enterprises of all sizes, and I am extremely enthusiastic to be able to partner with and support them as they bring this much-needed new offering to market."
Network design and deployment for the new service—which provides costs similar to, but with much higher reliability, performance and security than Wi-Fi—is conducted by Betacom. Betacom enterprise customers retain ownership of the network in addition to local control of their data, with network management delivered via the world-class Betacom Network Operations Center (NOC), hosted on Microsoft Azure.
"We are excited to see Betacom leveraging the power of Azure's AI/ML capabilities to launch an innovative 5G service," said Shawn Hakl,  vice president of 5G strategy at Microsoft. "Betacom's private 5G managed network offering will address a wide variety of challenges that enterprises face with regard to network security, control, cost and complexity."
Private 5G service adoption set to accelerate 
A recent survey from TECHnalysis Research shows that 53% of US enterprises are planning to add private wireless networks—more than will be expanding Wi-Fi or upgrading to Wi-Fi 6. "Clearly, the buzz around 5G has created enough excitement and interest for the technology that IT managers and other tech leaders at companies of all sizes are eager to leverage it," said Bob O'Donnell, president  and chief analyst at TECHnalysis Research. "5G and cellular networks in general are seen as having better security than unlicensed networks and, in some cases, lower latency, which can be critical for things like manufacturing environments."
Long history of wireless innovation 
Unlike others in the emerging Private 5G market, Betacom has a long and successful history of wireless deployments in mid-to-large enterprises leveraging carrier-class  equipment and expertise  to meet users' most pressing connectivity needs. Having completed more than 800 design and deployment projects, Betacom inspires confidence among those who have worked closely with the company in the past.
"Today's announcement is the culmination of years of planning, testing and collaboration with our telecommunications partners and their customers, all of whom clearly see mutual benefits in the addition of the first fully-managed Private 5G network service to the growing number of stand-alone offerings in the market today," said Johan Bjorklund, CEO of Betacom. "Our long experience in this market, our unmatched national presence and the technological advancements represented by our cloud native NOC that delivers full services and security all give us and our customers significant advantages in realizing the promise of 5G, owned by them and operated by us. We look forward to leading the way in this exciting new space."