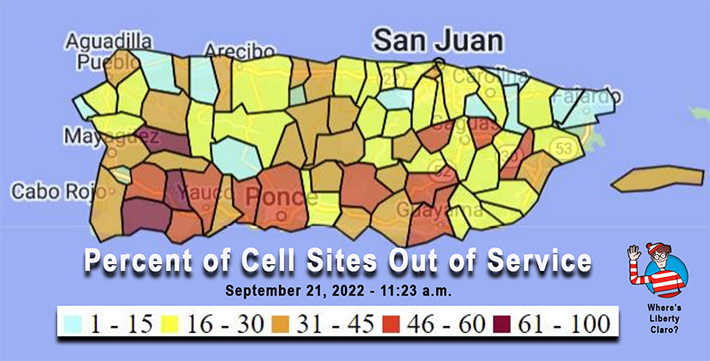 CORRECTION – An earlier publication of this article stated that AT&T had not issued a press release about their network's resiliency and actions to keep the island connected following Hurricane Fiona. In 2020, AT&T sold its wireless and wireline operations in Puerto Rico and the U.S. Virgin Islands to Liberty Latin America. Wireless Estimator apologizes for the misstatement. However, AT&T still maintains FirstNet responsibilities on the island.
Verizon does not own or operate a network in Puerto Rico. Instead, its subscribers roam on the Claro network.
---
Following Hurricane Fiona's crippling power and severe cell site outages in Puerto Rico following 30-plus inches of rain in some areas, carrier Liberty Latin America has not provided on its news page the actions it is taking to restore its sites that are out. Claro appears to have only tweeted on Monday pictures of its crews at work, saying that the company was "working hard to restore service to affected areas."
As of yesterday, an FCC status report identified that 29.90% of Puerto Rico's cell sites were out of service.
In a statement yesterday, T-Mobile said its network is holding up well, and many sites are operating as usual.
"The power outage continues to be the largest cause of impact. Teams are refueling generators, deploying portable generators, and assessing damage at cell sites as it's safe to do so," their press release said.
The FCC reported that of the 2,498 cell sites in Puerto Rico, 748 were out, 672 were due to power outages, and 72 were due to transport issues.
Of the total sites, 629 were operating on backup power, and if refueling efforts continue to be an issue, the total outages will increase. The FCC's first report said only 215 sites were on backup power.
Although 30% of the sites were down, that does not necessarily reflect a similar reduction in cell service since networks are often designed with numerous overlapping cell sites, and they might have mobilized temporary infrastructure. Also, during emergencies, carriers will initiate roaming agreements.
Lajas was the most brutal hit county, with 75% of its cell sites not operating.
The storm is forecast to move parallel to the eastern United States, passing between the East Coast and Bermuda late Thursday into early Friday.