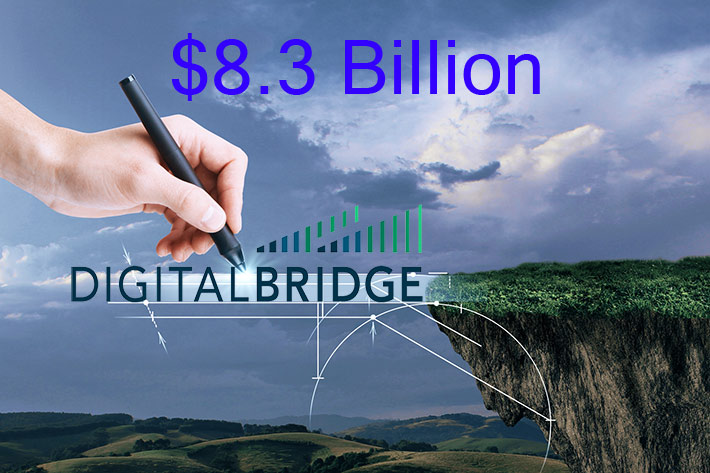 DigitalBridge Group, Inc. has announced that DigitalBridge Investment Management, the firm's investment management platform, has closed its second flagship fund, DigitalBridge Partners II, LP, with $8.3 billion in commitments, surpassing its original target of $6.0 billion.
The Fund received strong demand from a diverse, global group of new and existing investors, resulting in an over 100 percent re-up rate from the predecessor fund based on committed capital and over 70 percent based on the number of investors. The fundraising, led by DigitalBridge's in-house Capital Formation team, was launched in the Summer of 2020, and active fundraising efforts were materially concluded early in the fourth quarter of 2021.
"We are pleased to have completed the close of our second and largest fund to date, which significantly exceeded our initial target," said Marc Ganzi, President and CEO of DigitalBridge. "The solid support from LPs is a testament to their confidence in our experienced team, unique investment strategy and the compelling opportunities ahead in digital infrastructure."
The Fund has already invested in nine portfolio companies across towers, easements, hyperscale data centers, edge infrastructure, indoor DAS infrastructure and fiber, running reliable, mission-critical network infrastructure for many of the world's leading hyperscale cloud providers and mobile network operators.
"We look forward to continuing our momentum and driving returns as we strategically deploy capital from DBP II to partner with growing and entrepreneurial businesses that are enabling the next generation of mobile and internet connectivity," Ganzi said
"Our robust investment pipeline, specialist focus, strategic customer relationships and impactful decarbonization and other ESG initiatives continue to set us apart as the leading digital infrastructure investment manager," said Kevin Smithen, Chief Commercial and Strategy Officer of DigitalBridge. "We are well positioned to build on our proven track record of strengthening businesses, generating positive outcomes for portfolio companies and delivering strong, sustainable value for investors."