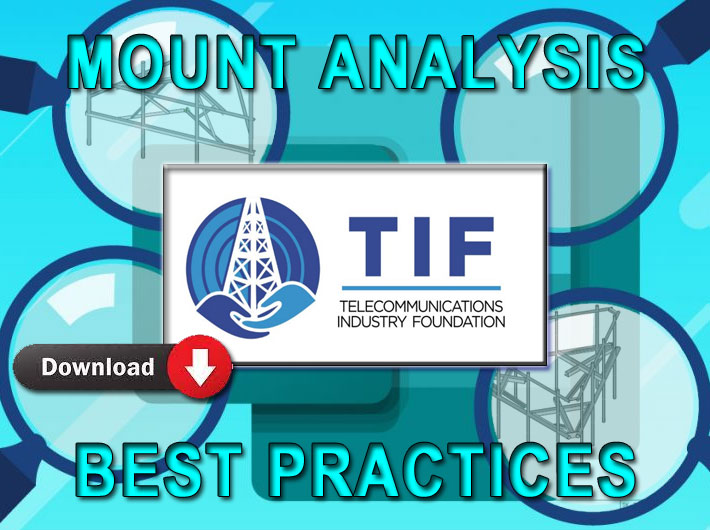 The Telecommunications Industry Foundation ("TIF") announced the publication of a new White Paper on tower mounts that involved the efforts of many individuals from across the industry.
As mounts continue to support existing equipment and the deployment of new technology including 5G hardware, the quantity, size, and weight of equipment on towers and mounts continues to increase.  These loading increases combined with the ANSI/TIA-222 standard development and revisions have increased the focus on mount analysis as a requirement when there is a changed condition due to loading increases requiring a rigorous analysis.
During the development process of ANSI/TIA-222-H Structural Standard for Antenna Supporting Structures and Antennas, it was recognized there was a lack of industry resources guiding engineers on level of rigor, best practices, and other valuable considerations that should go into mount analysis and modification design.
This White Paper, available here, is intended to educate and promote the sharing of information and best practices among all stakeholders involved in the deployment, modification, and maintenance of mounts. It is intended to offer guidance and foster discussion on the most impactful analysis considerations, identify areas for further research, and provide transparency on the work performed to date as a reviewable resource.  This includes a discussion about serviceability of the equipment on the mount (theoretical performance failure or code non-compliance) versus structural failure of the mount (physical failure).
The working group of volunteer members from across the telecommunications industry that developed this White Paper are committed to supporting the goals of TIF to educate and share knowledge with the industry, lawmakers, and the public in order to improve telecommunication infrastructure.  TIF participants hope that this White Paper will lead to feedback from the industry so that it can be constantly updated and improved. This White Paper aims to establish a more standardized approach for engineers performing mount analysis by providing tangible recommendations and addressing the following concerns:
(1)      What is the appropriate balance of mount analysis rigor versus simplifying assumptions without adding unnecessary complexity, engineering timelines and expense, and increased material costs and detailing requirements?
2)        Are the complexities (or simplifications) in the mount analysis approach driving excessive analysis failure rates, or are they necessary to model expected mount behavior? 
3)        Do mount analysis approaches reflect the real-world application and installation of the mounts?
"When we set out to write this White Paper several years ago, we had a vision to produce a document that would help explain some of the more nuanced details of mount analysis best practices.  I am happy to say that through countless discussions and the tireless work from dozens of industry experts I believe we have achieved that vision and more.  I am excited to release this White Paper because it not only provides recommendations that can help drive consistency and accuracy in mount analyses, it also has information that is useful for multiple stakeholders in the mount analysis process, not just engineers.  My hope is that each person who reads this paper will gain a greater understanding of mount analysis, and that the resulting discussions will help advance the development of our industry standards in this area," said Michael Oglesby, one of three primary authors of the White Paper.
"This White Paper is the result of the efforts of many, and I would like to recognize all those that participated and gave so much to this White Paper's early development.  My hope is that the release of this White Paper will reignite the discussion around mounts in the industry," said co-author Tyler Barker.
"This Mounts White Paper addresses a need for a better understanding of mount analysis failures and a more consistent approach to mount analysis modeling, as well as enhanced communication and coordination amongst all stakeholders involved in mount design, procurement, engineering, and installation. In my role supporting TIF and its contributors as Chair, I am looking forward to leading TIF in a direction of positive growth to be able to expand benefits to the industry in the coming years through more impactful publications that address needed areas of education like mount analysis. We look forward to continuing to receive feedback from industry stakeholders as we engage with industry leaders to help promote needed education and uplift the standards. I would like to recognize Scott Vance for the leadership he has provided our Board as Chair since the initiation of TIF and I look forward to continuing to work with him as Chair-Emeritus," said Michelle Kang, TIF Chair, and co-author.