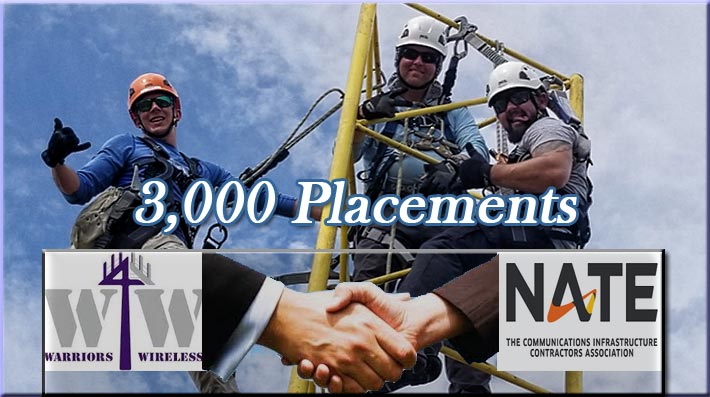 NATE: the Communications Infrastructure Contractors Association and Warriors4Wireless (W4W) today announced a further extension of their longstanding partnership and collaborative efforts advancing workforce development initiatives across the industry.
Since 2018, NATE has had a Board member sitting among the select group of prominent industry organizations and companies making up the W4W Board. This partnership has helped connect 2,000 veterans to telecom career opportunities.
W4W President and CEO, Kevin Kennedy said, "In 2017 W4W connected about 150 veterans to telecom careers across fifty hiring companies. Our partnership with NATE has helped us more than triple the veterans served each year while simultaneously expanding the companies we serve ten-fold."
He added, "Jessica Cobb played a founding role in shaping NATE's Veteran Sourcing Program, so having her join our Board will help us continue the growth of both the veterans we assist and the number of NATE member companies receiving these free services."
Jessica Cobb, the CEO of MDTS, is a staunch NATE contributor. She has served in several roles throughout the organization and is currently a member on the NATE Board of Directors, Women of NATE, and the Military of NATE. She says her motivation to contribute is derived from an inherent sense of responsibility to reciprocate benefits her company has received over the past decade from employing veterans and belonging to the NATE organization.
"Warriors4Wireless exists for one purpose, to help veterans become productive members of the telecom industry," said W4W President and CEO Kevin Kennedy. "We will connect our 3,000th veteran next month and I would estimate over 90% of these have been hired by NATE member companies."
"I am thrilled that NATE and W4W are extending this successful partnership and I am honored to join the W4W Board of Directors," stated Jessica Cobb. "I have seen first-hand the critical role W4W plays in developing a new pipeline of qualified workers in our industry and look forward to playing a role in further accelerating the workforce development goals of NATE and W4W moving forward."
For more information on NATE, visit www.natehome.com. For information on W4W, visit www.warriors4wireless.org. For information on MDTS, visit www.mdtsusa.com.