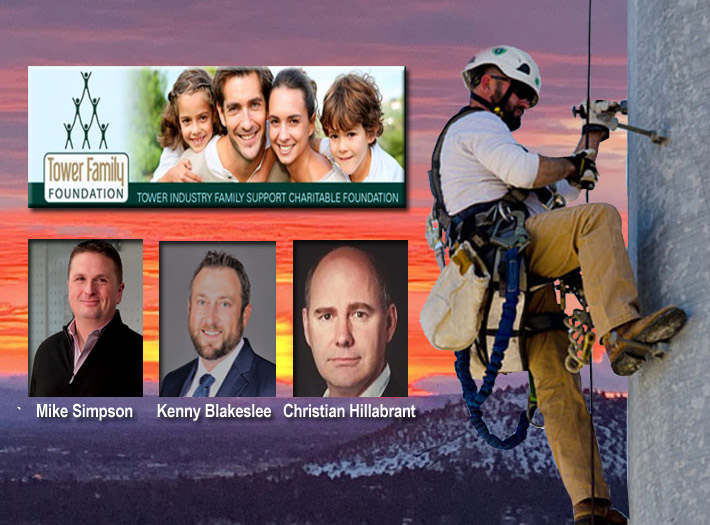 The Tower Family Foundation announced today a series of appointments to the non-profit organization's leadership team.
Mike Simpson, Chief Procurement Officer of T-Mobile USA Inc, has been seated to serve on the Tower Family Foundation Board of Directors. Additionally, Kenny Blakeslee CEO of Apex Site Solutions and Christian Hillabrant, COO of Tillman Infrastructure, have been appointed to the Tower Family Foundation Advisory Committee.
Simpson will help provide overall governance to the Foundation and assist in enhancing awareness of the organization and the resources it provides to workers in the telecommunications industry.
As members of the Advisory Committee, Blakeslee and Hillabrant will be tasked with helping evaluate applications and rewarding financial assistance and scholarships in the aftermath of industry accidents and fatalities.
"The men and women that are building America's telecom infrastructure – and their families – are vital to the wireless industry. T-Mobile was a founding member of TFF and we are as committed as ever to these professionals and the great work of the Foundation. I can't wait to get started as a new board member," said Simpson.
Tracy, Drouin and Lekutis will continue to guide the organization
At the Foundation's annual meeting in February, Jim Tracy, CEO of Legacy Telecommunications; Victor Drouin, President of Green Mountain Communications; and Craig Lekutis, President of Wireless Estimator were confirmed by their peers to remain in their roles on the non-profit organization's Executive Committee as President, Vice President, and Treasurer respectively for the 2022-2023 term.
The Tower Family Foundation is a 501(c) (3) non-profit organization that provides financial assistance and scholarships to family members of a severely injured, permanently disabled, or deceased tower workers injured or killed in an accident stemming from working at heights on telecommunication structures or other on-the-job related activities that tower workers are involved in on a daily basis.
Since its inception in 2014, the Foundation has awarded more than $1,000,000 in donations and scholarships to eligible tower workers and their families.
VRS P.C., an independent certified public accounting firm, has calculated that over 97 cents of every dollar donated to the Tower Family Foundation goes directly to eligible benefactors.
In 2021, the Foundation earned a Gold Seal of Transparency from Guidestar by Candid.
Interested stakeholders are encouraged to visit the Tower Family Foundation's website at https://www.towerfamilyfoundation.org , to learn more about the organization.
BIOGRAPHIES:
Mike Simpson
Chief Procurement Officer, Mike Simpson, has been with T-Mobile since 2012. In this time, his team have helped pave the way to T-Mobile's nationwide 5G network, overseeing transformative multi-billion-dollar contracts across network planning, corporate-wide procurement, contracting and sourcing, as well as the Un-carrier's national cell site development and supply chain. Simpson's team drives energy/sustainability programs and supplier diversity initiatives.
The team also controls network warehousing, powers the use and clearing of spectrum, and supports region and market teams as they work on network buildout.
Kenny Blakeslee
Kenny Blakeslee is the founder and CEO of Apex Site Solutions and Pulse Signal Solutions, providing an array of services to the wireless infrastructure industry.Kenny is a second-generation tower climber and his first visit to a tower construction site was in Elementary School when he spent a full day with his father during a "Take Your Child to Work Day." (Safety standards were less stringent back then.)
Kenny launched Apex Site Solutions, a DVBE, in 2010 with just one employee and has grown it to a team of more than 100. His passion lies in paying forward the life the tower industry has given him by helping his team build successful careers for themselves. The company mission of both Apex and Pulse is "To transform lives by providing growth and development opportunities that empower our people." They do this through comprehensive and innovative professional development programs and by an obsession with raising industry standards for safety, culture, and people empowerment. 1% better every day!
Kenny lives in Northern California with his wife, Brooke, and two sons, Boston and Colton.
Christian Hillabrant
Christian Hillabrant has worked in senior executive roles across major global wireless operators, equipment manufacturers and services companies. His expertise spans operations, engineering, sales, marketing, logistics, and finance.
He joined Tillman Infrastructure in 2019 from Samsung Electronics where he served as VPGM for Samsung's two largest global accounts: AT&T and Verizon, generating $5B+ in annual revenues. He led a major transformation program restoring growth and profitability after three consecutive years of falling sales.
From 2012- 2017, Christian worked at Ericsson where he was Chief Operations Officer for Western Europe, Chief Operations Officer for North America, and a Board member of Ericsson Deutschland.
Christian has held numerous executive roles at T-Mobile and PrimeCo (a Verizon predecessor company) in Engineering, Operations, Sales and Marketing.
He graduated from Skidmore College and received his MBA from NYU Stern School of Business.