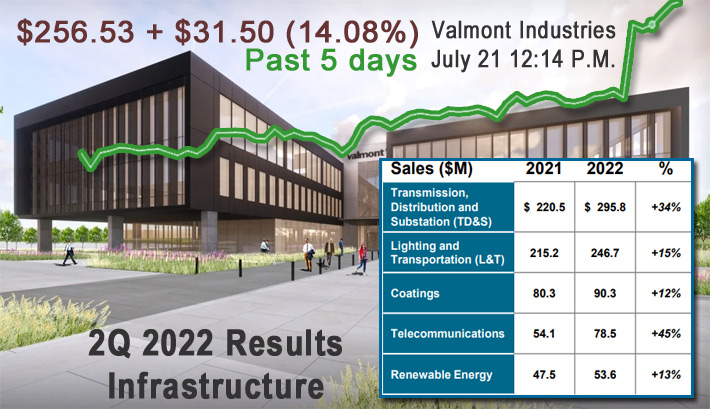 Shares of Valmont Industries (VMI) hit their highest level in more than a month, gaining 7.8% to $256.53 in noontime trading after the infrastructure and agricultural solutions provider reported Q2 2022 results that beat estimates and raised its FY guidance.
In the past five days, the stock has seen a rise of $31.59, a 14.08% increase.
Valmont said that it had record sales for the quarter of $1.135 billion, topping Street forecasts. Three analysts surveyed by Zacks expected $992.1 million.
Valmont expects full-year earnings in the range of $13.60 to $14 per share.
The company said it had diluted earnings per share of $3.70, which beat estimates by $0.36. VMI's revenue of $1.14B, which the company said was a quarterly record, beat expectations by $140M.
Operating income increased to $118.7 million, or 10.5% of net sales compared to $82.6 million or 9.2% of net sales.
Valmont attributed the record revenue and its record quarter-end backlog of $2B to strong market demand across its portfolio.
Sales in Valmont's infrastructure segment grew 23.9% Y/Y to $765M, comprising 67% of the company's total net sales. The growth in the segment was driven by favorable pricing globally, especially in the transmission, lighting, transportation and telecommunication product lines, and higher volumes.
The company said rapid acceleration of 5G network deployment and carriers' investments supporting macro buildouts in suburban and rural communities had their telecommunications segment grow from $54.1 million in Q2 2021 to $78.5 million in the 2022 corresponding quarter.
It was up 45% and was the largest percentage increase of any of their operating groups.
"Operating margin improvement was driven by our ability to successfully execute on pricing strategies, higher volumes, and better fixed-cost leverage…we are seeing strong demand for our products and solutions across global infrastructure and agricultural markets…," said VMI CEO Stephen Kaniewski.
Today's earnings presentation is available here.
Other Q2 highlights include:
Returned $21.5 million to shareholders through dividends and share repurchases
Incurred an effective tax rate of 27.6% compared to 19.0% in 2021, primarily due to the geographic mix of earnings and an incremental U.K. tax benefit in 2021 that did not repeat in 2022
Commenced production at the newly-built spun concrete pole manufacturing facility in Bristol, Indiana, that will be accompanied by a 500-kilowatt solar array expected to fully offset the site's energy consumption
Acquired a majority interest in ConcealFab, a leader in 5G infrastructure and passive intermodulation (PIM) mitigation solutions for the telecommunications market