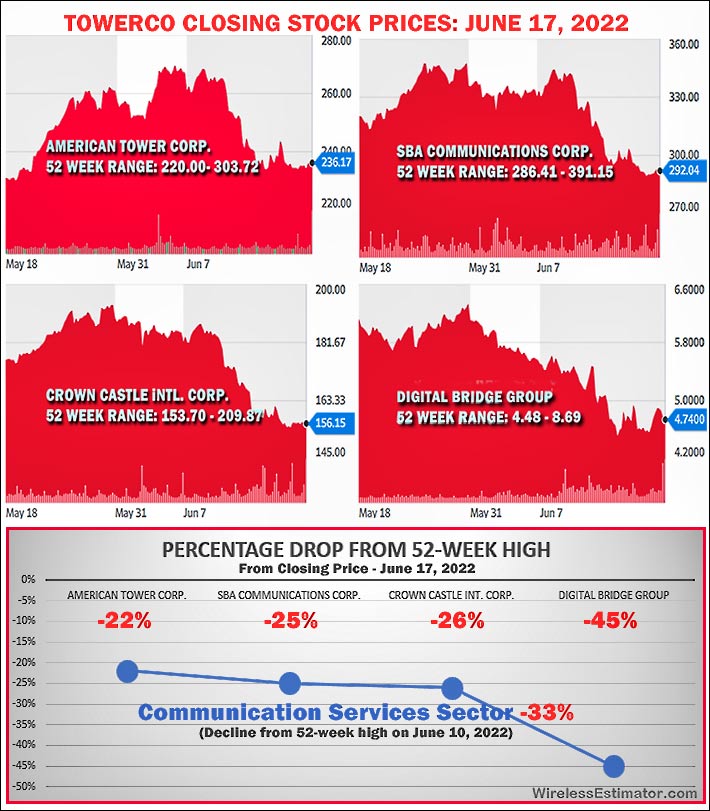 Towerco stocks notched a slight increase on Friday, but they're still way off their 52-week highs.
All four of the publicly traded companies saw significant declines beginning in December 2021, with considerable losses last week.
DigitalBridge Group is down a reeling 45%, while Crown Castle Int. Corp. declined 26%, and SBA Communications Corp. saw a 25% drop.
American Tower Corp. was the lowest with a decline of 22%.
The Communications Services Sector, on June 10, 2022, was down 33% from its 52-week high. The sector contains companies that provide communications services primarily through a fixed-line, cellular, wireless, high bandwidth, and/or fiber optic cable network.
The S&P U.S. Equity All REIT Index which measures the performance of U.S. equity real estate investment trusts (REITs), had a smaller loss with a one-year decline of 23%.
Of the top ten constituents by index weight, American Tower is number one in the REIT index, Crown Castle is the third largest, and SBA Communications comes in at 10.
Lack of indexed escalation could present problems
Many REITs allow for rent increases tied to the consumer price index (CPI), allowing their income to keep pace with the country's sizzling inflation.
However, the average escalation in carrier leases and tower ground leases is approximately 3 percent per year, with new builds closer to 2 percent.
The Federal Reserve last Wednesday shot off its biggest interest rate increase in nearly three decades and signaled that it would do whatever it takes to bring inflation under control.
The annual inflation rate for the United States is 8.6% for the 12 months ended May 2022, after rising to 8.3%, according to U.S. Labor Department data published June 10.
Stocks might see a bounce tomorrow
In the past two weeks, the Dow has dropped over 3,000 points. With the markets closed today in honor of the federal holiday Juneteenth, stock market futures show a slightly higher opening tomorrow.
American Tower in after hours is quoted up 0.33 (+0.14%), Crown Castle, up 0.55 (+0.35%); SBA, no change; and Digital Bridge, up 0.26 (+5.49%).