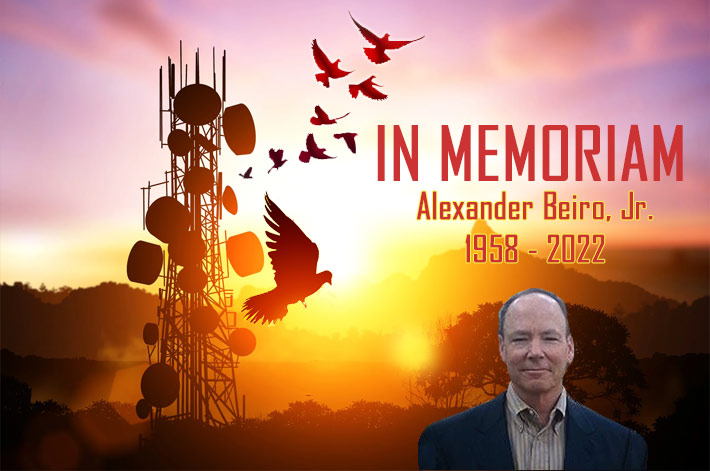 A memorial mass followed by a celebration of life will be held on December 2, 2022, at St. Rita Catholic Church in Alexandria, Virginia, at 10:30 a.m. for Alexander (Alex) A. Beiro, Jr., who passed away unexpectedly of an apparent heart attack on November 19, 2022, at his home in Alexandria.
He was well known for his industry advocacy, serving as the Virginia Wireless Association's (VAWA) President for the past seven years.
Alex made a positive impact at VAWA, breathing new life into the organization and ramping up their charitable contributions by establishing new charity partners. Additionally, he initiated the Association's partnership with WIA, the Virginia Tech Wireless Scholarship Fund, and the Fairfax County, Virginia Sheriff's Office Project LifeSaver Program.
"Alex and I worked together for many years on the VAWA Board of Directors. When Alex took over as President, he brought an inspired, innovative approach, always pushing the Association in a positive direction,"said VAWA Vice President Michael Harvey.
"He was a dedicated leader who brought great ideas and a positive attitude. Alex was passionate about helping those in the community and the industry through his platform. His love for his sons shined through in all that he did and were the center of his universe. Our thoughts and prayers are with his family."
The oldest son of nine children, Alex was born in 1958 in Pittsburgh to parents Alex and Jean (deceased). He attended Bishop Ireton High School in Alexandria and received his Bachelor of Science from Old Dominion University. Alex was an entrepreneur and had careers in construction management and real estate,
Alex was also an athlete, outdoorsman, and adventurer and was most proud of his two sons, Alexander and Zachary, who he took skiing, mountain biking, shooting, visiting historical sites and museums, and traveling throughout the United States. He drove his Prius almost 10,000 miles cross-country and to Canada on his most recent treks.
Alex was an avid tennis player, bowler, photographer, and golfer and won numerous awards. But he patiently instructed friends and family if he wasn't winning on the court.
Survivors include his two sons, eight siblings, 11 nieces and nephews, four great-nieces/nephews, aunts, and numerous loving friends.
In place of flowers, donations may be made to the Alexandria Little League [alexandriabaseball.com], on whose team Alex played as a child and which the Beiro family has supported for over 40 years.