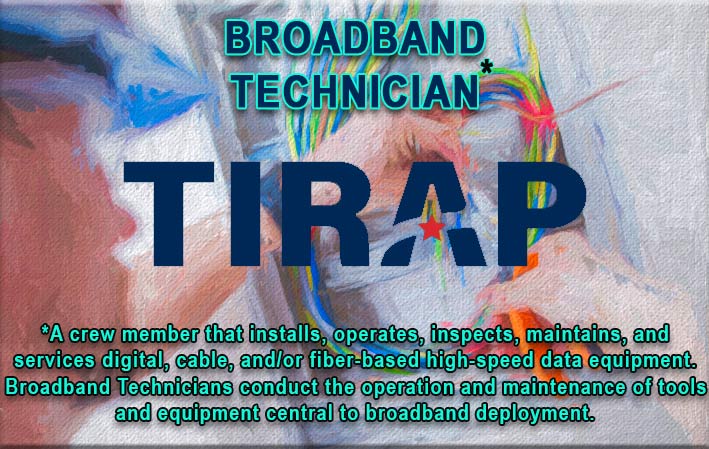 The Wireless Infrastructure Association (WIA) today announced that the U.S Department of Labor (DOL) approved the Broadband Technician as the 15th Registered Apprenticeship Program WIA can offer through its Telecommunications Industry Registered Apprenticeship Program (TIRAP).
Through TIRAP, WIA provides companies with the resources, guidance, and support to improve and formalize their training programs, expediting employer adoption of Registered Apprenticeship Programs and enabling them to offer a national credential through the DOL. In addition, as an approved occupation, WIA can now assist employers in developing high-quality apprenticeship programs for Broadband Technicians.
"Registered Apprenticeships are the best way to improve training programs and build the workforce America needs to deploy the broadband networks of today and tomorrow," said WIA President & CEO Patrick Halley. "WIA has been working closely with employers and states to help them successfully prepare for the historic investment in broadband expansion. DOL approval of the Broadband Technician occupation expands on WIA's ability to offer support and guidance for companies to develop quality training programs to recruit and train broadband workers."
A Broadband Technician is a crew member that installs, operates, inspects, maintains, and services digital, cable, and/or fiber-based high-speed data equipment.  Broadband Technicians conduct the operation and maintenance of tools and equipment central to broadband deployment.
WIA is the DOL's contracted Industry Intermediary tasked with working with telecommunications companies to expand Registered Apprenticeships. As the sponsor of TIRAP, WIA defines career paths in a growing number of occupations critical to broadband deployment and, with today's announcement, now offers 15 DOL-recognized occupations.