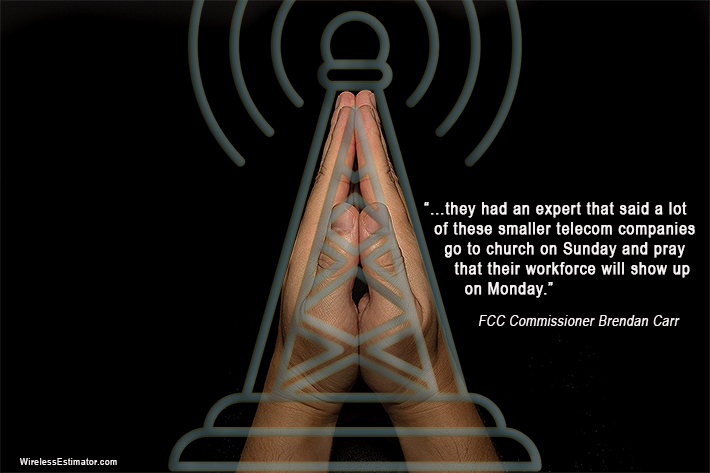 The industry's workforce shortage and last-mile technology were critical topics during Wednesday's virtual keynote interview between FCC Commissioner Brendan Carr and WISPA CEO David Zumwalt at the Las Vegas trade show's WISPAPALOOZA that ends today. The video can be viewed below.
Noting the Biden administration's preferences for union workforces, Carr questioned employment favoritism "when right now we have a workforce shortage," he said.
"You don't really pick and choose from multiple different crews. In fact, I was reading the trade press a few weeks ago, and they had an expert that said a lot of these smaller telecom companies go to church on Sunday and pray that their workforce will show up on Monday. Sometimes they do, and sometimes they don't. Not because they are lazy, but they're getting hired away by bigger companies that can offer either more money or frankly just longer-term contracts," Carr said.
Carr noted that when he travels, he tries to spend time with WISPs.
"In fact, it's become a bit infamous now for me to climb different towers when I leave DC. And I blame WISPs for that. That's where it all started. I was on a trip to Parker, South Dakota, with one of WISPA's members, a group there called Leap, and like a lot of WISPs, we talked about things being mom-and-pop operations with WISPs."
"It's a lot of brothers and maybe sisters as well. This is one of those operations. And I was touring with them, and they said that they had an antenna on top of a water tower in Parker, South Dakota, and asked if I wanted to go up and take a look. So we climbed up inside the water tower, looked at it, and it has sort of been off to the races since then, trying to spend as much time with tower crews as possible."
"We need to continue to find ways to make their jobs easier," Carr said, noting that he was talking to some providers also back in South Dakota recently, and they were saying they're seeing roughly a 20% to 30% increase just in their cost of building with inflation.
"So we've got to get inflation under control. We've got to address the workforce challenge in permitting, and approvals are still key."
Zumwalt asked Carr, "If you had a magic wand, what technologies would you use to close the digital divide, and how long would it take?"
"Well, I think we need a deep fiber sort of capillary to our Internet system in this country. And on the edges of that, we have to hang whatever last mile technology makes the most sense given the geography. It's going to be fixed wireless in some places. It's going to be fiber all the way in some places. So I think if I could just reorient everybody and say, let's have an adult conversation about last mile technology, it's going to be fiber in the lion's share of cases, and that's awesome, but let's leave room at least around the edges for other technologies."
"Frankly, I think this new generation of low Earth orbit satellites should also be part of that technology solution. Your members may not like that, but I think that's part of being open to different technologies working in particular circumstances. And for WISPs at this point. I would say, really, the most important ballgame is your state legislature and your governor's office to make sure that the broadband plans that they put forward, that they're going to be submitting to NCIA, leave room for fixed wireless technologies and getting a seat at that table."
Interview Index
Carr's top priorities re spectrum, NTIA MOU – 1:30 – 3:25 
A balanced approach to unlicensed, licensed, NOFO reliability – 3:35 – 4:45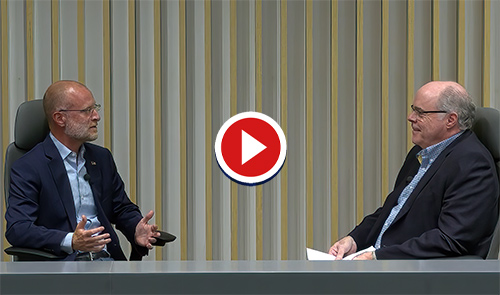 CBRS – 5:15 – 6:00
WISPs and their connected communities – 6:05 – 7:05
Top allocation priorities – 7:30 – 8:30
Smaller licenses for smaller players, a mix of approaches – 8:35 – 9:30
Problems with the NTIA NOFO – 9:35 – 12:55
Availability of spectrum re NOFO – 13:40 – 15:00
Home use of gigabit, "future proof" – 16:00 – 17:35
FCC mapping and BEAD must hit at least strike zone – 17:40 – 19:45
Title II, Net Neutrality, Big Tech – 19:50 – 21:20
USF reforms, funding – 21:25 – 22:55
Obstacles, supply chain, labor – 22:55 – 23:40
Magic wand, advice for WISPs – 23:40 – 25:22