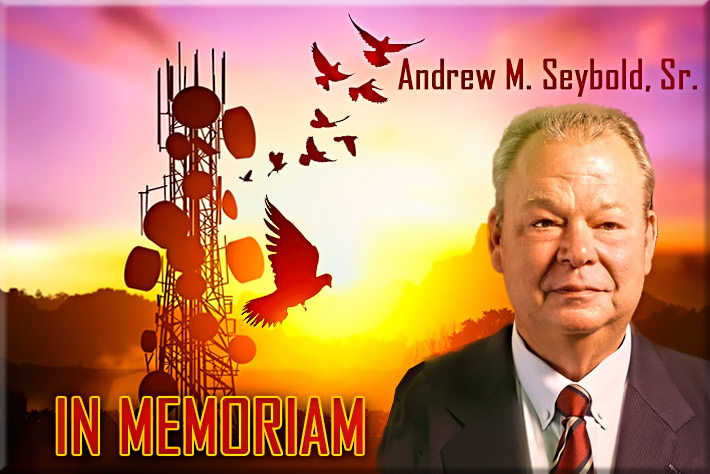 In March, well-known and respected public safety and wireless communications consultant, advocate, and writer Andrew "Andy" Seybold was looking forward to speaking at the International Wireless Communications  Expo (IWCE) – where critical communications technology professions have always labeled it as a must-attend conference.
In an All Things FirstNet article, he said, "I hope to see many of you there. Please stop and say, hello, and let me know what types of articles and topics you would like to see in future Advocates," signing off with, "Until next time."
However, due to his failing health in early April, Seybold couldn't attend the expo, where he would be presented with the IWCE's lifetime achievement award.
"Unfortunately, I was not able to be there, but I listened and was honored by the number of people who chose to attend this session," Seybold said.
"I thank everyone who has supported me over the years, and I look forward to continuing with my life's work of improving and expanding wireless communications for public safety," Seybold said.
Unfortunately, he passed away on May 2, 2023, in Phoenix, AZ. An obituary hasn't been published
The industry will miss his friendship and advocacy and his Seybold style of writing that was informative and thought-provoking.
As an influential analyst and authority on technology whose consultancy helped develop wireless trends shaping the world, in 2016, Seybold questioned whether we were "too connected" in a Wireless Estimator column.
Seybold has served the industry and shaped initiatives for world leaders of the wireless industry, including Verizon, Nokia, AT&T, Motorola, and Qualcomm. His firm has provided wireless consulting and education services from startups to Fortune 1000 companies such as Dow Chemical, Ford Motor Company, and Microsoft.
He was a key consultant for several companies that introduced products and services that have had a significant impact on wireless, including Research In Motion's popular BlackBerry, Hewlett-Packard's first handheld device, the first two-way pager, Good Technologies' first products, and AT&T's push-to-talk offering.
Seybold has served on the Motorola Research Visionary Board, IBM's Mobile Computing Advisory Board, and several other prestigious advisory boards.
He was heavily involved as public safety's technical consultant assisting in the securing of the D Block 700 MHz frequency allocation, which helped to launch FirstNet.
After receiving the IWCE coveted award, Seybold said, "Since the day I was invited to join the group seeking spectrum from Washington DC for a nationwide public safety broadband network, FirstNet has become my life's work, and Band 14 has been its greatest reward."