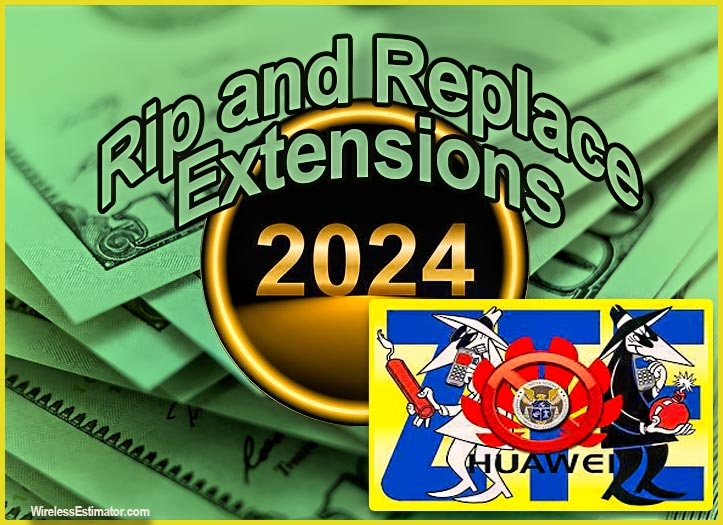 The FCC has extended the deadline for two more companies to rip and replace Huawei and ZTE Chinese-made network equipment in the Secure and Trusted Communications Networks Reimbursement Program.
Both companies said the lack of funding was their primary concern, causing one company to delay contractor payments. However, last week, the Biden administration asked Congress for an additional $3.1 billion to "fully reimburse eligible communications providers for the ongoing removal of insecure equipment and software from communications infrastructure that may pose a national security threat to the United States."
Point Broadband Fiber Holding's deadline to remove the gear was delayed from Sunday to April 29, 2024, with SI Wireless' deadline from November 24, 2023, to May 24, 2024, according to the Wireline Competition  Bureau order.
The bureau found "each made a sufficient showing that they have been impacted by the funding shortfall" in the program "to an extent sufficient to warrant an extension."
Point Broadband stated that the available funding is "only 40% of the funds needed" and that "the lack of funding [is] outside of [its] control."
The company contends that with no assurances of additional funding, its inability to complete its removal, replacement, and disposal obligations within its initially assigned term is "due to no fault of Point Broadband."
Point Broadband also contends that its progress has been delayed due to a lack of available contractors and "internal resources" to perform needed work, including data contractors to perform migration work, the time needed to coordinate its work with other "businesses and carriers," a lack of space for the replacement equipment, and a need to avoid impacting its day-to-day operations.
SI Wireless had difficulties in paying its contractors
SI Wireless stated that the funding shortfall required it to "revise" its planned network compared to its originally intended scope.
According to SI Wireless, this revision resulted in it receiving "no payments for five months" from the Reimbursement Program, rendering it "unable to pay [its] vendors on a timely basis for the work they had performed or have them continue working."
SI Wireless stated that it was required to pursue the modification to its plans due to "the shortfall in funding for the overall program," which it contends was beyond its control and over which it bears no fault.
Earlier this month, the FCC provided extensions to five other companies.