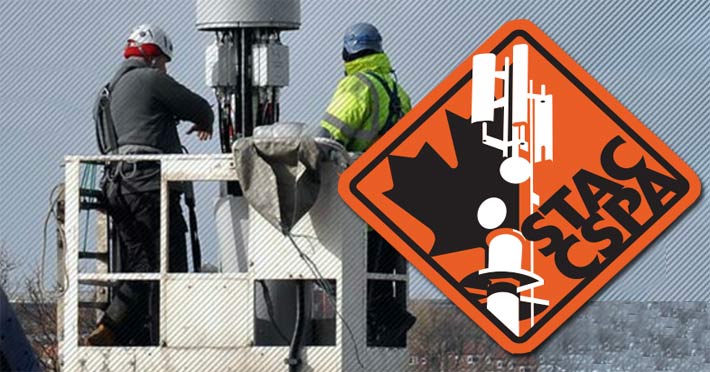 Although Canada has enjoyed an enviable reputation for climber safety, nine industry businesses wanted to make sure it stayed that way, and even got better, and formed the Structure, Tower and Antenna Council (STAC) that will officially launch its membership drive next Monday.
Similar to the United States' National Association of Tower Erectors (NATE), STAC will be helping its members to operate safely and efficiently in wireless construction and assist by providing expertise and support in the areas of advocacy, information and guidelines, communications, events and education.
Clay Parchewsky, Vice President of Health, Safety & Environment-Canada for WesTower Communications and Keith Ranney, Director, Implementation Wireless – National for Bell Canada, saw a strong need for the trade group and began setting up its structure in October of 2014 with assistance from Groupe Telecon, Rogers, SBA Communications, TELUS, Tiller Engineering, Trylon, and WSP.
The companies donated $10,000 each to launch STAC and were later assisted with an additional contribution from Videotron.
STAC is a non-profit Council of the Canadian Wireless Telecommunications Association (CWTA), representing and providing a collaborative forum for its members.
According to STAC's Program Manager, Nicholas Kyonka, STAC's steering committee, which has Parchewsky and Ranney as Co-Chairs, will guide the organization's growth, policies and procedures.
Other committee members include, Ghyslain Deschamps, Group Telecon; Sam Fadallah, Rogers Communications; Ed Hachey, SBA Communications Corp.; Jason DeHetre, TELUS Communications Company; Jonathan Walsh/Rick Tiller, Tiller Engineering Inc.; Stephanie Berry, Trylon; and Sharyn Gravelle, WSP.
The organization's mission is to provide a unified voice for the industry while ensuring the safety of all personnel involved with communications towers and related industry infrastructure.
One of STAC's numerous committees will be tasked with exploring the possibility of providing a standardized prequalification process wherever possible, especially for carriers.
Kyonka said that the group would be developing a list of thresholds so that they could accommodate the different standards required by the country's national and regional carriers.
STAC will be holding its first conference and exhibition in Toronto on April 11 and 12, 2016.
For additional information about membership or the conference, email Kyonko at info@stacouncil.ca or visit their website that was launched this week.
According to Parchewsky, Canada has approximately 100 contractors that employ elevated workers, whereas Wireless Estimator's Blue Book identifies that in the U.S. there are at least 1,200. The best estimate of the number of wireless at height workers are 1,000 to 1,200 climbers in Canada. The U.S. has an estimated 29,000.
A study found that between 2003 and 2009, the U.S. had 70 tower worker fatalities versus Canada's one fatality.
On Aug. 26, 2010 a Quebec rigger was working on a microwave dish at the 100' level on a guyed tower in Ontario when he fell.
The last known Canadian fatality occurred on May 5, 2013 when a 25-year-old Ottawa tower tech died after falling 193 feet from a cell tower in Alberta while installing antennas on a Rogers Communications-owned tower.