Canada and the UK enjoy enviable safety records
Schedule and margin pressures seen as possible reasons for higher death count of techs in the US
By Craig Lekutis
August 14, 2009 - The head of the Occupational Safety and Health Administration
last year said that communications tower climbers had the highest fatality rate per 100,000 workers compared to other professions in the US.
Former Assistant Secretary of Labor Edwin G. Foulke Jr.'s statement didn't come as a surprise to the National Association of Tower Erectors, WirelessEstimator.com and others who have been tracking jobsite death data for a number of years.
Consequently, a shot from the hypothetical hip would indicate that working aloft on communications structures has to be the world's most dangerous job.
Not necessarily so, say academics, consultants, government safety officials, and tower erectors from other countries. The validity of such a claim is also argued by representatives from third world nations where a harness and steel-toed boots are optional if the climber is more comfortable with a hemp positioning rope tied around his shirtless midriff as he uses his bare feet as a sensory probe for sure footing.
In actuality, state some international industry professionals, the US's historical fatality rates far exceed - percentage-wise - those in countries where safe working practices have minimized deaths or kept them at zero for many years such as in the Great Britain where a safety and health official found no deaths for a number of years.
Some countries are notably proud of their safety record such as Canada where tower erection and maintenance company workers believe that their higher set of standards is one reason for a perceived lower fatality rate.
What began as research in 2008 as to how Canadian tower climbers weathered sub-zero temperatures evolved in an ongoing study through dozens of interviews and hundreds of emails of how other countries governed climber safety and whether or not it resulted in reduced rigger fatalities.
Research is oftentimes unavailable in e-search
Calculating the number of climber fatalities annually in the US is representatively accurate due to the availability of federal data, extensive news outlets and the networking of tower technicians who have internet access.
International benchmarks are more difficult to obtain due to less communications between rigger companies and limited reports from English news media in foreign-speaking countries.
After an exhaustive internet search for fatalities in other countries, plus requests to over 1,000 people aligned to foreign tower construction and erection, only 10 international deaths of a climber that fell from an elevated communications structure were found during a period from 2003 through 2008. The number of US tower climbers that died in the same period totaled 70.
An industry trade association executive, requesting not to be named, said any fatality comparison would be skewed because, "Statistics show that the US alone has more towers than all other countries combined, so it would be natural for more fatalities to occur here."
However, according to the NAB, FAA and FCC there are approximately 30,000 AM, FM and TV towers in the US. Extrapolating information from a CIA database of the world's total of AM, FM and TV stations' towers plus their repeaters identifies an additional 130,000 towers, putting the US with a 23% share of the world's broadcast towers.
US versus international cell tower portfolio is 7%
The US cell tower percentage appears to be considerably less, at approximately 7%, based upon a survey of subscriber levels and other information released last month by the International Telecommunications Union, an agency of the UN.
Although the US has a number of companies that approximate the number of the country's cell towers - not cell sites- averaging 250,000 structures, they do not explore the number of international structures.
Other countries do not have independent research companies such as Tower Maps and Tower Source to provide cell tower data, complicating the ability for any organization or firm to provide a worldwide estimate of the number of cell towers.
Most carrier estimates are partially assessed by culling through the tower companies'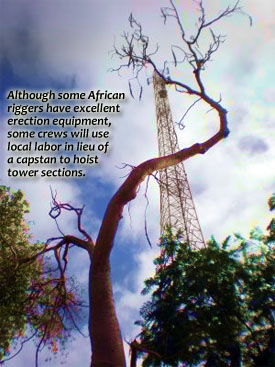 annual reports, but carriers and publicly traded companies comprise less than a majority of cell tower owners and reporting procedures do not require that they must identify the number and location of tower structures that they own.
Through a Freedom of Information Act request to Ordnance Survey, Great Britain's national mapping agency, the organization replied that there are approximately 2,626 sites containing communications towers and masts in a country that has approximately 42 million mobile phone subscribers. The US, with 270 million subscribers, according to the CTIA, has a quarter million towers.
Nevertheless, Great Britain is nine times more densely populated than the US and over 38,000 cell sites have their antennas located on smaller elevated structures and rooftops, but still require technicians to climb to service them. In 2008, two of the US's 12 fatalities occurred while climbers were working on rooftop cell sites.
Some nations accurately identify fatalities
So, if working on towers is endemically dangerous and the US only has climbers working upon less than 10% of the world's masts, then should there not be reports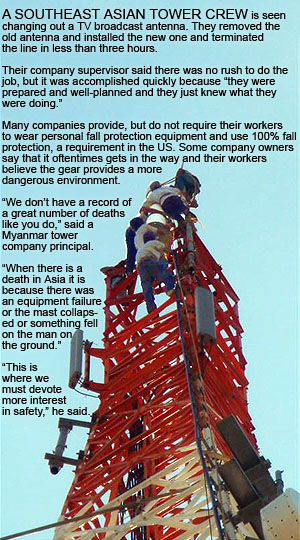 in the past six years of an additional 630 fatalities in addition to the US's 70 deaths?

That question was posed to 16 attendees during this year's National Association of Tower Erectors' conference in Nashville and 14 said that there may very well be many more deaths worldwide, but they're not reported.

That could be accurate in a country like China where its government has the power to screen out any information from foreign news agencies that it deems harmful. However, even with its internet and other media constraints, the death of a 23-year-old cleaner who fell 45 floors earlier this year from the still uncompleted China Central Television tower building was widely reported and a collapse of a TV broadcast tower with no injuries was reported two weeks ago.

Ensheng Wang of Eissun Communication Equipment Co., LTD, a major tower and monopole manufacturer in China thinks that it is not the news being suppressed if a climber's death is not published, but the reporter's lack of knowledge about the event and the relevance of the incident compared to other accidents that are widely reported.
China fatalities reported, but may be minimized
"I heard that sometimes there are fatalities when workers install the towers or maintain the towers, but I do not know the exact number of deaths of workers," said Ensheng, the company's business development manager.

Nonetheless, he says the number of people that have died is very few.

He noted that in the Chinese tower market the most commonly designed tower is of angular steel. Ensheng further stated that a big difference is that Chinese towers are not designed with step bolts, which he believes provides an unsafe environment for the worker. Climbing ladders are used on all of their towers as well as their monopoles.
Ensheng said when workers are on a structure they are required to wear a safety harness and each tower must have a "security rope".
Climber fatalities in most countries are typically covered by the media unless the event was unrecorded due to that lack of a newspaper or broadcast station in the area.
Two India deaths are most recent fatalities
Two workers were killed when they fell 30 feet from a cell phone tower being erected
at Sripuranthan Village in India On June 28.
Police said a tower crew from West Bengal was erecting the tower for BSNL network when a portion of the tower collapsed.
India's worker safety laws are considerably more lax than those enforced by OSHA, according to US-based tower company personnel working abroad.
"This country's having an unbelievably huge build-out and the safety requirements for construction companies and erectors are not near what we have to go through at home," said a manager for a large tower company.
"There are no requirements for climber certification, and other than these two deaths, I haven't heard of any others," he said.
Currently, India has approximately 130,000 towers and it will need an additional 90,000 to meet its 2010 subscriber demand. The country is expected to eclipse the US total in 2011.

Only three deaths this year have been reported outside of the US. In April, a telecom engineer from Ghana fell 150-feet to his death while assisting in the maintenance of an antenna.

Although America is experiencing its safest year since accurate records have been compiled, there have been three deaths in 2009.

"Keep in mind that it has been awfully slow out there and our fourth quarter might find companies rushing to complete delayed projects which could result in techs taking unsafe shortcuts to get the job done," said a Texas construction company owner.
He cautioned that although US workers appear to be working safer, one sound year shouldn't be viewed as an indicator that increased safety awareness and additional training have been effective.
Five perish in Indonesia
The worst international fatality in many years occurred last August when five tower
workers died in Indonesia when their man-basket plummeted 160-feet to the ground at a Jakarta TV tower site.
A wire rope sling was reportedly severed. Wesley Stabner, 57, of Canada who was managing the project being constructed by local workers, said that the equipment had been previously inspected, but an investigation by authorities alleged that the weight of the Indonesian men in the 4'x4' cage in addition to equipment, caused the wire rope to fail.
Indonesian authorities said Stabner suffered what appeared to be a nervous breakdown after the accident.
Following the investigation, under the country's Article 359 KUHP, Stabner was placed under house arrest for negligence in causing the death of others with a possible punishment of five years in prison.
It has been reported that Stabner is back in Canada after a negotiated settlement with Indonesian officials.
Zero fatalities recorded in Great Britain
With Great Britain's abundance of media outlets, a rigger fatality would be expected to be found after a thorough internet search. But there are none. And there's a good reason. They haven't had any for many years.
According to three UK rigging company managers and documents provided by Health and Safety Executive, Great Britain's equivalent to OSHA, there were no fatalities during the past six years of telecommunications workers falling from a structure of 4.6-feet or higher.
Falls from Height Policy Advisor Richard White said that work at heights in Great Britain is governed by the Work at Height Regulations 2005 and telecommunications workers must satisfy those requirements.
There is a specific Schedule 5 for personal fall protection systems which would be most appropriate for mast climbing, White noted.
"We expect all employers to adhere to the law and provide a safe method of work for their workers. Adequate training and competency in carrying out work at height are crucial ingredients to a safe working environment," White said.
An accurate total of riggers in Great Britain was not available through government sources, but a number of telecom riggers thought a fair guesstimate would be around 1,700.
White could not clarify why the US had a higher fatality rate, but Great Britain's overall worker safety programs and culture could provide part of an explanation.

The fatal injury rate in Great Britain is consistently one of the lowest in the world. The provisional figure for the number of workers fatally injured in 2007/08 was 229, and corresponds to a rate of fatal injury of 0.75 per 100,000 workers.
The US Bureau of Labor's comparative data shows that the rate of fatal work injuries during a similar period was 3.7 fatalities per 100,000 workers, almost 400% higher.
Canada deserves congratulations and a comparative interest
So, if there is a corollary between the national death rate and the number of tower climbers that were killed, then Canada should have the highest fatality rate per capita
of tower techs than any other country. Fortunately, for Canadian riggers that is not so.
During the same period, according to the Canadian Centre for Occupational Health and Safety, the country suffered 6.8 fatalities per every 100,000 workers.
Workplace deaths are so high that the country marks every April 28 as the Day of Mourning for Workers killed on the job.
Yet, in regards to rigger deaths they are considerably lower, in fact so low during the same period when the US had 70 fatalities, one less death in Canada would have put the country at Great Britain's enviable zero.
In researching the death rate with knowledgeable Canadian tower professionals and Occupational Health and Safety Officers, they could only identify a single fatality since 1999 when a 21-year-old man from Aberdeen, Saskatchewan fell off of an AM tower in Winnipeg, Manitoba in April 2005 while hoisting a transmission line. He survived the 55-foot fall, but passed away ten days later.
If Canada's climbers appear to be some of the safest in the world, what's their secret?
It's not clandestine, says Tom Vardy, President and Senior Consulting Engineer of Varcon Inc.
"I think the main reason for the lack of tower accidents and fatalities in Canada is the safety programs in place for tower climbers, initiated by owners, consultants, contractors and the Federal Labor Code," Vardy said.
For the past 30 years, Vardy has been deeply involved in the tower industry as an engineering consultant occupied with tower design, inspection and project management services through his three Canadian offices.
Stringent safety guidelines and regulations are enforced by the majority of tower owners and endorsed by climbers, Vardy said.
"Continuous attachment at all times is required while on the structure. For example," Vardy said, "Varcon's policy is one of zero tolerance - all our engineering inspectors are told that there is no second chance for not adhering to the continuous attachment policy. The same goes for any contractors we supervise on a tower site. This is widely endorsed by all major tower owners in Canada."

Criminal charges could be a deterrent
In Canada, ignoring 100% tie-off could result in criminal charges against ground workers and climbers in a supervisory position.

Another reason why Canadian rigging companies are additionally concerned about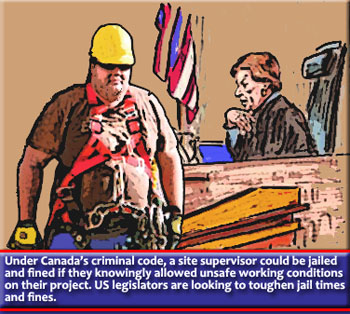 compliance, according to a number of owners, is due to Bill C-45 which became effective in 2004 amending the Canadian Criminal Code.
The code states, "Every one who undertakes, or has the authority, to direct how another person does work or performs a task is under a legal duty to take reasonable steps to prevent bodily harm to that person, or any other person, arising from that work or task."
Although it is difficult to assess its impact since it has been only been used three times in unrelated industrial accidents, severe criminal charges, fines and jail time could be imposed upon every employee in a supervisory position as well as management and owners and directors.
The bill, designed to include corporate liability and others in a supervisory capacity within the company, does not intrude upon, or override, other existing federal, provincial or territorial occupational health and safety statutes and regulations.
"If a rigger dies from a fall and the inquiry shows that the site supervisor was aware that on occasion he ignored the fact that the man would not tie off 100% and he proceeded to ignore it, then he could and should be criminally charged," said a WesTower Communications site supervisor.
"In order for a company to truly have an ongoing culture of safety, every single employee must buy into it and not allow free climbing under any circumstance. Enforcement can't be by convenience," he said.
The UK passed The Corporate Manslaughter and Corporate Homicide Act 2007 which came into force last year, but many have criticized the new Act in failing to deal with individual accountability - in particular in relation to the conduct of directors and managers such as Canada's Bill C-45 allows.

US eyeing tougher fines and imprisonment

U.S. Senate Majority Leader Harry Reid (D-NV) has introduced legislation that seeks to increase fines and criminal penalties for safety violations. Reid's bill parallels one introduced in the House.
If the bill is passed:
Fines for willful and repeat violations would increase, with the minimum increasing from $5,000 to $8,000 and the maximum from $70,000 to $120,000.
The maximum fine for serious, failure-to-abate and other-than-serious violations would increase from $7,000 to $12,000.
If a violation causes an employee's death, civil penalties could range from $50,000 to $250,000, with $25,000 the minimum for companies with 25 or fewer workers, and
The federal Occupational Health and Safety Administration could also pursue criminal charges against a company for an employee's death, including fines and up to 10 years in prison for owners and managers. Criminal penalties for serious bodily injury to an employee could include up to 5 years in prison.
Current State and Federal OSHA fines are seldom viewed as strong deterrents for companies that do not enforce a safe working environment. In most instances, they are affordable slaps on the wrist or mitigated when companies make policy changes.
On July 24, U.S. Steel Corporation, the largest US-based steelmaker with earnings over $3 billion last year, was fined $10,000 by Indiana Occupational Safety and Health Administration following a worker's death on June 26 in Gary when he fell 90 feet while working on an overhead crane.
IOSHA cited U.S. Steel for not enforcing the use of fall protection equipment. The company acknowledged the violation, said they have put a new policy in place, and paid the fine.
Subcontractor levels are less than US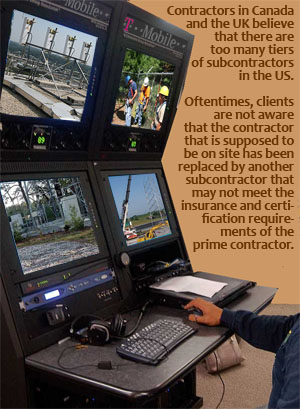 Although there are a some small contractors, Canada's tower erection and maintenance companies are mostly large or medium in size and typically contracts issued must list subcontractors in advance, and the sub must be approved by the owner, said Vardy.

"For Larger jobs it is a requirement to list key field personnel and most of these people have a history in the industry," he said.

Whereas the US can have two or more contractor tiers, sometimes some of them working without the prime contractor's, carrier's or tower owner's knowledge, Vardy said, "It is very rare to even get one subcontractor. If items are subcontracted it is well documented and the subs are checked out by the owner or their consultant prior to any work being done."

Deadline, pricing pressures seen to affect safety
A number of Canada's tower erection, equipment installation and maintenance estimators who have quoted projects in the US believe that the margins - although thin at times - are higher in Canada due to less layers of subcontracting and less mom and pop contractors providing unrealistic bids.
Plus, they believe, not having to put unrealistic time constraints upon the project in order to be profitable provides for a safer work environment.
"I would venture to guess that our profit is somewhat higher since we don't have to share the project amount awarded with multiple contractors," said the head of a Great Britain telecom contractor who also agreed and said that he believes that the US has "too many levels of hierarchy".
In the US, it is not untypical for a carrier to demand that a co-location project be completed in six days or less while ignoring inclement weather, late material deliveries and other delays not under control of the contractor. Many carriers' representatives will quickly threaten that future work will be terminated if their unreasonable deadlines are not met, forcing the contractor's employees to meet ambitious schedules that may not be able to be accomplished safely.
Additional manpower may not be realistic
"Many shortened project deadlines can be completed by bringing in additional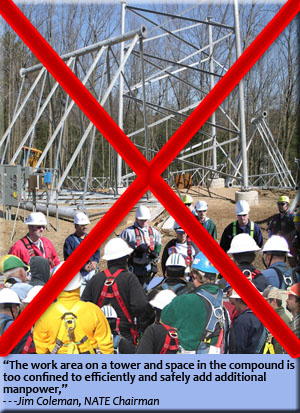 equipment and personnel," said Jim Coleman, chairman of the National Association of Tower Erectors. "But, in tower construction, that cannot and should not be done to try to reach an unreasonable or unrealistic deadline," he said.
"The work area on a tower and space in the compound is too confined to efficiently and safely add additional manpower," Coleman said.
According to Canadian company managers, the industry employs approximately 1,600 trained climbers ranging from engineering inspectors, azimuth verification surveyors and tower installation and maintenance personnel.
Similar to other countries, there are no accurate figures on the number of telecommunications towers in Canada and its territories. Estimates cover a wide range from 9,000 to 18,000. A representative of Industry Canada said that they do not keep data on the number of masts within the country, only the elevations of antennas.
The Canadian Wireless Telecommunications Association said that across Canada there are approximately 8,000 cellular/PCS antenna sites and around 40% of the antennas are located on structures other than towers.
Canadian climbers undergoing a litmus test
With a surge of cell site work in Canada that is almost outstripping available workers, Canada may be going through an acid test of its ability to maintain its excellent safety record.
Two of the country's carriers are integrating a GSM High Speed Downlink Packet Access alongside their CDMA networks. Much of the installation work is brand new to most riggers and the demand for additional workers is challenging.
Riggers have to run 12 or 24-count fiber cables from the tower mounted GSM radios as well as power them. Generally, up to 16 runs of 8 AWG come from the tower into the shelter where technicians are required to test and install them.
Due to the scope of the HSDPA work and limited manpower, a Canadian carrier
technician remarked, "If you've stood on top of a four-foot ladder, you're now a rigger."
Staffing firms and Canadian tower companies are aggressively recruiting US tower crews and workers to assist in the project.
Nicholas Jones, Executive Managing Director of ENSA Access & Rescue Inc. with offices in Ontario and Wisconsin, not only observes the differences in corporate safety cultures in both Canada and the US, but he has worked in other nations as well.
He says he strongly believes that Canada encourages interest and professional commitment within work at heights that effectively translates into addressing the needs as they arise.
"One just has to look at the advertising campaign Quebec CSST conducted within the construction industry. There were three one-minute advertising spots on national television targeting the families of those who work at heights and it was very successful."
"This 'safety culture buy in' - similar to that of Europe's - allows education and training to effectively meet those needs, and as a result, skills and tools such as rope access are perceived as a solution rather than a perceived competitor or cost center by the eyes of a corporation involved within the protection of its specific market," Jones said.
Alberta embraces rope access training
In 2007, Alberta included rope access in its health and safety code and acknowledged that, done correctly, rope access on elevated structures, including communications towers, can be a safe way to work at heights. The new rules outline acceptable practices, equipment and rescue methods for occupational rope access work.
Alberta Canada OHS Rope Access
COMPETENCY LEVELS
The OHS Code identifies three levels of rope access competency:
1 Workers who have taken a five-day course and passed an exam (They must still be supervised when doing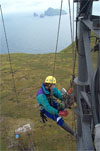 rope access work.)
2 Workers who have taken an additional training course and have logged 1,000 hours of experience at height
3 Workers who have an additional 1,000 hours of experience and more training (They can supervise rope access work.)
The OHS code requires a high level of competency similar to the recognized guidelines of the Society of Professional Rope Access Technicians (SPRAT) and the Industrial Rope Access Trade Association (IRATA), but Alberta does not require workers to be certified by these organizations.
Jones said that while working for a large European-owned corporation the CEO was continually quoted as saying, "America makes the money, France spends it." He said the disparity between the European divisions versus those in North America was strikingly apparent, from salaries and benefits, as well as a budget to operate safely.

Vardy stated that companies caught not abiding by 100% attachment in Canada can loose their standing and will be blacklisted for a period of time.
"It is contingent upon the owner to weed out the independents who refuse to play by the rules. At the end of the day, it's the owner's responsibility," he said.
Canada's OHSA requires a safety representative to be on site at all times to monitor work activities when the number of people working at a tower site exceeds five workers.

However, similar to most US tower crews, unless the project is the erection of a tall tower, most maintenance and installations do not require six employees.
It's not the luck of the Irish, but a more regulated environment
"In Ireland, if a contractor had a fatality they would go out of business as the industry is
small with four or five telcos and three or four broadband wireless operators, and ten contractor companies," said Dr. Diarmuid Moran, the founder of Bowline Risk Management Ltd., a firm that specializes in telecommunications.
"Everybody knows what is going on. Mess it up with a fatality, then goodbye business in Ireland," said Dr. Moran, who cannot recall Ireland having a rigger die from falling from a communications structure.
He said that there were probably less than 400 climbers in Ireland and the country had approximately 350 guyed and self supporting towers as well as 1,200-plus monopoles.
Dr. Moran believes that the low fatality rate in Ireland might be based upon the country having a more regulated industry environment as well as having larger carriers with better profits.
He noted that the carriers do not force contractors to meet unrealistic pricing models and they use reputable contractors.
IRATA chief believes additional training would lower fatalities
According to Roderick Dymott, Chief Executive Officer of the Industrial Rope Access Trade Association, additional training could assist US tower technicians in lowering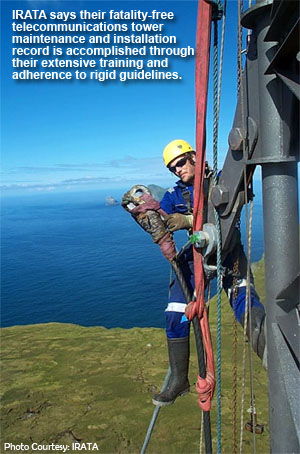 the industry's fatality rate.
During the past 19 years since the international organization has monitored fatalities, Dymott says, IRATA's members have had no fatalities and a minimal incident rate.
In each of the last three years, IRATA's rope access technicians have undertaken in excess of 2.5 million hours on ropes.
"We undertake a good deal of telecom work in the UK and in South Africa and, I am sure, elsewhere and the safety record we achieve comes not from national legislation, but our own guidelines, our own training and our diligence at the worksite," Dymott said.
"We share some members with SPRAT, the rope access association in the US, but their training is shorter and their achievement targets less stringent. Our member companies are strictly audited before membership is given and regularly thereafter."
"You cannot pay your way into this association; our members have to earn their certificate and maintain high standards."
"We would consider working on communication masts to be one of the simplest and basic projects a rope access technician can undertake; working underneath a railway bridge over a canal, or working high above a Gulf states skyscraper in great heat are vastly more challenging," Dymott said.
The difference in tower climber safety courses in the US and IRATA's stringent training guidelines are numerous, according to Dymott.
"Our safe working culture starts with the first day of IRATA training where the student is imbued with our commitment and dedication. It is continued when he is assessed at the end of his course by an IRATA Auditor who has no connection with the training company - so it is not the instructor who decides whether a student passes or not - and then carries on into his career progression through the IRATA technician levels, regular re-training to retain his qualification and set safe working practices when he gets on site."
"Hurried and inadequate training, imprecise or variable work procedures and lack of supervision are what cause accidents," Dymott said.
For some, safety is a family affair that doesn't include cowboys
A Japanese tower erector believes that all US tower climbers may not take the
profession as seriously as they should.
Haruki Takahashi says that being a tower rigger is a respected profession in Japan that is passed on from generation to generation and he is not aware of any workers that have died from a fall in the past six years he has been building and maintaining towers.
"It is not a job you take because you have no other employment available or you want to make some money until something else comes your way," Takahashi said.
"You might often find a father and son working on the same work project. Our people do not do drugs or get drunk. It is just not acceptable. It is just not tolerated."
"Can I say that they are always secured to the mast? No, not always, but they take safety very seriously. They will not even work when there is rain or lightning. That would be foolish," Takahashi said.
A communications contractor from Cambodia also echoed Takahashi's comments about the professionalism and pride his workers take in their careers as riggers.
"Our teams are very sober, well educated and love their jobs and their lives. They tend not to be cowboys," he said.
However, dispelling any notion that all of his riggers are Cambodian choir boys - and thereby alluding that there may very well be an international brotherhood of tower erectors - he said, "There are times that they have no qualms about telling me to
f!@$# off!"
DATE
#
COUNTRY
AGE
DESCRIPTION
4/8/2010
1
BALI, Badung
26
Rigger was attached to 200' tower when it collapsed due to rusted legs.
6/28/2009
2
INDIA, Sripuranthan Village
28, 28
Riggers were from West Bengal. Cell tower collapsed as they erecting it for BSNL Network. Were at the 30-foot level.
4/9/2009
1
GHANA
35
Telecom engineer fell 150'. Was part of a four-member crew fixing an antenna.
2008
5
INDONESIA, Jakarta
29, 38, 39 43, 43
Five men were killed when their 4'x4' man basket fell 160'. Inquiry said that the weight of the equipment in it along with the five men caused the failure with the gondola's rigging. Project was managed by a US-based company out of Florida, RPI of Orlando.
2006
2
CAMBODIA
Structural failure of a guyed tower while the riggers were erecting it. Fabrication error being cited.
4/5/2005
1
CANADA, Manitoba
21
Fell off of an AM tower at the 55' level while hoisting transmission line. Had PPE on but it was not attached.
11/5/2005
1
TRINIDAD, Gran Couva
32
A Guatemalan national was working at the 25' level of a 100' monopole when he fell. Report said he had PPE on but was apparently not tied off. Step bolts were on structure.
2003
1
AUSTRALIA, NSW
Rigger fell from cherrypicker while doing tower work
2002
1
AUSTRALIA, NSW
Rigger fell from guyed tower when it collapsed
2000
2
BAHAMAS, Exuma
36, 39
Two BaTelCo workers died when a 260' tower collapsed while they were inspecting it. Both men had over 15 years of experience as riggers.
1998
1
AUSTRALIA
Rigger fell from communications tower
1998
1
CANADA, British Columbia
Rigger fell after belting off on a lightening rod to chage a light on a 300' tower. The rod failed.
1998
1
CANADA, Ontario
29
Fell 87' from a monopole while checking a leak on a newly-installed waveguide run. Might have had trolley or brake installed upside down.

1996
1
CANADA, Newfoundland
Unauthorized rigger training on 3rd party tower. Slipped 50'. Improper gear.
1989
1
MALAYSIA
Rigger fell from concrete monopole when it collapsed

*Known fatalities of a rigger being killed while working aloft on a communications structure. If you are aware of any additional fatalities or information, please reply to info@wirelessestimator.com
Craig Lekutis writes about climber safety and the tower siting and construction industry. Prior to founding WirelessEstimator.com, he managed a national contractor program for American Tower Corp. He has 28 years of industry experience and was one of the founding directors of the National Association of Tower Erectors. He will be moderating a panel discussion session on Climber Safety Equipment at the NATE 2010 conference to be held February 15 -18 in Orlando.
Your comments are welcomed:
For publication of your point of view, please send them to info@wirelessestimator.com . They will also appear in our forum.
View Article on International Tower Climber Deaths
February 5, 2010
There has only been one this year so far, but if you look anywhere else in the world you won't find another, or at least I haven't seen any and I scour the internet for any tower news that's out there. There will be those people who say that there are fatalities, but they're just not reported.

That's the catch phrase of people that don't want to admit that maybe the U.S. has an endemic problem that needs to be addressed.

Walter Carillion

November 1, 2009
What part of there's no work and no pressure to get it done that people don't understand? As soon as the end of the year pressures hit you'll surely see more deaths in the US.

Name withheld upon request

October 6, 2009
Keep up the great safety, folks. It's been a while and there have been no fatalities both in the US and abroad. Could it be that it's finally sinking home?

Jason Ventire

September 10, 2009
You make some interesting points, Mr. Landa, and you say that the validity of a statement should be based on facts.

Then you go ahead and state that there is only a "miniscule" possibility of equipment failure causing workers to die.

The wife of one of the three climbers that died this year swears that it was equipment failure.

I don't have the OSHA report and I don't know if you have it, but if she is correct, then one-third of all deaths this year came about due to equipment failure.

Then miniscule becomes 33%. I'll stick with the old math.

David Graines

September 9, 2009
The validity of a statement is not confirmed by the volume at which it is made, by the number of times it is repeated or by the social or political position of the articulator. The validity of a statement is based on facts, scientific methodology, logic and sound theory; none of characteristics apply to Secretary Faulke's statement.
What you failed to mention in your article is that Faulke's statistical representation of industry fatalities is based on your data. There was no third party or independent study conducted by OSHA or the Bureau of Labor to substantiate that conclusion. Had that fact been relayed to your readers they might be less inclined to give Secretary Faulke's representation credence; or at a minimum readers could have weighted the information with that bias in mind.
Standard Occupational Classification (SOC) code system is used by Federal agencies to classify workers into occupational categories for the purpose of collecting, calculating, or disseminating data the North American Industry Classification System (NAICS) is used in classifying business establishments; SOC people, NAICS companies.
If the BLS methodology were properly applied to tower climbers the first problem a statistician would encounter is Standard Occupational Classification (SOC) code assignment. If you look at SOC codes for Construction; 47-0000 Construction and Extraction Occupations (http://www.bls.gov/soc/soc_s0a0.htm) you will NOT find any corresponding code for tower climbers, erectors or anything close. Without a SOC code the BLS is unable to collect the required data, population, accidents and fatalities.
NAICS code 237130 "Power and Communication Line and Related Structures Construction" is the code tower contractors should be using if they're primarily in the business of erecting towers.The problem with using only NAICS codes to calculate fatality rates is there may by dozens of employees in a company classified as 237130, many employees will have different SOC codes, so it may not be completely accurate to use NAICS code in place of SOC codes without knowing the make up of, or structure of the company.
The crux of the problem in measuring non-homogenous populations is, what data will be included, what data will be excluded and why. Some of the data included recently has included homogenous data. When a data guy 515xxx or 517xxx falls while installing an antenna Wirelessestimator.com will include that individual in the fatality data they track. Then when calculating the fatality rate they simply ignore the 515xxx or 517xxx SOC population and use 9,800.
From the perspective of logic the data guy is not or most likely is not a tower climber, I mean they don't do work at elevation during the normal course of the days businesses. So explain to me again why you treat elevated workers as a homogeneous population, yet include the data guy or the broadcast guy and any other guy who falls from elevation into the "tower climber" fatality group without adding that population to the 9,800 prior to doing the math?
In the grand scheme of things, the fatality rate is not as important as determining what causes fatalities. My research and the research of others have shown that two thirds of all deaths are the result of individual risky behavior. All this talk about unreasonable deadlines and small margins contributing to poor safety is, like training and drugs, a distraction from the serious discussion of safety and serves no useful purpose.
Those things that modify behavior, focusing on solid and comprehensive personnel policies will improve safety outcomes. Here, small businesses may be impacted disproportionately because of the need to bring on additional personnel on short notice. This fact must be considered when bidding for work but should not be used as an excuse.

In as much as people in a 100% tie off condition do not fall from towers and die (with the exception of the minuscule possibility of equipment failure) we can state with certainty that fatalities are a result of not being 100% tied off. The failure to tie off and maintain 100% tie off is a behavior problem not training problem. If aerial workers are all trained, in house or third party, to the minimum requirements laid out in OSHA regulations then further training is pointless regardless of what anyone says. If research indicates that level of training needs to be increased then change the rules but stop talking about training if your company sells training.
For the record, for an event to be considered the cause of a second event, two conditions must be met; first, one event must precede the other and second, there must be no other logical reason for the event to occur. While construction practices and margins may precede fatalities there are numerous other logical reason for fatalities to occur.
Events such as hazard exposure and risky behavior have been shown to be cause fatalities. Craig suggests, or at least implies unreasonable deadlines and small margins may contribute to poor safety. While it is true that tower industry resembles an onion with all the sub-sub-sub-contractors, deadlines developed by office pog's and profit margins resembling public welfare, none of these factors have anything to do with safety.
If a company wants a safe working environment for their employees they develop and enforce workplace practices that reflect that desire. Everyone from the CEO to the supply chief and project manager focus on safety, climbers or any other employee for that matter fail to follow established practices are fined, furloughed or fired depending on the severity of the infraction. If an employee in a position of authority fails to enforce, does not correct or does not report infractions then they are fined, furloughed or fired.
For those carriers and national contractors who demand unreasonable results, I would suggest you tell them to find someone else, I'm not going to come out and play except on my own terms. Someone will pipe-up with "That's easy for you to say!" to which I would respond that I've done it and yes, it cost me my entire business but I don't play games with my employee health and well being.

The bottom line is any outcome of any job is an inanimate object, a radio, getting on the air, while an animate object, a tower climber, gets in his car and goes home to his family. Climber 1, radio 0.

Michael S. Landa

Editor's Note:
Company managers, owners and safety consultants stated that unreasonable deadlines and small margins may contribute to poor safety, not the author.
We agree that it is difficult to apply BLS methodology to tower climbing technicians or other professions. That might change if Dr. David Michaels is appointed as our new OSHA chief.
In testimony before the Senate Subcommittee on Employment and Workplace Safety in 2007, Michaels called for better methodologies for reporting workplace accidents, testifying that only one-third of occupational illnesses and injuries are reported by the Bureau of Labor Statistics.
One could presume that if they have such a dismal record, fatality and other recordkeeping by the BLS might be equally askew.
Prior to making the statement about the ranking of the industry, Assistant Secretary Edwin Foulke, Jr. conferred with his management team following their review of information provided by WirelessEstimator.com.

They were aware that previously inflated fatality counts published under the administration of former Assistant Secretary John Henshaw, as well as those estimated by the National Institute of Safety and Health, were not accurate and no credible estimate of the number of industry climbers had ever been assessed.

There is no desire on our part or the tower community to want to stand out as the most dangerous profession in America, or the second most or the 200th.
However, in order to focus upon what is causing these fatalities and how they can be prevented, it's necessary to agree that they are occurring too frequently, and during some years, at an alarming rate.

September 2, 2009
Every logical idea presented here is going to cost additional money to save lives and reduce injuries. Therefore, it's unlikely that you will see tower companies or carriers jump on board. Or broadcasters. Or government agencies. Or utilities.

These "Ors" are the companies that say they want you to be safe on the job "or" else they'll get someone else to do it.

It's a Catch 22. Excellent article.

Larry Marchant

August 31, 2009
Thanks for publishing the accident where a Canadian tower worker fell last week. I hope they get to the bottom of the faulty equipment issue. Have you had any of your readers provide any additional deaths from their country?

Pelham, NY

Editor's Note:
Although this article continues to reach a large international audience, we have not received any documented fatalities other than the ones that were first reported.

August 26, 2009
I emailed this article to one of the execs at a major tower company last week and I was really surprised when he sent me back an answer stating that he had already read it and was going to review his company's policies based upon our concerns.
It would be great if there was a list available of the emails of the people that can make a change in these large companies.
C.W. Preston

August 26, 2009
It is interesting to note that five of the ten international deaths that you describe happened on a project managed by a company in the United States. Draw from it what you want.
Walter Pate
Queensland, Australia

August 25, 2009
I'm sure that all eyes will be on Canada to see if they have any deaths while trying to meet a workload that appears to be the busiest they've ever had according to news reports.
I have a friend that is now working on these jobs and he says that there is a difference in the work attitude of the country's tower climbers. How big, I don't know.
There are not as many cowboys. His words, not mine. Stay safe.
Tom McMann

August 21, 2009
Try this comparison on for size. NATE has only one major tower company as a member - American Tower Corporation. PCIA has all of them.
NATE says joining their organization and getting involved will help improve worker safety. That will require projects to be able to be profitable enough to maintain those safety requirements.
Joining PCIA and getting involved will help to ensure that legislators will not impede the growth of tower companies. It will also help to find other solutions that will improve the tower owner's bottom line.
Is safety a low priority with them because it would affect their members' earnings?
Next month's PCIA show has a presentation entitled: Is There Green in "Green"?: Ecological Infrastructure Initiatives. It would be nice to some day see one such as: Is There Green In Safety?
If they spent a little time exploring it, they'd be surprised that there can be if you can cut down on workplace injuries and fatalities.
Thank you for the excellent article.
Carole Edwards

August 21, 2009
You should write an article or do research on the number of tower workers that were seriously injured on the job.
I'm sure a lot of us can help you with those details because we worked with them before their accident.
You would be surprised at the huge amount of accidents that go on in this business that never make the news.
Insurance companies would rather have you die instead of having to pay out hundreds of thousands of dollars for long term treatment of injuries.
You can spin it any way you want, but whether you are a tower company, a cell carrier or an insurance company, it's always about the money first…not the worker.
theo412@...

August 21, 2009
Thank you Patrick for bringing up an interesting point. I'm sure not on purpose, but you have left out the tower owners that do not have to pay for any fatalities or injuries, not just the carriers.
Between waivers of subrogation and all of the other indemnification clauses designed to minimize exposure that you must deal with, they do not have to worry about what happens on their property and can easily turn a blind eye.
Their attorneys know how to shield their company from any exposure and they have it down to a science. Let's give them an A for corporate responsibility and an F for their lack of compassion about telecom worker deaths and traumatic injuries that continue to occur on their properties.
Gary Garfield
August 21, 2009
It would be interesting if you could do a study to see how tower technicians in the United States compare to the those in England and other countries that have less accidents.
Are they on the road for months at a time? Do they have a more stable family life? Are they less or more prone to use drugs or drink heavily? Are salaries in line with each other?
It might prove to provide some interesting results that could be analyzed.
Rich Holub

August 20, 2009
Great article on international safety standards.
We have handled and managed over $35 million in claims over the past 12 years, handling over 500 accounts over that period in tower erection. The lack of training, low pay, long hours, and general apathy among telecom companies contributes to the many fatalities and severe claims in the US.
There is essentially no outrage when these things occur. The main reason is that usually the telecom companies don't pay claims that occur on their construction jobsites, the insurance companies that insure the contractors do.
The telecom companies must get involved in the safety and compliance areas of construction as other industries do to reduce the claims. At this point they are removed from the process, and in many cases using ineffective third parties to manage the sub contract process.
Hazardous occupations in other industrial countries are treated with more oversight and respect than their American counterparts, and thus cause significantly less human and financial loss.
Patrick Shea
Crump Insurance Services, Inc.
Austin, Texas
August 20, 2009
First, tower owners should shoulder a responsibility for what happens on their sites. They will tell you that they're proactive in making sure that safety is a major concern, but their primary focus is to make sure that the carrier or broadcast tenant has a copy of their requirements.
That gives them the warm fuzzies and they go home at night knowing they are fighting the good cause.
But while they're sleeping, tower techs are working on their towers doing cutovers and nighttime maintenance, and it's doubtful that they're even aware of most of those activities.
Also, quite often - day or night - the tenant doesn't even know who is performing the services that they contracted for since so many companies are now heavily involved in cutting their in-house workforce and subbing most of the work to local subs.
Here's an idea for tower owners:
Charge every tenant an equitable amount for site supervision. Therefore, every time that a sub is on site, the tower owner's representative would show up to make sure:
1. The crew has been approved by the tenant, and has the documentation to prove it. That would include company vehicles with permanent signs.
2. Employees have the proper safety equipment and programs in place on site such as a full time fire watch while welding.
3. The crew has secured the site adequately.
4. A member of the crew must document that their company meets the pass down requirements of the owner such as insurance coverage.
5. Work being done is not in violation of the owner's standards for the tower.
While visiting the site the representative would identify whether the crew was working in an unsafe manner, such as hanging off of non-rated antenna mounts or free climbing. Upon any observation of a serious violation, it would be a requirement for the job to be shut down and the tenant notified immediately.
This would not involve a serious financial impact on any project. If the project runs for seven days, it would require approximately 14 hours (it would not be a requirement to be on site for any length of time) of work at $50 per hour, a total of $700.
Here's the challenge:
I would like to hear from the tower companies why this would not work and why something similar isn't being done. And please, don't say it is because the carrier will not pay for it or another towerco would get more business if they didn't charge for site supervision.
That would just fortify the general belief that tower companies are more concerned about the bottom line than safety.
I believe that this would flush out a lot of the companies that willingly violate safety standards either through a lack of knowledge or a lack or concern about their fellow workers.
Thank you for this forum. It's the first time I've ever responded, but I felt it was important to see if I can help the industry instead of complaining about it.
D. Faulkner
August 20, 2009
It's more of the same. Everybody gets pumped up about doing something, but the enthusiasm will die until the next few climbers die. Then we'll start all over again. Sad, but true.
Robert Culvert
Asheville, North Carolina

August 19, 2009
Schedule and margin pressures seen as possible reasons for higher death count of techs in the US
Just the title alone spells one of the issues that many companies face. As do others, I myself have an opinion as to why the death count is high compared to other countries.
Many companies do follow guidelines and rules to train their employees, but only to a minimum. But over the years, training has become paramount to the industry, but cost and time to the companies employing these individuals along with scheduling and finding quality people has hindered the growth in safety.
When big general contractors come in and manage a project for the carrier they take all margins out and drive costs down. This eliminates half the companies trying to bid the work.
Then they accelerate the build so they make money and take no risk (death risks, but do take financial risk) but all the reward. As the years have gone by the industry moves like a roller coaster from year to year as work is heavy (more than you can handle) or nothing.
There are many factors as to the death toll in the US, but I have seen it and I believe that undeliverable schedules they promise the carriers and margin pressure is the biggest.
When carriers release these build-outs it is a furry frenzy to get as many sites built in an amount of time that cannot be done safely. How is it safe that some carriers try and press 7 day builds per site (co-locations) or build out a market in 3 months, SAFELY.
If you don't build it in that time you are frowned upon and may not get more work from these companies. The pressures are even harder now, but the work is not there yet this year for many.
I believe if you were to track a true number of deaths you need to compare the number of projects or hours in the air versus just the deaths per 100.
Also, to say that the NATE/OSHA Partnership improved safety by 40% is not looking at all the facts.
There are far more companies in the US in the tower industry that are not a part of NATE. The reason for the lower death rate this year in my opinion is because of less work being done in the industry than previous years, not because of the Partnership.
NATE has done very well to its members to assist them with safety awareness, but those members are in the minority compared to the companies that are not a part of NATE. This was a great article, thank you.
CMN
Michigan
August 19, 2009
I agree that there are some nations where the deaths were not reported over the past 6 years, but 600 or so appears to defy common sense. I'm sure that you will update your chart when all of the US's international project managers start reporting in to you. A follow-up story should be in order.
Thanks for the in depth article. I always enjoy your site.
R. Petrie
August 19, 2009
This article is truly enlightening and doesn't bode well for US tower safety statistics. My background includes 24 years of building towers, the first few years in Canada.
I have also experience working for 9 months in a third world Indo/Asian country alongside local tower crews, as well as several Caribbean stints.
Unfortunately, tragic incidents in many third world countries are very unlikely to be reported as they are often looked upon as "just a fact of life" in hazardous industries.
I know one supervisor who was in Bangladesh in the mid 80's overseeing a 500' broadcast tower being put up by a crew with no wire rope on site, no belts and no shoes. As the job neared its end, one worker patted our superintendent on the back and said, "This been good job, Mr. Bob, no man die."
Nonetheless, it is highly unlikely that this lack of reporting in other countries would overshadow the atrocious statistics in the US cited in the article. The situation will only likely get righted when the cell carriers and tower owners stop their attitude of "build it faster, and much, much cheaper," and start taking ownership of the lives lost.
The 'bury their heads in the sand mentality' of owners and carriers is a huge part of the overall tragedy rate, in my opinion.
Unfortunately, over the years I have been to more than a couple of funerals for the fallen I've known. Every one I hear about definitely hits home
Charlie Tomlinson
August 19, 2009
Everywhere you go you have death. Why is the U.S. so high in deaths? I do think it's bull that the other places in the world don't have the deaths like we do. I think they don't report it or somehow cover it up. I have been climbing for a little over 5 years, and yes, safety is always 100%. Yes, you do have people that are only 50% safe and you do have towers that fall too. So, all I'm saying is you are saying U.S. people are the only people in the world that have some idiots working on towers. I think not, there are a lot of [unsafe] people in the world and not all of them live in the USA.
Chris Cappuccio
August 19, 2009
It would be interesting to hear from riggers from England and Canada to see if it is mandatory to use a cherry picker to work on their smaller towers. In the US, we sometimes have to use them where it is mandatory, but many times it is not a requirement by the carrier or managing GC.
With a lot of projects, you can be assured that some of the sub, subcontractors did not budget for it, or if they did, they will try to get by without one to try to make a profit. Even then, it is unlikely.
Many PMs will tell you to just get the job done and they will not authorize the additional cost of a man lift. Or they will tell you that they can only authorize it for X amount of days.
Then you are hurried to get the project done and it might not be able to be done safely.
Then there are days where you cannot work because it is too windy and you are told that you are not going to get a change order for the additional days requested for the lift because the PM did not budget for it.
Even if you present your case openly and objectively about your desire to try to do the job safely with the equipment and time it will take, chances are you will be told to take a hike if you cannot meet their budget and project deadline.
I like the idea of a PM or site supervisor being accountable for their actions. As much as I do not want to see anyone get hurt, if there was a serious injury and the PM was responsible for the incident due to his callous disregard, I would like to see him hang out to dry.
I would be willing to bet that you would see an overnight turnaround in this industry if legislation was passed that would allow for the government to take actions against individuals in management and supervisory levels.
Let us see how anxious they would then be to unsafely rush the job along - or knowingly disallow a man basket when needed.

I am also tired of seeing the carriers and tower owners talk about how they are so concerned about safety. It is a hollow feel-good message that costs them nothing. Their real cost is what they pay their attorneys to draft contracts that will insulate them from the deaths and injuries that they know will occur on their sites due to ongoing practices.
Scott Wielder
August 19, 2009
At the end of the day we will see people disagreeing with the number of deaths in underdeveloped nations and I'm sure there will be some credible additions to your statistics as well as reservations about the accuracy of the totals such as John's interesting comments about what he was aware of in South America.
Fortunately, Canada and Britain are not third world nations and it appears that nobody has any documentation that can dispute their excellent statistics. Plus, there are many other G8 nations that are advocates of safety and have stringent requirements, but we don't see any news reports regarding their fatalities where they have an open and free press.
Let us not listen to the lose cannons in our profession that will want to paint these countries with the same brush and throw this excellent information in this article under the bus - unless you have evidence that there is a conspiracy by Canadian and UK officials to purposely hide their fatalities with their sole desire being to make the US look bad.
This is a really in depth and interesting article and you should be commended.
Thomas Atwood

August 18, 2009
In the late 90s, I was the construction manager for a carrier buildout in a South American country. From conversations with my English speaking crew guys I was told that if a climber fell and died the government made the climber's employer pay wages to his family for several years.

It was, therefore, a "known practice" to take fatal fall victims out to the highway and throw them under a truck. Thus a traffic fatality for which the company was not responsible…and not a statistic for your research. Shocking, but I had no reason to doubt those that told me.

John H. Barstow
East Syracuse, NY

August 18, 2009
It seems that you have a hidden agenda to want to make our tower climbers in the US look like a bunch of idiots dropping off like flies.

I'm sure that you can twist any numbers so that they reflect your point of view.
This is not the most dangerous job in America. You might want to check out the saying, figures don't lie, but liars can figure.

You should write something positive about this industry for a change instead of always knocking the people that are out there risking their lives so that their bosses can finance their boy toys and then get rid of the real workers when times are slow.

My husband has been working hard in this industry for over nine years and this is the worst I have seen it. It is difficult to pay bills and articles like this will not help him to get hired again because he was just laid off.

Name withheld upon request

Editor's Note:
The contested debate of whether tower climbing is the most dangerous job in America always distills down to one irrefutable fact: On a per capita basis, it is one of the nation's most perilous professions when it comes to the loss of lives.

Wireless carriers, broadcasters and other companies with vested interests have tried to dispute or minimize this detail. Fortunately, they've been unsuccessful.

The international fatalities article presented data and comments from industry professionals from around the world so that interested readers could form their own opinions.

Hopefully, they can glean something from these statistics and observations that will further assist in reducing America's high fatality rate. That was and will continue to be our agenda.

On a positive note, we were pleased to report last week that the NATE/OSHA Partnership has reduced incident rates up to 40% for its participants.

August 18, 2009
This was an enlightening article! I have never really thought about how we compare to other countries regarding rigger safety. I am hoping that it helps to get others interested in exploring how we can keep all of our workers from dying while performing such a vital service that is taken for granted.

Alfred Griffiths
Leeds, England

August 17, 2009
Looking for comparable statistics in third world nations might be difficult and could skew any analysis, but it does appear that Canada and the UK have a pretty good handle on the number of fatalities. It also looks like their record is better, based upon a comparison of the US's number of fatalities, climbers, towers, etc.

This could be the only international rivalry that I can think of that would save lives.

Ramon Guerrero

August 17, 2009
The quotes from other people in your article that the job is taken seriously as a profession had more than a ring of truth to it.

Years ago we didn't have as many deaths and it could be because the industry was more professional. We might be doing more technically advanced things today as climbers, but tower climbers then were a proud breed.

Today, you're just an expendable commodity that will be discarded when the pipeline dries up.

Also, years ago you had a lot of families as well in the industry and they made sure that their family members were going to be safe.

This was an excellent article! I've never thought about how we compared to other countries.

S. Terwilliger

August 17, 2009
If you were to believe that tower climbing is dangerous no matter where in the world it is done - then you are right to point out that there should have been at least another 630 deaths during that six year period.
On the average, you would have seen over 100 deaths from other countries each year.
Although some might slip by we would have seen a lot more headlines about deaths unless you believe that there is a vast conspiracy to make the US look bad.
It appears we can do that on our own without any assistance.
Glenn Easterly
August 17, 2009
Just what we need, another article to make us look bad and raise our insurance rates. You would be better off in doing a story about how we all have to pay the cost of supporting the companies out there that don't take safety seriously and have these fatalities.
Jay Coulter

August 16, 2009
This is an interesting and well researched article. It promotes the need for us to look at our current safety requirements and see why we're not achieving better results similar to Canada and other countries.
We appear to want to monitor our success or failure based upon our own success and failures, ignoring a higher benchmark.
I hope your article promotes dialogue between international safety organizations.
Anthony Petrone

August 16, 2009
Great article on international fatalities. You seem to be correct that if climbing is dangerous, then it should be dangerous everywhere else in the world. But apparently it is not since other countries do not have the high incident rate that the United States has over the years.

Could it be that US riggers have become too reliant upon their safety equipment and believe that they can't fall when in fact they do?

S. Peters
Brisbane, Australia

August 16, 2009
I have worked in Nigeria and other countries and there is risk of life. I am looking to go abroad. I am not aware of workers dying from falling. Other accidents are known. We receive a slimy salary from our employers in the telecoms industry.
Korede@...